5 Cabs in 5 years: A Love Story between a Virginian Sawmill and Mecart
In a sawmill, there are safety hazards at every turn. These environments are filled with automated equipment such as planers, edgers, sorters, stackers, debarkers, optimizers, kilns and more. Anyone who's had the privilege of visiting a lumber mill would likely be surprised by the activity and humbled by sheer power of the machinery.
Workers in a sawmill need more than basic Personal Protective Equipment (PPE) such as hardhats, safety goggles, ear protection and boots. Mecart has supplied multiple operator cabins and control rooms to this sawmill located in Virginia, to offer heavy-duty protection and comfort to those who man the controls. From the sawmill edger and trimmer cabs to the control and breakroom, this client's employees are not only safe, but are safely able to view and monitor the activity of the plant. Investing in a quality control room and operator cab is the best way to ensure safety for your employees!
Control Rooms that Earns Respect and Loyalty
Mecart has custom-built 5 separate acoustic structures in as many years for this lumber mill. Their employees' safety is paramount. Their state-of-the-art facility features some of the best equipment available in the forestry industry, and the Mecart structures proudly sit among them. With the first purchase made in 2015, the mill's General Manager of Operations knew that they would be buying more. He mentioned that they've never had to replace a door, a window or even a hinge, adding "The cabs and control rooms are such high quality – there's nothing built better!"
"It's Definitely a Superior Cab!"
One of the key factors that this client continues to work with Mecart is the communication and adaptability of our custom-made products. The GM has needed to make changes to drawings and each change was fully understood and welcomed. When it came time for delivery, Mecart has been able to guarantee the date, allowing for the appropriate planning to put the cabs and control rooms in place. "That delivery date is key for us, and very impressive. We have suppliers an hour away from us who can't guarantee a delivery date!" Following the latest installation, the General Manager took the time to complete our online survey and gave us a glowing review. He said, "I've only done 2 surveys for companies in my 35 years of working. I did it for Mecart because it's definitely a superior cab!"
MECART take great pride in the fact that we keep people safe, and we keep clients happy!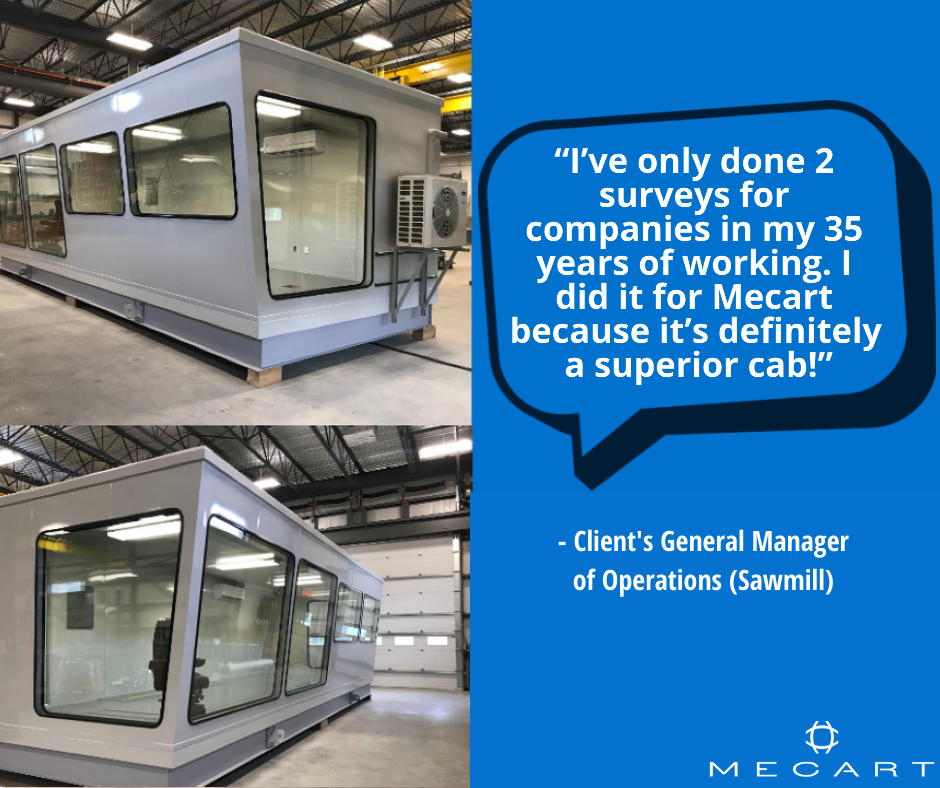 See the Other Mecart's Cabs Delivered to This Sawmill
Want to protect your operators from noise and safety hazards?
Contact us and a member of our team will gladly discuss your project with you.