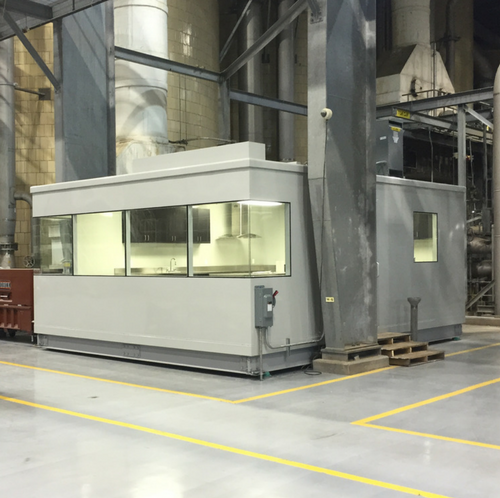 Modular Laboratories
MECART designs wet laboratories and quality control laboratories of all kinds. Our expertise in air treatment design allows accurate control of temperature, humidity and air quality, even in extremely dusty environments. Our robust steel design is strong enough to be located at the heart of the action in the factory. As a bonus, our acoustic walls protect workers from the noise outside.
Request a free quote
Expertise in air treatment
Wet lab and quality control laboratories are laboratories where chemicals or other materials are tested and analyzed in a controlled environment. It is therefore necessary to design an efficient air treatment system to supply the laboratory with clean air and maintain a constant level of indoor air quality. Our cleanroom division gives us the expertise to design laboratories. We can even manufacture our own ventilation units.
Laboratories are generally maintained in positive pressure. Pressurizing the room means that laboratory air will tend to exit, instead of entering. When opening a door the air inside the laboratory will push the dusty, contaminated air from the factory to the outside and prevent it from entering.
For even more precise control over air quality and particles (ISO 5 to 8), temperature (up to ± 0.15 ° C) and humidity (up to ± 2%), visit our dedicated cleanroom website.
For laboratories located in noisy environments, air treatment also means the design of high-performance silencers to prevent noise from entering through the ventilation system.
Resistance to the most difficult conditions
Control and Protection Against Hazards
Even if your quality control laboratory is located in a very dusty, noisy and hot environment, MECART laboratories allow precise control of the indoor environment in terms of air quality, temperature, humidity and many other elements.
The panels that go into the design of our modular laboratories are very robust and can be designed to withstand specific elements of the environment in which they will be in operation. This customization includes but is not limited to acoustic sound insulation of 35 to 55+ decibels, an anti-vibration system, and resistance to specific chemicals if necessary.
Noise
Vibration
Dust
Chemical products
Micro-organisms
Particles
Temperature
Humidity
Experts in Air Treatment
Even in extremely dusty environments, MECART laboratories offer precise control on air quality.
Features & Benefits of MECART laboratories
Heavy Duty Galvanized Steel
MECART laboratories are designed and made with modular panels of high-quality galvanized steel. They are manufactured specifically for the most rigorous industrial environments. They are coated with scratch-resistant polyurethane paint and resist to other hazards often found in pulp and paper mills and other industries with harsh conditions.
Quick Setup
With our Hook & Seal hook system, assembly of MECART panels is ultra-fast. This means no interruption of production or operations in the factory. The integration of mechanical and electrical services in the walls eliminates the need for specialized craftsmen (electricians, plumbers, etc.) on site. For the ultimate undisruptive option, the laboratory can be preassembled entirely at our factory and delivered in a single module to your factory.
Utilities and Access Integrated Within the Walls
The hollow cavity inside our modular panels makes it possible to install all the services during the manufacturing of the wall and ceiling panels. All components are integrated during the engineering of laboratories and prefab access panels are integrated for quick installation: electrical outlets, compressed air, telecommunication sockets (internet, telephone), and control panels.
Integrated Furniture
MECART can also handle furniture by installing custom stainless steel countertops, sinks, desks and much more.
In-House Team of Experts
The MECART team is made up of engineers and experts in air treatment (HVAC), acoustics, building and structure, that work together to design and manufacture the very best products.  We can accompany you from the preliminary engineering until the commissioning of your laboratory, for a turnkey service.
Satisfaction Guaranteed
With our policy of guaranteeing performance, quality, deadlines all at a firm price, MECART covers all risks. We are so confident in our work that we guarantee the execution of our projects.
Need a Laboratory?
Contact us and a member of our team will gladly discuss your project with you.