Control Pulpits for Steel Manufacturing Plant
Sound attenuation of 45 decibels
Industry: Steel Manufacturing
Location: Texas, USA
Sound Attenuation: 45 decibels
Assembly: Prefab Factory Assembly
Noise Source: Double Side Trimmer and Dividing Shear
Size: 2 Control Pulpits – 17′ x 13′ and 13′ x 13′
This steel manufacturing company purchased two control pulpits (a dividing shear pulpit and a double side trimmer shear pulpit) from Mecart and recently sent us a few photos. We're always thrilled when we get to see our projects in their new environments. A company such as this one has a lot of experience with operator and control cabins, and like many of our clients, they have experience with other companies.
However, the project engineer told us why he prefers the Mecart control pulpits. "Mecart did a great job understanding what we needed, and were able to deliver to us earlier than expected even though we had a very tight schedule," the client explained, adding "the quality of the windows and flooring is much better than the other company's pulpits we have on our site."
Phase 2 of this client's expansion project is in the works, and the project engineer will be sure to contact Mecart again. "I give Mecart a 10/10 rating, and they are at the top of my call list when we're ready to purchase more control pulpits," he said.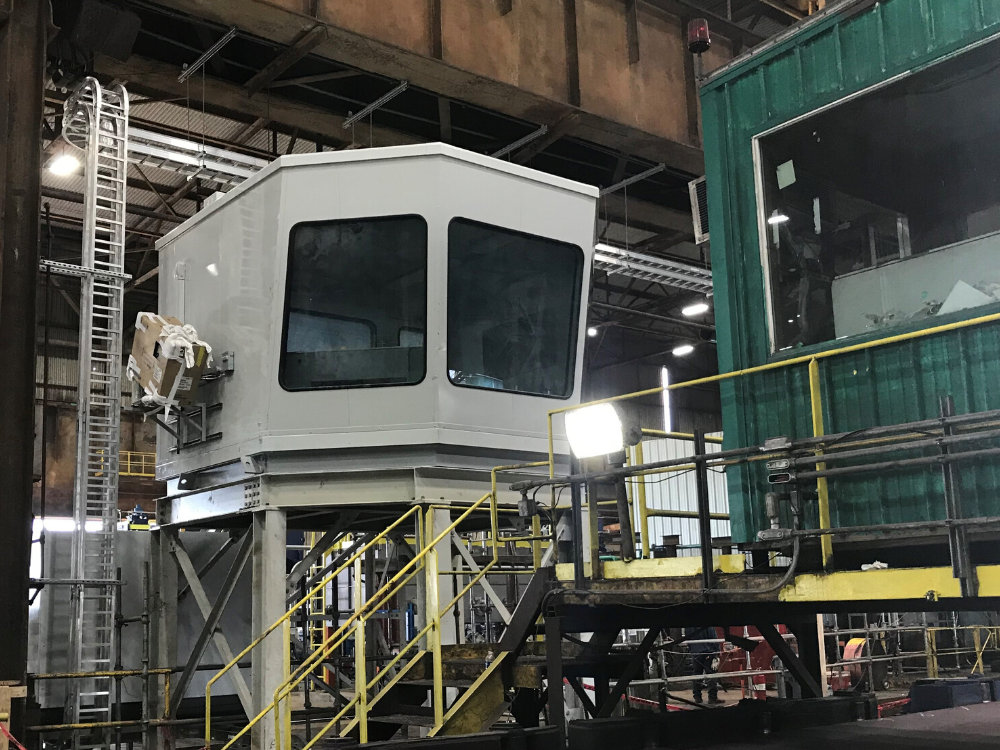 Download our Control Room and Mill Pulpit Brochure
Mill Pulpits and Control Rooms 
What do all mills share in common? They all have control pulpits or control rooms for their manufacturing operations and to protect their operators from different hazards.
Control pulpits have the same purpose as the control rooms, the main difference is their location. The control room is usually ground level, while the mill pulpits are most commonly elevated.
The control pulpits can be placed on a reinforced steel base or a mezzanine, providing an excellent view of the operations.
Looking for a control pulpit but don't know where to start?
Read our Control Room Design Checklist.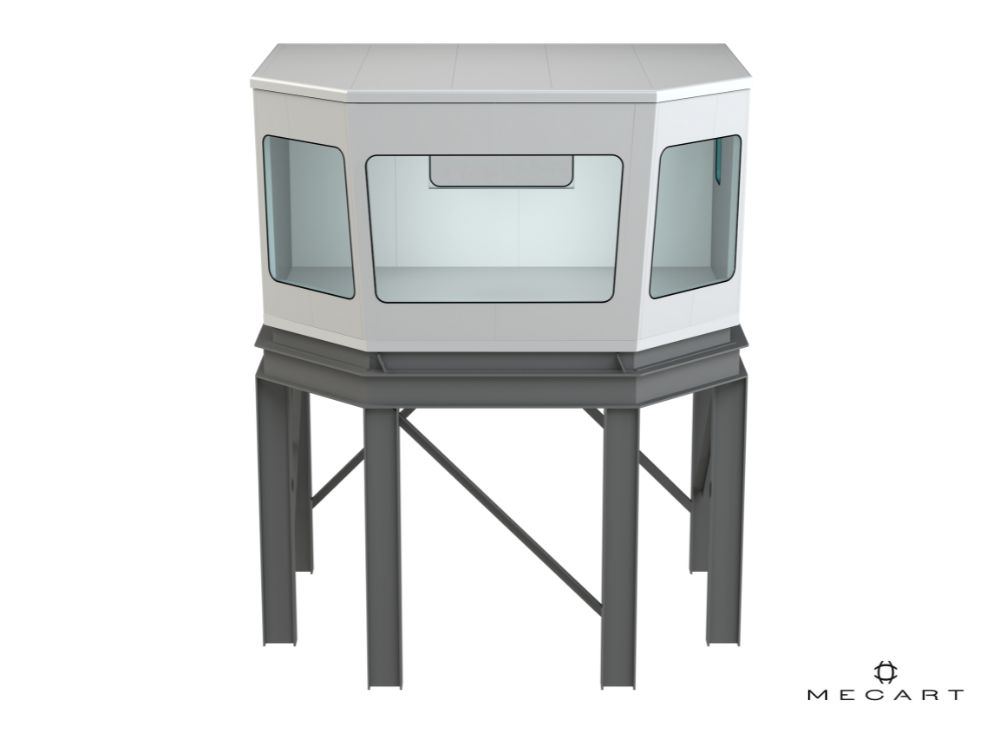 Fully Customizable Control Pulpits / Mill Pulpits 
Mecart provides fully customizable enclosures, giving you total control over the design of your control pulpit to fully meet your needs. Our engineering team specializes in solving environmental or technical challenges.
In this case, this steel plant needed 2 custom control pulpits with angled windows to give the operators the best view possible.
The steel manufacturing company also required a soundproofed environment, and they asked for STC 45 isolated windows, doors, and prefab panels.
They requested two different sizes for their mill pulpits to accommodate the physical constraints inside the steel plant.
Both pulpits were prefabricated at Mecart's plant and shipped in one piece to the customer's steel mill, ready for installation and operation.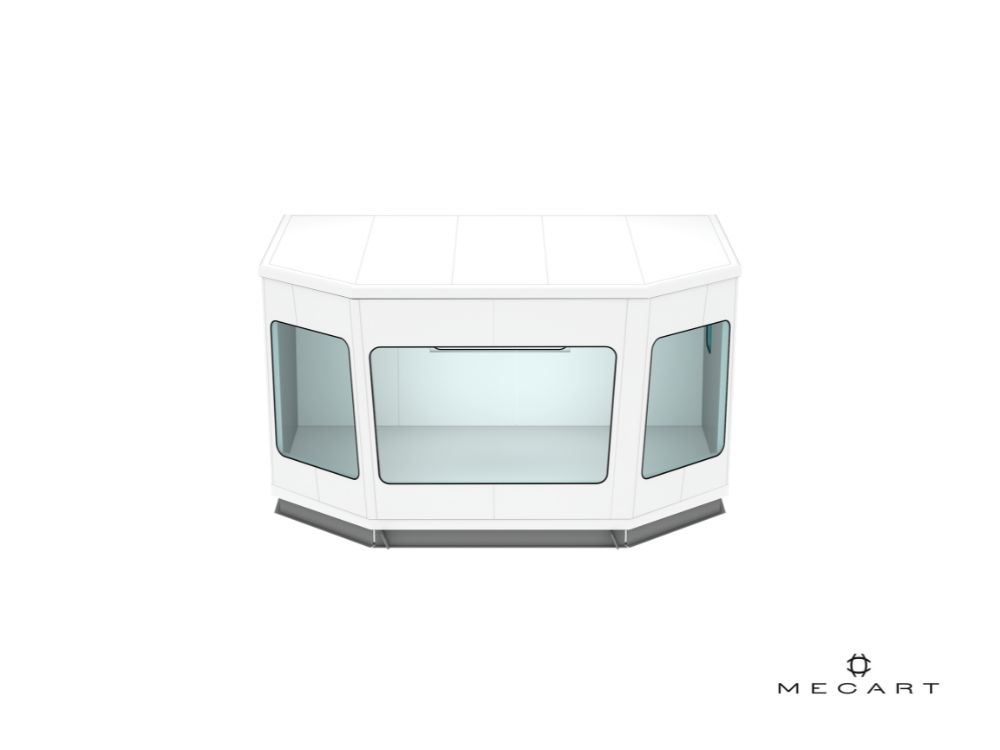 100% CUSTOMIZABLE MILL PULPITS
Higher sound isolation (35, 45, or 52+ decibels)
Quality and durability – heavy-duty galvanized steel
Quick setup – entirely prefab (plug and play) or modular assembly on-site
Utilities integrated within the walls: telecom cables, alarm, A/C, electrical panel
Equipment integration
Indoors or outdoors Installation
Integrated furniture and operator seat
Vibration damping system
Structural integrity
Walkable ceiling
Protection against hazards (explosions, noises, chemicals, etc.)
1 or 2-story
Higher load-bearing capacity
Installation on a mezzanine, concrete floor, or raised structure
Variety of window designs
Download our Control Room and Mill Pulpit Brochure.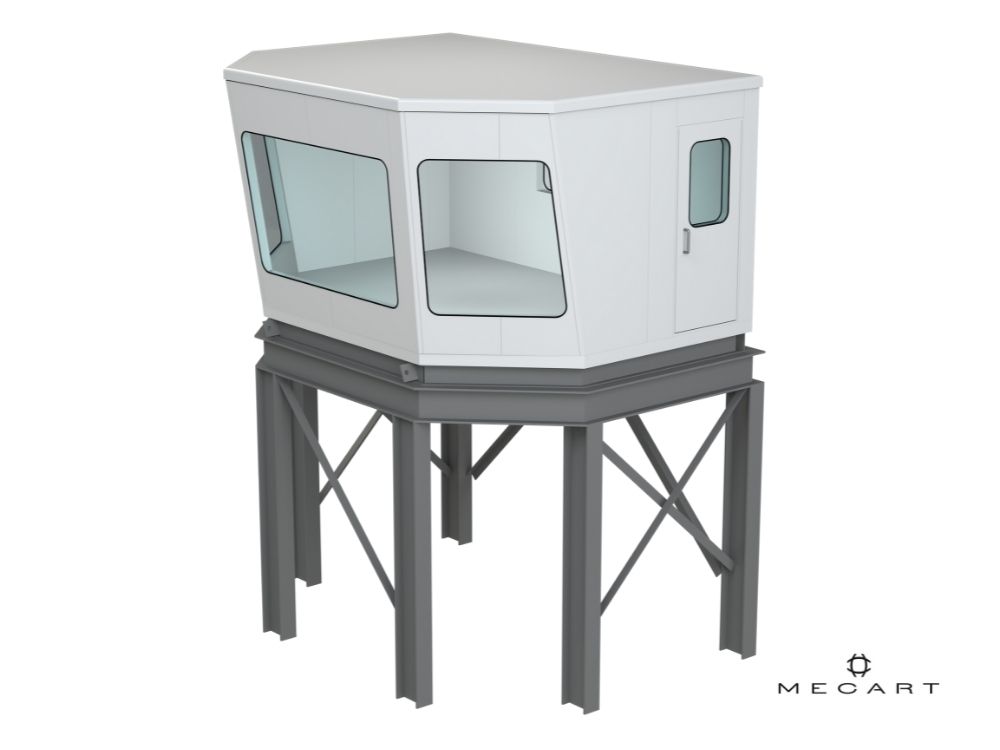 View some of our control pulpits and control rooms related projects:
Looking to Purchase a Control Pulpit? Contact Us!