Pulp Mill Control Room for Paper Products Manufacturing
Like most industrial and manufacturing plants, the paper product manufacturing process poses health and safety hazards to operators.
Paper mills & pulp mills require control rooms to safeguard employees from health and safety hazards and enhance paper product manufacturing. Hence, picking the proper control room supplier for your pulp mill should be a priority.
Our customer, one of the largest paper product manufacturers in the world, knows the importance of having high-quality, well-designed control rooms. For this reason, our customer contacted MECART to purchase a custom-made outdoor control room.
They needed a pulp mill control room to withstand the long-term impact of the humid environment in Arkansas while providing an STC 45 sound isolation (TL) to protect control room operators from dangerous noise levels.
The paper mill & pulp mill control room project summary:
📍Location: Arkansas, US.
💼Industry: Pulp and Paper Industry
🎙️Application: Paper Mill & Pulp Mill Control Room for Paper Products Manufacturing
📏Control Room Size: 23' x 12'
🔉Sound Isolation: 45 decibels – STC 45 
Don't know where to start with your control room design? Download our Ultimate Control Room Checklist!
Custom Control Room Design for Paper Mill & Pulp Mill Outdoor Operations 
Designing and building a control room that is permanently located outdoors presents challenges because it must be able to withstand harsh weather conditions.
Outdoor control rooms can be exposed to elements such as snow accumulation, heavy rains, humid or dry air, winds, sunlight exposure, and more, depending on where the pulp mill is located.
In this case, with the control room situated outside, the main concern was the intense humidity. With a 70.9% average relative humidity (RH) and a 50.7°F average dew point, Arkansas is one of the most humid states in the U.S.
High humidity levels affect structures and buildings negatively by causing extensive damage to the structure itself and potentially causing trouble to pulp mill operators.
To address this matter, MECART came up with a custom control room design for their pulp mill and paper mill outdoor operations.
If you want to learn more about control room design considerations, you could read these articles:
Specially Designed Control Room to Sustain High Humidity Levels
The heating, ventilation, and air conditioning (HVAC) system has been specially designed for the humid outdoor conditions in Arkansas
Two synchronized water-cooling units have been installed with the HVAC system. The water absorbs heat from the control room, and equipment heat gain before diffusing it outside.
A layer of polyester powder coating was applied to the entire surface to protect the modular panels that make up the pulp mill's control room.
The coating is applied using an electrostatic shower process that, when heated, creates a thin film that acts as a small shield allowing the control room to be less affected by outside humidity levels.
In addition, an anti-corrosive agent is added to our powder coating mix to further extend the life expectancy of the control room.
The roof, doors, and windows were explicitly designed to prevent humidity from damaging the structure.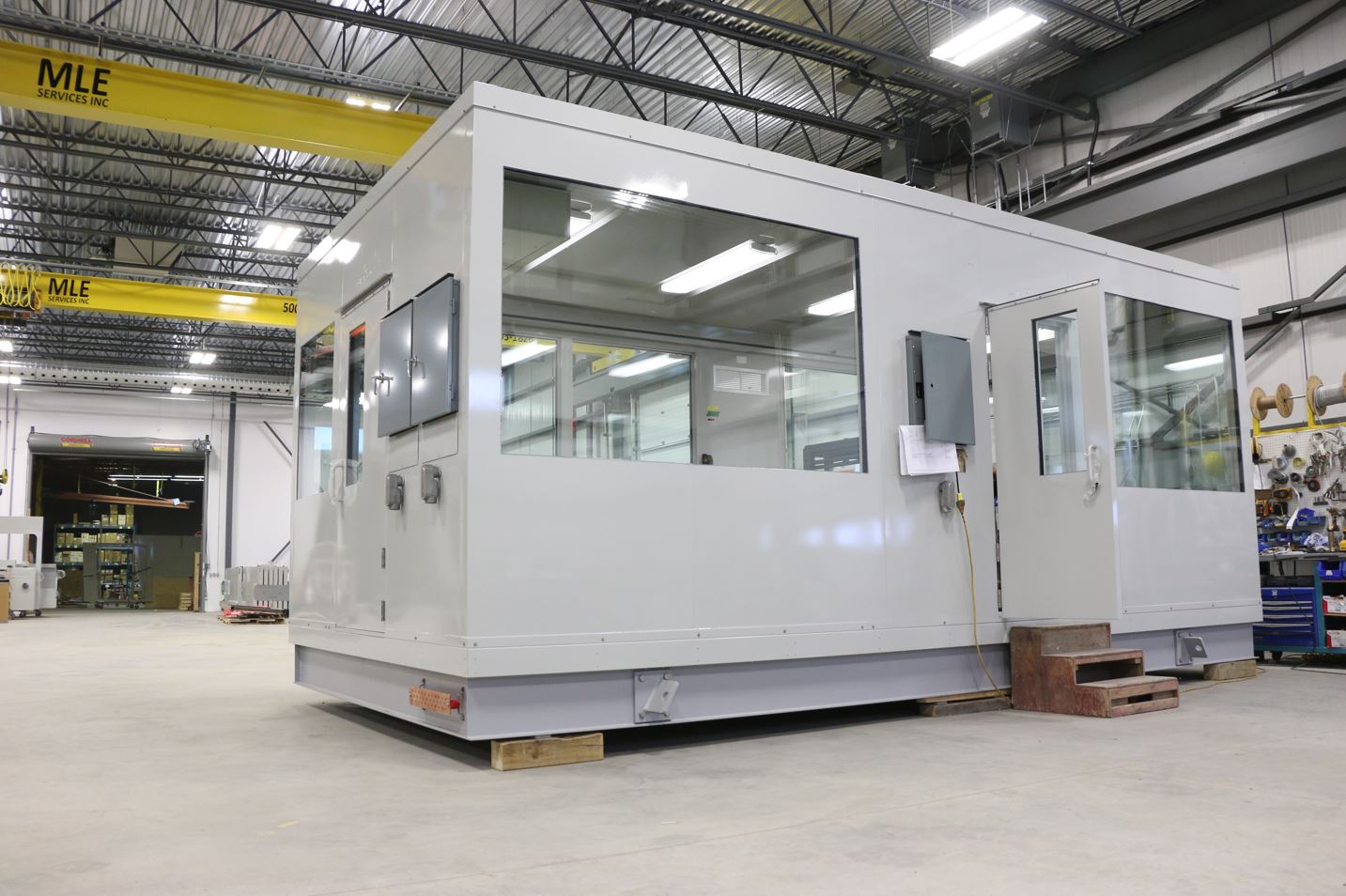 Pulp and Paper Mill Control Rooms that Protect Operators
Paper mill & pulp mill workers are often exposed to dangerous noise during an eight-hour workday ( or longer), which is a  common challenge for paper mills.
Noise exposure can be tamed with engineered solutions such as control rooms.
By using control rooms, noise exposure can be decreased below OSHA standards for noise exposure without lowering the sound level of all sources within a mill below 90 dBA.
The client's pulp mill control room was designed with that in mind. The modular control room structure offers, on average, a 45-decibel sound isolation (STC 45 ratings).
The triple pane windows used for this project play a dual role; they help with the control room insulation for added humidity resistance and provide the STC 45 sound isolation required by the client.
On average, the doors also provide a 45 decibel (STC 45) sound isolation.
Fully Equipped and Ready to Use Pulp Mill Control Room
Our objective at MECART is to provide you with a better and easier solution for your  needs. We pre-wire and install whatever you need in the cavity of the panels.
We installed a high-end telecommunication system and utilities for this control room project.
Also, there are three electrical panels, including two that are ready for the uninterrupted power supply system.
Because this control cabin was prefabricated at MECART's factory, it arrived at the client's location ready to operate, furnished with all the furniture that the customer desired. The client only needed to connect to the electrical panel, and the control room was up and running.
MECART truly offers plug-and-play control room solutions!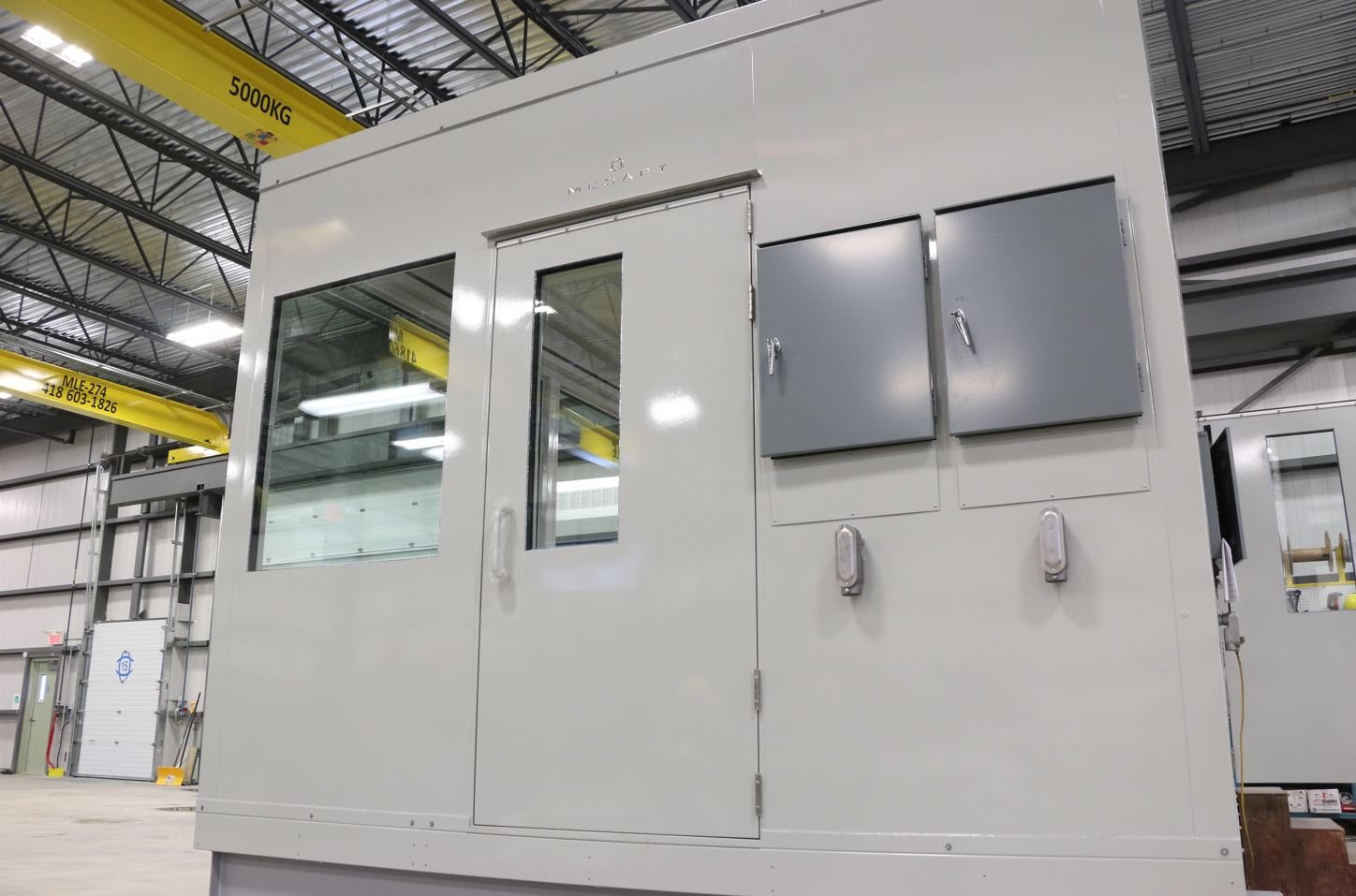 Need some help with your pulp mill and paper mill control room layout? Contact us!