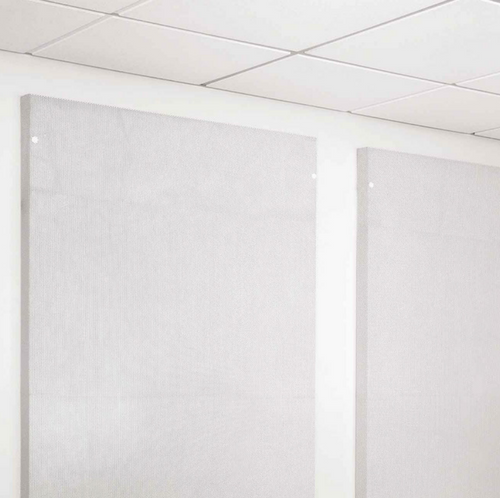 Acoustic Steel Panels
Mecart acoustic panels are made of perforated galvanized steel with an absorbent mineral wool inside. The exterior metal finish can be chosen to give the panels either an industrial or a modern look. Since our sound absorbing panels are made of steel, they are very resistant. Panels can be easily installed on walls or ceilings. They can also be engineered into any sound proofing structure, such as an acoustic wall or a sound absorbing soffit to name but a few.
Request a free quote
Tailor-Made for Your Needs
Mecart acoustic panels are manufactured in our own factory, allowing us to engineer panels that can meet any noise reduction and reverberation control requirements. The design is made according to your technical needs and specifications in terms of insulation, absorption, dimensions, finish and coating. Mecart sound absorbing panels can be used in their simple form as a basic sound absorber, but are most often assembled to create a sound barrier, an acoustic soffit, or any other industrial or architectural acoustic structure.
A wide choice of absorbent wools is available and the best type of wool will be selected to match the desired acoustic performance and to meet our customer's requirements.
The acoustic panels vary in size from 18 to 42 inches in width and 42 to 114 inches in length, with a standard thickness of 2 inches. Other dimensions are also available.
The sound absorbing panels can be painted in the color of your choice. The panels can be wall-mounted in rows or in a variety of patterns to complement the look of any room. Several wall and ceiling mounting systems are available. The hardware of your choice can even be supplied by Mecart.
Features:
Elegant look
Variety of sizes and colors
Noise reduction and control of reverberation  (echo)
Durable and impact resistant
Easy installation
Possible outdoor use
Starting cost of $ 150 per acoustic panel
Specifications:
Width: 18" to 42" (custom width up to 42 inches)
Length: 42", 54", 90" & 114" (custom length up to 114 inches maximum)
Thickness: 2" (other thickness available on request)
Absorbent wool: according to technical requirements
Construction: 22 gauge perforated galvanized steel with acoustic wool
Finish: wide range of paint colors
Non-combustible
Several wall and ceiling mounting systems available (mechanical, magnetic, etc.)
Common Applications
Mecart acoustic panels are used to absorb noise in loud environments such as industrial and manufacturing plants. Their aesthetic finish is also perfect for studios, offices and conference rooms, or anywhere else where noise and reverberation reduction is an issue and acoustic treatment is needed.
Studios
Meeting rooms / conference rooms / videoconference and offices
Home Theaters
Noisy industrial environments
Auditoriums / soffits
Any other room needing acoustic treatment
Frequently Asked Questions
How does an acoustic panel work?
The sound enters the panel through the small (perforated) holes and dies within the acoustic wool inside.
How many sound absorbing panels will I need?
Broadly speaking, for a good acoustic reduction, sound absorbing panels must be installed on 50% of the ceiling surface and on 25-30% of the wall surfaces. This calculation is provided for information purposes only. Please contact us if you have specific acoustic requirements to meet.
How can I hang the acoustic panel?
Several wall and ceiling mounting systems are available (mechanical, magnetic, etc.).
Need Acoustic Panels?
Contact us and a member of our team will gladly discuss your project with you.