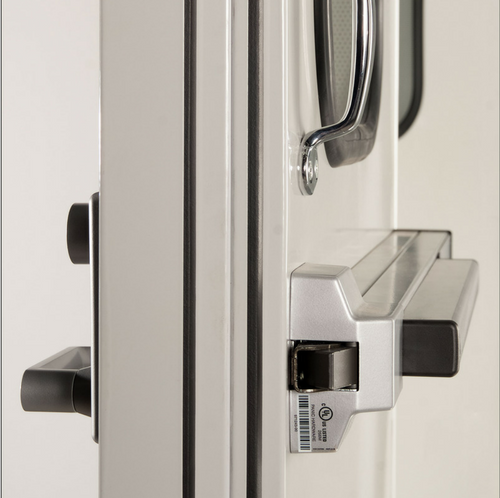 Acoustic Doors
Build and order your Mecart acoustical door
MECART doors are engineered to be fully integrated. Their excellent noise reduction will enable you to achieve and even exceed the most stringent acoustical performance demands.
Request a free quote
CHOOSE MECART FOR YOUR NOISE ISSUES
Mecart acoustic doors are renowned for their acoustic performance, durability and superior quality.
PERFORMANCE
All designs have been tested and classified according to their noise reduction coefficient. MECART offers STC 35, STC 45 and STC 52 rated door and window products. If higher reduction is needed, specify a MECART STC 70 rated door which provides extreme acoustic performance made possible by a double-door design. High quality magnetic sound-seals and Roxul® mineral fiber core also contribute to the performance of MECART doors.
DURABILITY
Superior construction using galvanized or stainless steel, MECART doors come standard with high-performance paint finish and heavy-duty mechanical hardware which includes 4 hinge hanging construction for prolonged durability. Every component is selected by MECART designers to achieve long-term problem free use in demanding industrial, commercial and institutional environments.
FLEXIBILITY
Available in standard sizes, MECART acoustical doors can also be custom-made to suit your needs. Color, window shape or hardware options, MECART has the answer to accommodate any specific design in accordance to proven standards.
FAST AND EASY
MECART doors and windows are pre-assembled complete with frames at the MECART facility ready to be installed at your site.
A SOUND INVESTMENT
Meeting all industry standards, MECART doors and windows provide long-term performance and durability. They are key components in ensuring a comfortable and efficient environment.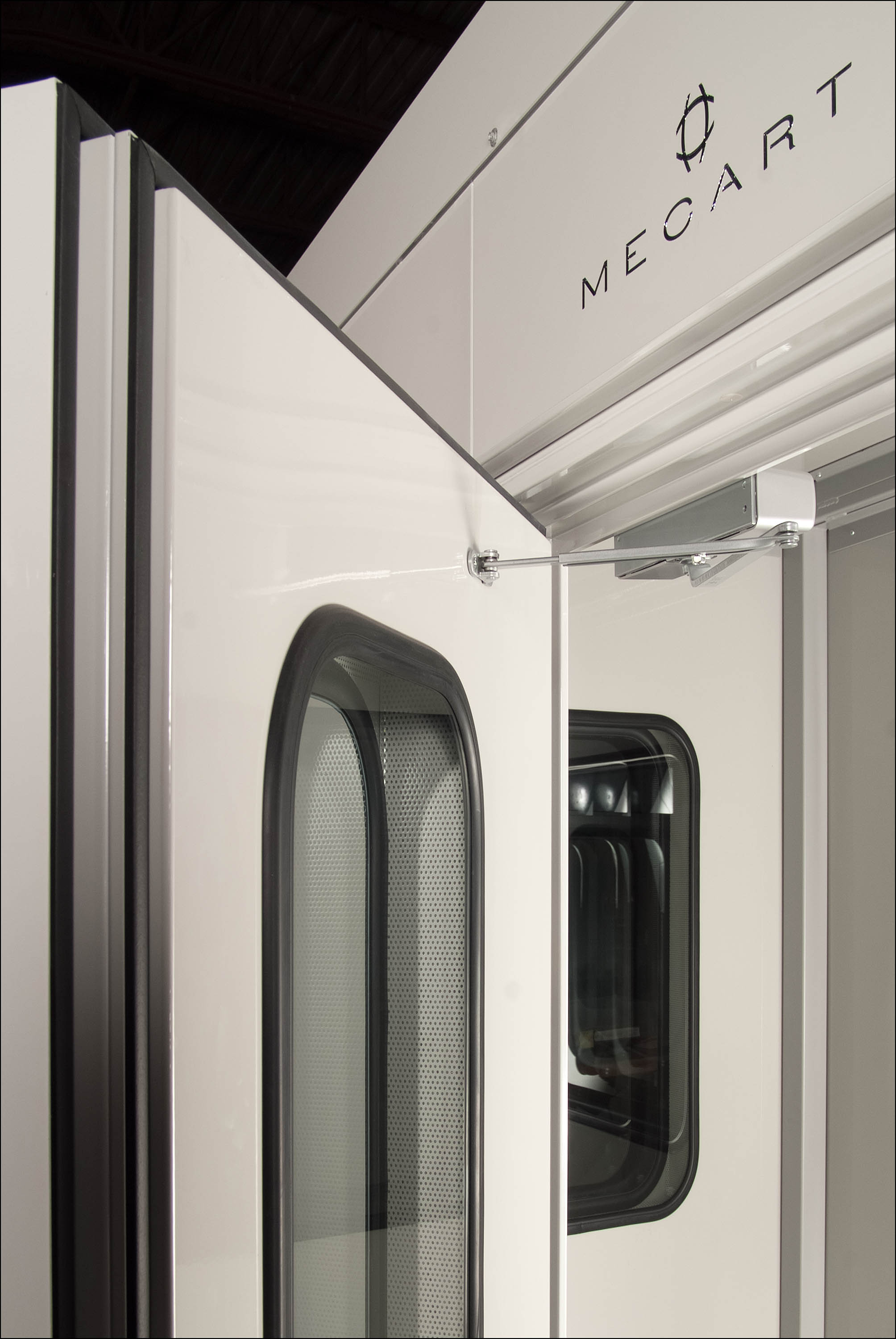 STANDARD FEATURES
Noise reduction from 30 dB(A) to 75 dB(A)
MECART magnetic sound-lock
Galvanized steel and enamel or stainless steel finish
Interior or exterior installation
Ultraviolet sunlight resistant finish
Perfectly sealed
Solid acoustic doors 100 mm thick
5 mm or 3 mm of steel
80 to 120 kg in weight (standard dimensions)
4 ball-bearing hinges
Single, double or triple pane thermal windows
Choice of hardware
Dimensions
Standard Dimensions for Single Doors: 892 mm x 2 086 mm • 994 mm x 2 086 mm
Standard Dimensions for Double Doors: 1 788 mm x 2 086 mm
Custom Dimensions: From 300 mm x 300 mm to 3 000 mm x 3 000 mm and over
Popular Acoustic Door Designs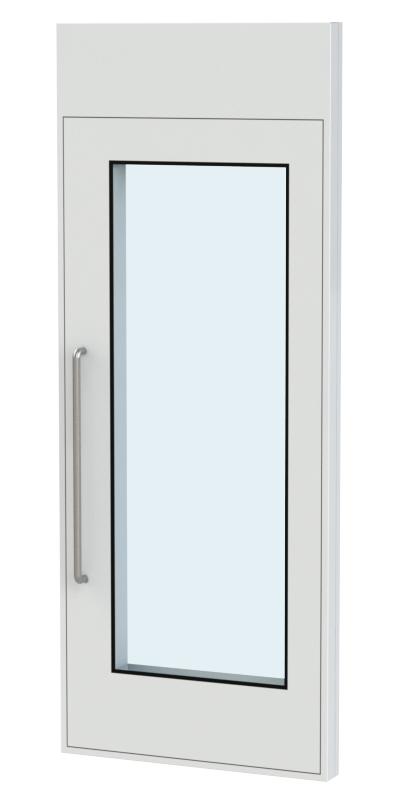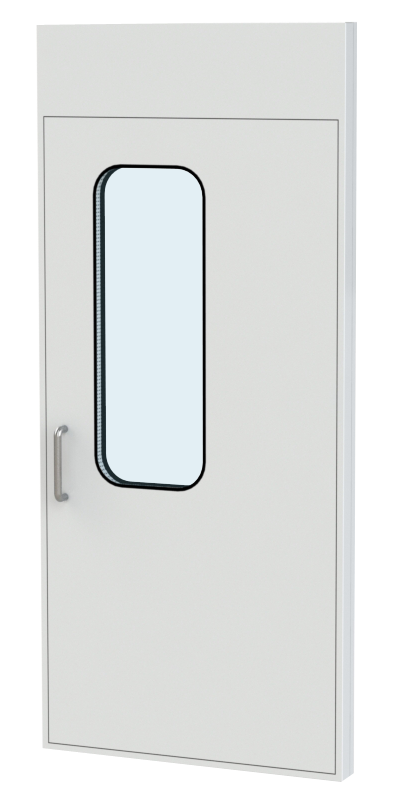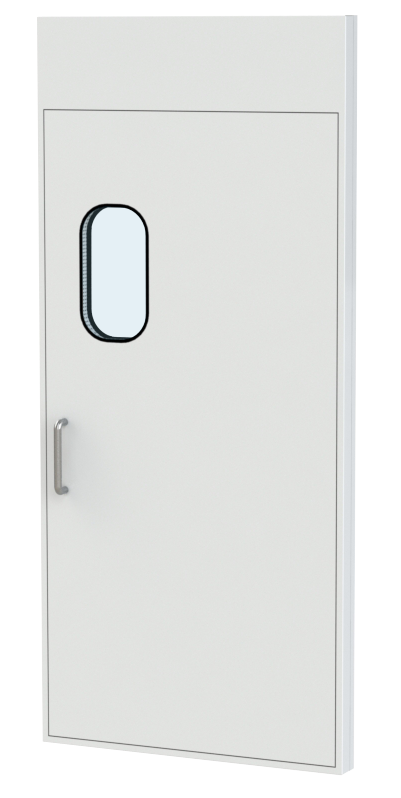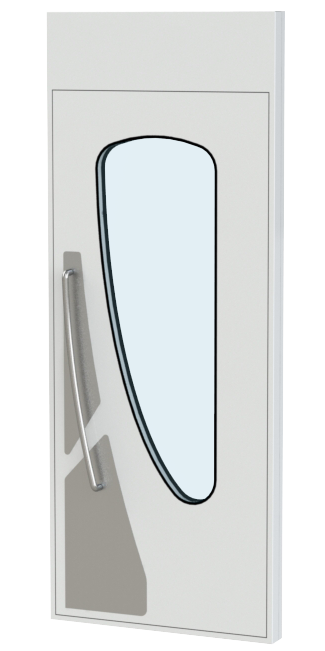 STANDARD DOOR OPTIONS
Acoustic Rating
– STC-35
– STC-45
– STC-52
– Higher than STC-52 (contact us for double doors or doors above STC-50 ratings)
Dimensions
– Frame: 37 X 84 – Opening: 33 ¾ X 80 ¾
– Frame: 41 X 84 – Opening: 37 ¾ X 80 ¾
– Made-to-measure (extra charge)
Sills
– 1-5/8 inche

– ¼ inche (extra charge)
Door Frames
– Standard cover moldings

– Made-to-measure frame
Handles
– 9" C-shape pull handle on the outside with push plate on the inside

– 3 feet C-shape pull handle on the outside with push plate on the inside

– Lever door handle on the outside with panic bar in the inside
Other Options
– Stainless steel kick plate
– Locks
Window Design (Tempered Glass)
– No window

– 16'' X 42'', rectangular, rounded corners

– Water-drop design

– Made-to-measure window
Door Swing
– Right Hand, in-swing

– Right Hand, out-swing

– Left Hand, in-swing

– Left Hand, out-swing
Colors
– Light Grey (Standard)

– Glacier White (Standard)

– Other colors optional
Order Your Acoustic Door Now
Build and order your Mecart acoustical door