Acoustic Enclosure for Cold Spray Additive Manufacturing (CSAM)
Sound attenuation of 45 decibels
Industry: Cold Spray Additive Manufacturing
Location: Quebec
Sound Attenuation: 45 decibels
Assembly: Onsite Assembly
Noise Source: Cold spray process (metal coating)
Polycontrols is working in collaboration with the National Research Council to advance the adoption of cold spray additive manufacturing (CSAM). The Cold Spray process uses high flow gases to bond metallic particles to a variety of surfaces and is an emerging technology on a global scale.
Mecart was selected to engineer and construct a 30' x 19' booth capable of both accommodating the highly combustible aspects of working with high-pressure gases, and containing the whistle-like sound at 120-125 decibels that the process creates. The finished product needed to be compliant with CEC/NEC Class II-Group E (Explosive dusts-Hazardous substances), therefore all lighting and electrical components were completely sealed within the chamber. The custom-manufactured walls were designed to meet STC-45 requirements.
Additionally, Mecart created a corner door. Its 7-foot-wide opening and 12-foot ceiling height can handle parts and equipment nearly the entire size of the enclosure itself, with easy in-and-out maneuvering.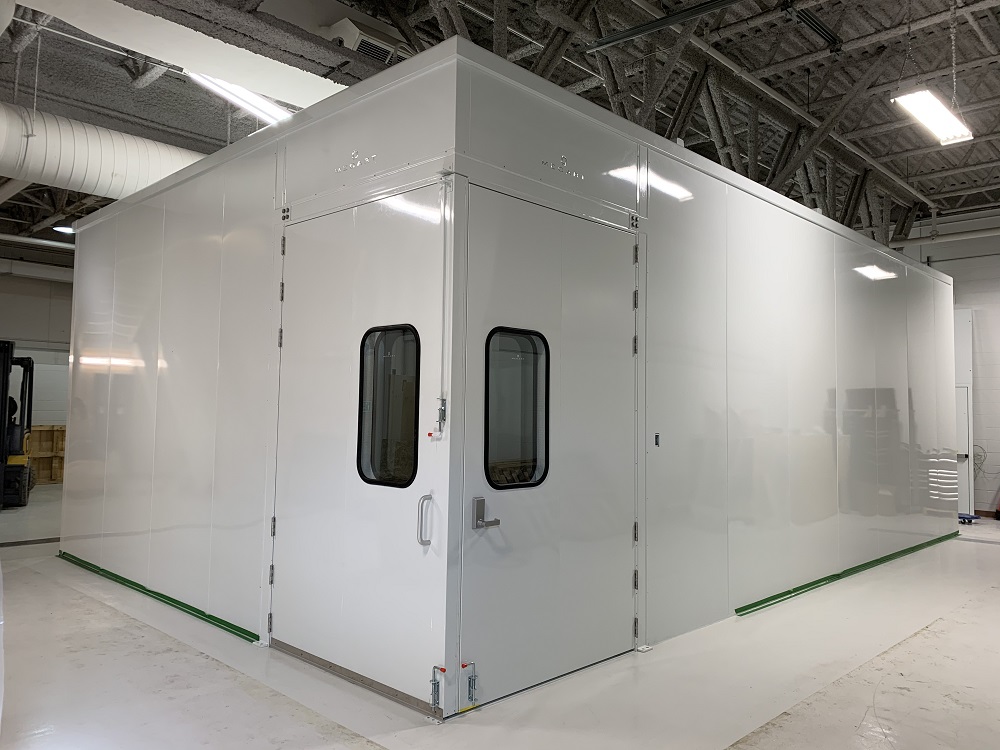 The operator sits safely outside of the enclosure with full view through the window to manage the robotics during the Cold Spray process. There is no exposure to danger or hazardous and harmful noise thanks to the great acoustic performance of the Mecart spray booth.
"I've traveled all over the world and seen nearly every installation of Cold Spray machines, and Mecart offers the best approach for enclosures," said Luc Pouliot, Vice President of Operations at Polycontrols. Most acoustic enclosures on the market use perforated panels to capture sound inside the booth. Due to the specific process of cold spray application, perforated panels are not ideal. Mecart has developed a smooth acoustic panel that delivers guaranteed STC requirements. Following installation, Luc added, "Working with Mecart was absolutely an excellent experience. Communications were crystal clear and I felt that we were all speaking the same technical language."
Assembly was done on-site. Thanks to Polycontrols for the great timelapse video of the project.
To learn more about the project: