Modular Hoist Cabin for Ore Extraction
Sound attenuation of 35 decibels
Industry: Mining / Ore extraction
Location: Ontario, Canada
Sound Attenuation: 35 decibels
Assembly: On-site assembly
Noise Source: Mining Operations
Size: Underground Hoist Cabin – 20' x  10'
This mining company needed a new hoist system/mine winder. Mecart delivered a 20' x 10' robust modular hoist cabin with STC-35 sound attenuation for their nickel ore extraction operations.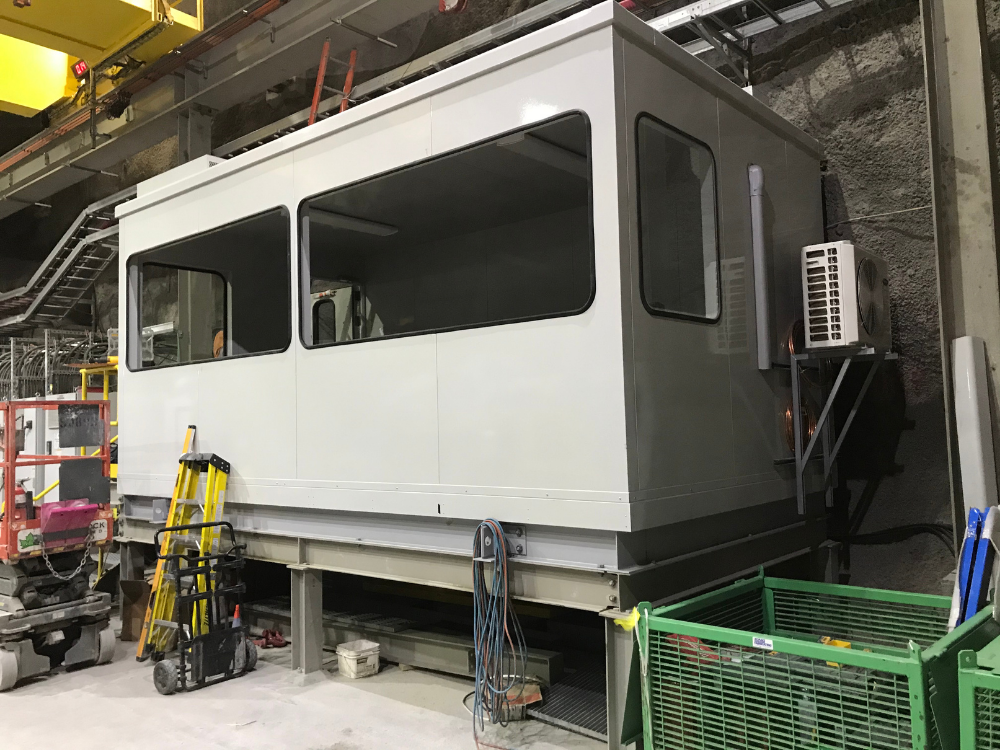 Delivering modular cabins to the mining industry since 1974 
One of the biggest deep mining projects is currently coming to life near the United States and Canada borders, in Ontario. The mining company will dig down to a depth of 2630 meters to extract nickel ore. The deeper you go in the ground; the harder the mining operations become. The supply chain, bringing utilities such as power and the 40°C to 50°C temperatures are just some of the difficulties encountered in deep mining.
To facilitate the logistics and the loading capacity, the mine hoist must be designed carefully. The mine hoist is one of the most important structures in the ore extraction industry. His importance comes from its responsibility, the mine hoist is used to supply the mine with equipment, materials, tools, personnel but also to bring the ore to the surface. That system is so crucial to the smooth running of mining operations that one workstation is fully dedicated to it. The man in charge of the safety and good functioning of the system is called the hoistman or the hoist operator. To complete the hoist system, this client needed a trustworthy hoist cabin.
Long-Lasting Modular Cabins 
The mine will be operational until 2035 and possibly beyond. To do so, they need equipment they can rely on! That why they choose Mecart to provide them with a heavy-duty and durable hoist cabin.  Our galvanized steel panels and modular cabins can stand the test of the time and harsh conditions of the mining industry. Our cabins are still fully functional and in great shape after 25-30 years of operation! The 20' x 10' hoist cab is also designed and built to provide a 35 decibels sound attenuation (STC-35) and a safe work environment. The modular cab was manufactured at our plant but installed on-site, at the mine.  As mentioned, the ambient temperature underground can be stifling and as high as 104°F to 122°F. To reduce the heat and accommodate the workers, the hoist cab is also equipped with an air conditioning unit (A/C). This mining cab is a turn-key solution including things such as the electrical main junction box and the telecommunication preparation to be fully functional in no time.
If you need a control room, an operator cab, a hoist cab or any acoustic enclosure projects you can request a free quote here !