Sorting Cabin for Recycling Center
Mecart designed and delivered a 14′ x 58′ sorting cabin to a municipal recycling center in the province of Quebec. The sorting cabin provides a safe working environment for employees who must sort recyclable materials. The sorting cabin includes two large 8′ X 10′ openings where the waste conveyors pass entirely through the cabin.  The modular sorting cabin is utterly custom-made for the specific needs of the client's recycling center.
Project Summary:
Industry: Recycling Plant / Recycling Center
Sound insulation (TL): N/A
Location: Quebec, Canada
Dimensions: 14 X 58
Project: Modular sorting cabin for a recycling center
Recycling Center Cabins Resistant to Chemicals and Corrosion 
Sorting cabins require large openings to allow conveyors of recyclable materials to pass from one end of the cabin to the other.
Recycling centers require enclosures and sorting cabins resistant to chemicals, corrosives, explosions, and other hazardous materials. It is not surprising to learn that nearly all the elements found on the periodic table can be found in a sorting center.
Many worker safety publications describe the dangers of a sorting center, both for employees and equipment and facilities. In recycling centers, the first step is pre-sorting, where workers remove what is not recyclable and should not have been in the recycling bin.  There may be needles, blades, bleach or chlorine cans, propane cylinders, or other non-recyclable hazardous products.
This client chose Mecart for the strength and durability of the modular panels against corrosion, fire, and chemicals, among other things. Mecart modular enclosures provide safer working environments for employees while protecting valuable equipment.
Mecart has built many sorting cabins over the years, and its track record also made it easy for the recycling center to choose when it was time to purchase a brand-new modular picking station.
Why Choose Mecart for your Recycling Center? 
Building a sorting cabin using a general construction contractor could be possible (even if unlikely); several advantages make Mecart the ideal choice for your picking station in the recycling center.
1. Resistance and durability in harsh environments 
Mecart panels, as mentioned above, offer strong resistance to chemicals and corrosion for several reasons.
First, the 4″ steel panels that form the walls and ceilings of Mecart's sorting cabins are specially designed to be durable and robust in harsh environments. Mecart sorting cabins can withstand time and harsh conditions for many years (25+ years).
Secondly, nothing is left to chance; even the quality and type of paint are specially chosen to enhance the protection of the modular panels. For example, the paint for this sorting cabin is baked polyester powder paint.
This type of paint offers greater protection and resistance to corrosion. Testing has revealed that this paint can remain submerged in a salt solution for over 2500 hours before showing any signs of deterioration.
Mecart's modular panels are also more resistant thanks to a flush finish, without cracks or fissures. This prevents the infiltration of many unwanted materials into the panels, thus preserving the material integrity of the panels.
2. Ease, flexibility, and speed of on-site assembly
Mecart offers faster lead times and delivery than traditional construction. So, if you have immediate or urgent needs, opting for a modular sorting cabin is a way to save precious time.
Also, Mecart stands out because of its flexibility and speed of installation. The sorting cabin can be pre-assembled and delivered directly to the desired location in the recycling center. As in this case, it is also possible to transport the sorting cabin panels and assemble them quickly on-site. This limits the prolonged interruption of activities and, therefore, the delays linked to potential stoppages in the recycling center operations.
In addition, if new large equipment needs to enter the sorting cabin and picking station, the flexibility of the modular panels would allow some of it to be temporarily removed while the new machine is being brought in. If necessary, the cabin could be completely disassembled, moved, and then reassembled in the desired location.
3. 100% customized sorting cabins for Recycling Centers 
Each recycling center has a different design, equipment placed in different locations, workstation configuration, etc. Therefore, offering a standard sorting cabin solution could cause problems with integration.
Whatever the needs, Mecart's engineering team finds solutions to the specific requirements of the customer and the challenges that a work environment can bring.  Almost everything is customizable, from the lights to the type of window finishes, from the choice of paint to the width of the conveyor openings.
Whatever your needs, Mecart integrates them into your recycling center picking station.
For example, this sorting cabin required an eyewash station and special vapor-proof lights. Mecart ensured their integration (process integration) directly into the cabin.
Mecart can manufacture air handling units (AHU) or HVAC when the recycling center or main building does not have a central ventilation system. In this project, Mecart custom-made the preparation to connect the recycling center ventilation system to the new sorting cabin.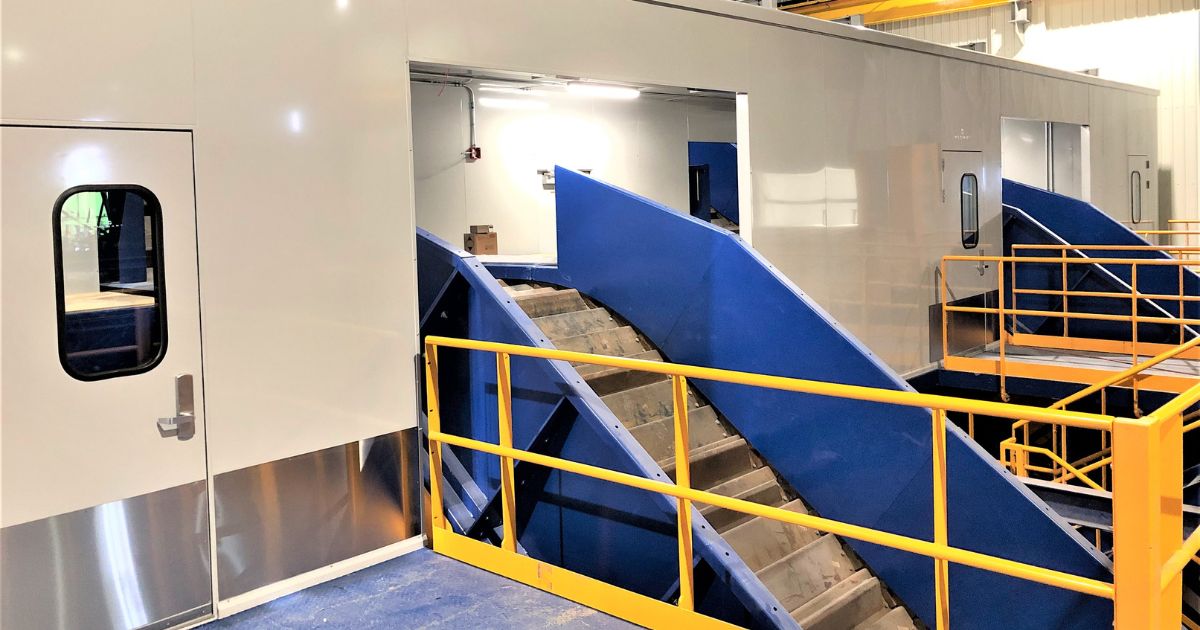 Looking for a sorting cabin or picking station but don't know where to start?
Tell us about your project! All our products are custom-made. Give us a call and a representative will let you know if MECART is the best fit for you!