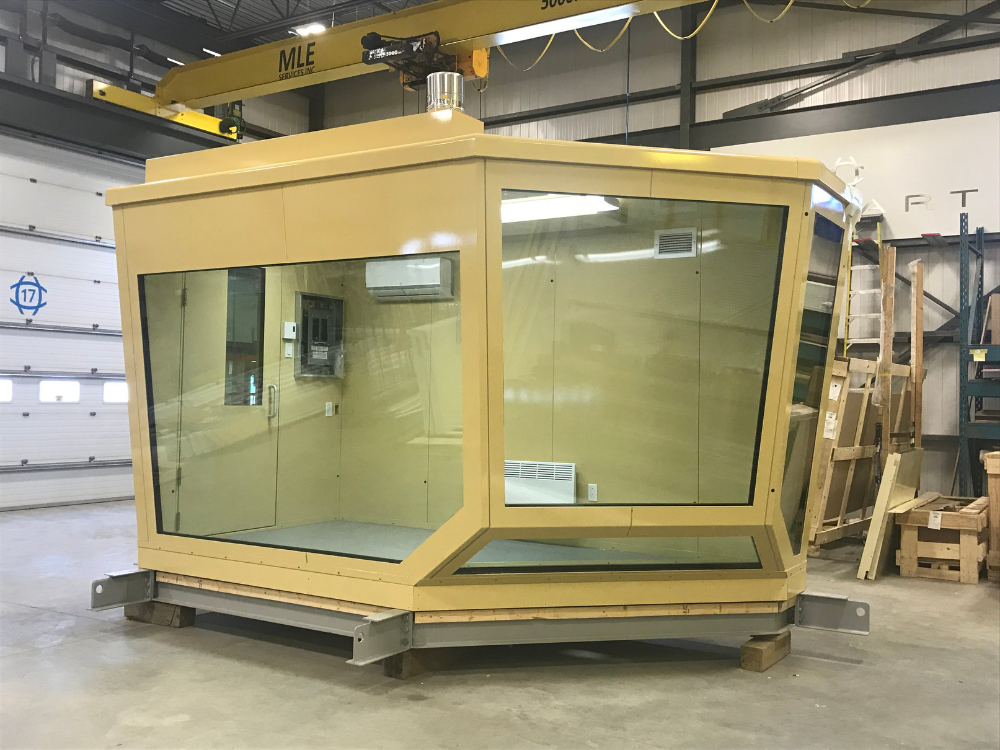 Custom Operator Cab for Copper Smelting and Refinery Industry
Sound attenuation of 45 decibels
Request a free quote
Industry: Copper Smelting / Foundry / Copper Refinery
Location: Rouyn-Noranda, Canada
Sound Attenuation: 45 decibels
Assembly: Prefab & Factory Assembly
Size: 13′ X 7′
Customized Operator Cab 
Operator cabins come in different sizes and shapes to fulfill custom needs. This operator cab was pre-assembled at Mecart's plant before being installed at the client's copper foundry in Rouyn-Noranda, Quebec. The custom-colored cabin measure 82 sq.ft. and provides, on average, about 45 decibels sound attenuation.
This copper manufacturing company in Northern Quebec is an expert in the sustainable processing and recycling of metals from electronic equipment. From the waste, they retrieve the copper, melt it, and manufacture it into pure copper anodes. This client needed a new operator cab with specific characteristics. The custom operator cab needed to have a glazed wall with two inclinations to allow a better view for the operators. To ensure the safety of the workers, the operator cabin needed to attenuate the noise generated by the copper mill machinery. The operator cab was painted in a custom light yellow, as asked by the client. Mecart became an easy choice for this client as we offer custom modular solutions and are experienced in delivering acoustic insulation for operator cabs in many industries.
The cabin is designed and built to deliver a sound isolation (TL): on average about 45 decibels (STC 45). The door and windows are also STC 45 certified. Mecart's triple thermos windows are made for extreme conditions. They are manufactured to endure the cold weathers of Northern Canada winters and the warm temperatures of the Southern States in the United States, from – 104°F to more than +86°F.
The durability, the lower construction time, and the full customizable products that modular solutions provide are parts of the reasons why we have repeat customers like this client.
To see more operator cab projects: