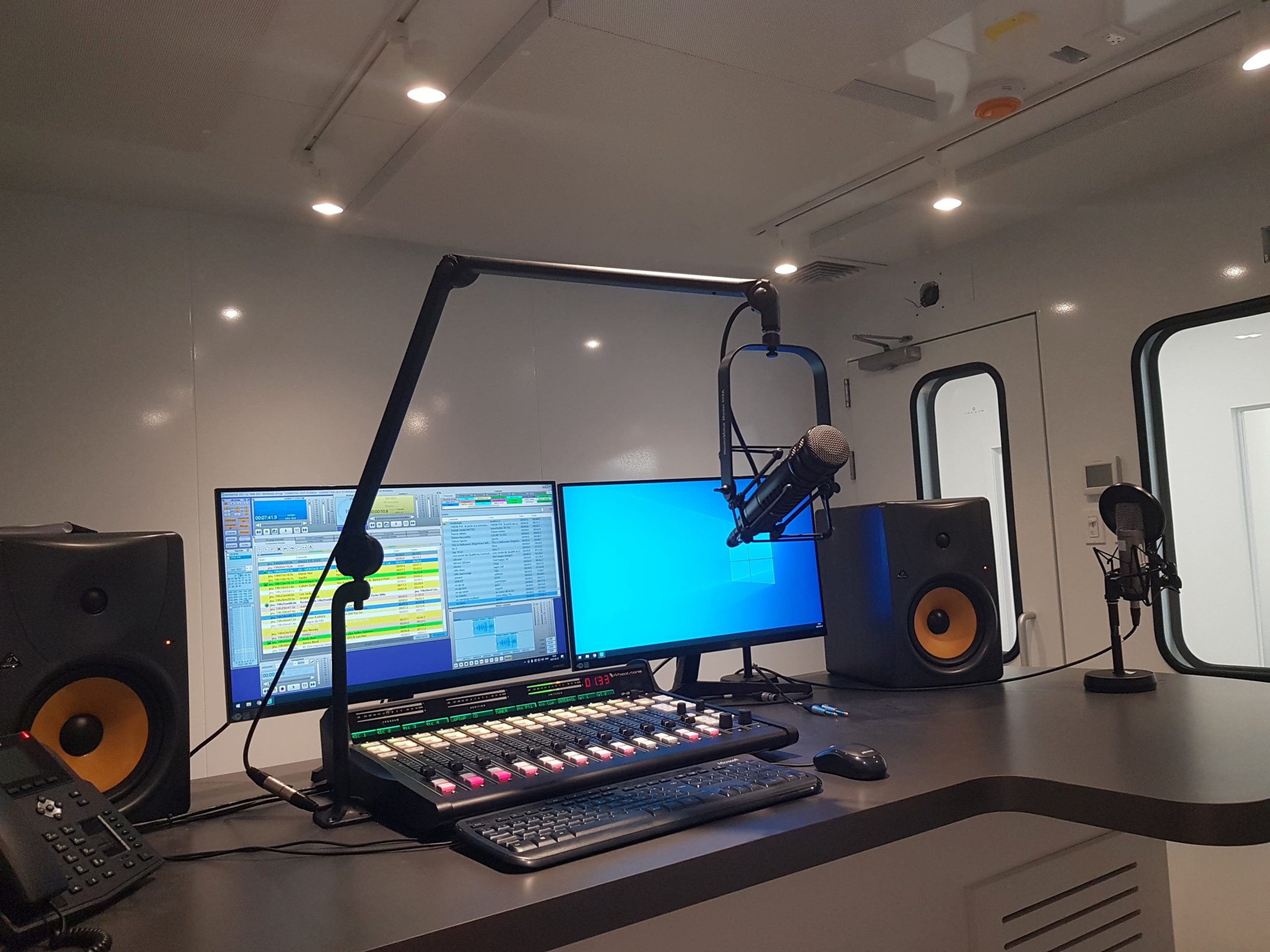 This radio station, located in Quebec, contacted MECART to purchase 3 new sound isolation booths for their broadcast station's studio.
The 3 custom sound booths are located at CountryPop 92.9 's new location in the downtown district of their region.
The 1st and 2nd sound isolation booths are dedicated to broadcasting different radio shows and country-pop music. The 3rd sound booth is devoted to other content activities, such as podcast production.
Like all MECART projects, it was custom-made specifically to meet the customer's needs.
They requested 3 identical sound isolation booths, which will be placed side by side, a few inches apart.
The client required 12′ X 11′ dimensions for each studio, and additionally, needed sound isolation (transmission loss) of 45 decibels (STC 45) on average.
That's precisely what MECART delivered! Here is a summary of the radio station studio project:
📍Location: Quebec, Canada
💼Industry: Broadcasting / Radio Station / Music
🎙️Application: Radio Broadcasting / Podcast Production
📏Size: 3 Sound Booths – 12' X 11'
🔉Sound Isolation: 45 decibels – STC 45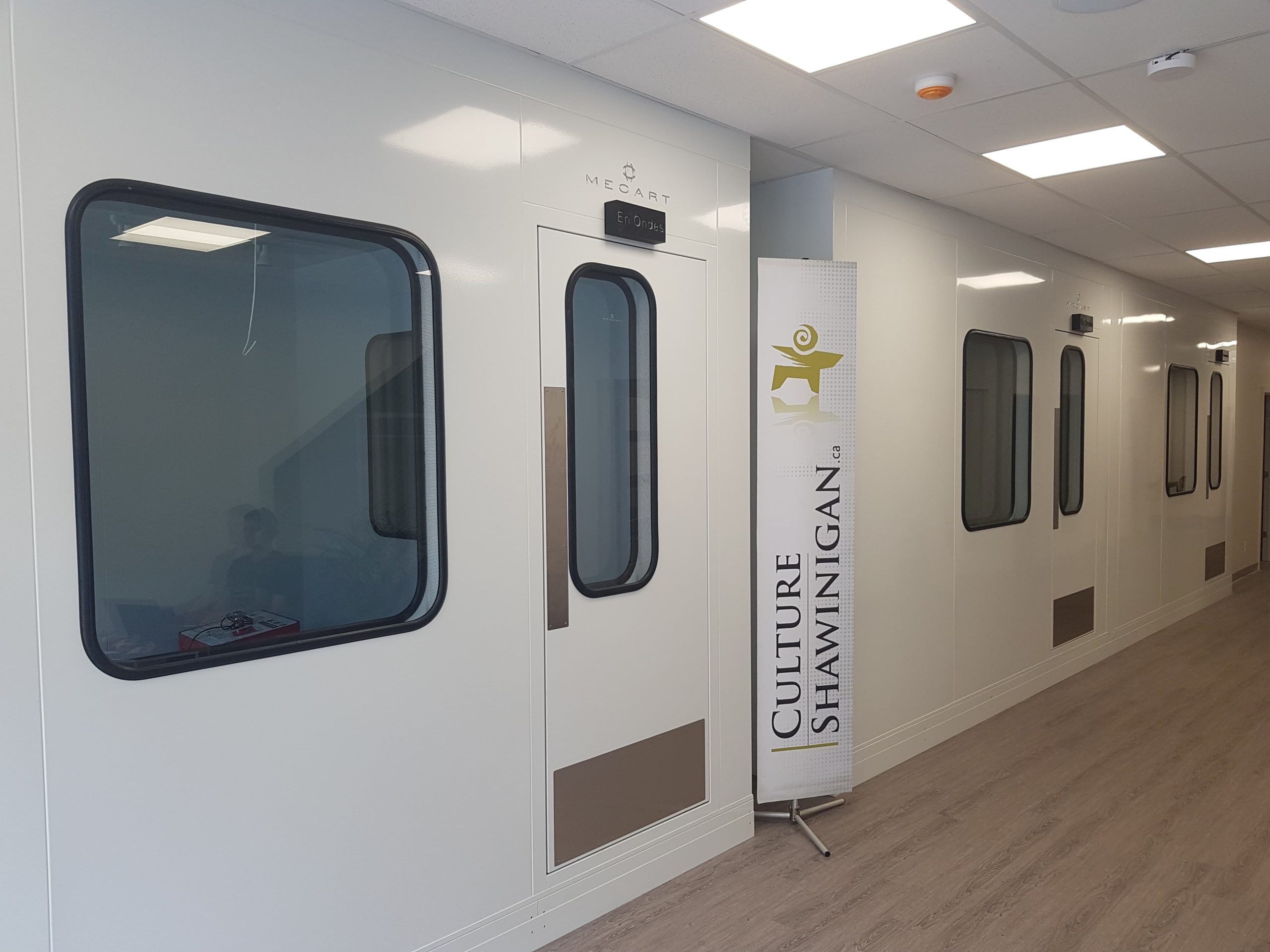 Modular Sound Booth: The Smart Way to Build a Radio Station Studio
In the past, and even today, most studios and sound booths are made from traditional construction materials.
We are seeing a shift in the world of soundproofing studios, as more and more people are turning to modular sound booths and studios for the many advantages they bring.
Opting for modular sound booths and studios is the smartest way to get the most out of your investment.
This project is an example of why opting for modular sound isolation booths is the way to go! 
Modular soundproof booths are made up of acoustic panels that interlock with each other easily.
All panels had to fit through a standard size door. In less than a day, MECART's installers were able to deliver and install all the panels in their intended location.
If our client had opted for traditional construction for their radio studio, it would have taken several days at their facility to install. Plus, the installation would have left dust and debris on-site. In comparison, installing MECART modular studios is clean, fast, and easy.
Traditional construction lacks flexibility and mobility, which is one of the distinctive strengths of its modular counterpart.  Modular sound isolation booths can be reconfigured, relocated, leased, and even sold.
There are also many other advantages in choosing MECART's modular construction and sound booths: tax benefits, a more environmentally friendly solution, a product life expectancy of over 25 years, and guaranteed acoustic performance combined with a contemporary look.
Download the Studio Brochure
Advantages of Going with Modular Sound Isolation Booths for Your Radio Station Studio 
Modern Looking Sound Booths Without Any Sacrifice in  Acoustic Performances 
The radio station studio wanted to start fresh, moving from the basement of their previous address of 15 years to a new location that would provide more visibility.
''This move is both practical and strategic," says the newly hired executive director.
"We needed to renew a lot of our equipment, so we decided to move it to a larger, more visible location. This was not the case in our basement, which is a bit far from downtown.''
The radio studio is now located in the downtown district, with large bay windows providing a full view of the studios directly from the street. This allows people to see exactly what is happening in the new studios.
With this view into the radio station, the desire to have soundproof booths with a clean, modern, and professional look has become a priority in the selection criteria of a studio and sound booth manufacturer.
This was the first thing that attracted Country-Pop 92.9 to MECART's modular solutions. The visual appearance of the sound booth structures corresponds to the brand image that the radio station is building.
The advantage of picking MECART sound isolation booths and studios is more than just looks. Thanks to our laboratory-tested panels, there are no compromises made for sound insulation, and our acoustic results are guaranteed.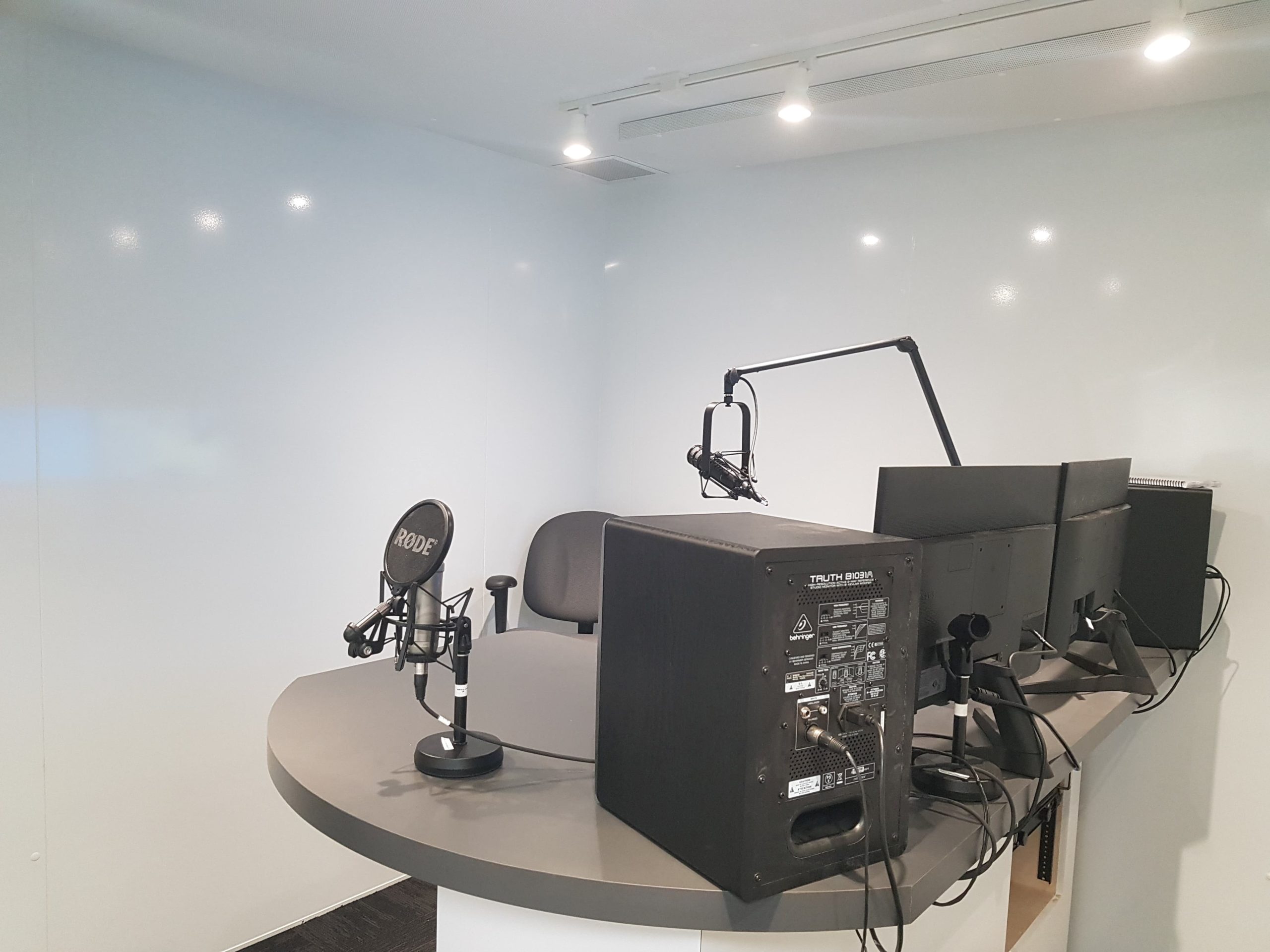 Potential Tax Savings
Buying brand new custom sound booths for your radio station demands a substantial amount of capital. Buy smart and go with modular sound booths.
MECART's unique modular studios and sound booths, in addition to being able to be modified, relocated, leased, and even sold, are often eligible for accelerated depreciation as compared to traditional studios or any other structure permanently linked to the building. This makes them a more adaptable and cost-effective solution than any other option on the market.
Durability: A Solution that Lasts Over Time
Our studios and sound booths have a life span of more than 25 years.
Every MECART product is built to last over time, our sound isolation booths are no exception.
Mecart acoustic panels are composed of 16-gauge steel which makes them extremely durable.
Mobile & Flexible Sound Booths 
Planning on relocating and you don't want to lose your studio and sound booth investment? No problem! You can move them to your new place easily, as our modular panels can be disassembled and reassembled.
We have multiple clients who saved a substantial amount of money in choosing MECART studio solutions and bringing their studios with them to their new place!
Don't believe us? Look at this Broadcast Media Studio Case Study: