Video Edit Suite for Broadcast Media Company
Sound Isolation (Transmission Loss) about, on average, 45 decibels (STC 45)
Construct Smarter with Modular Studio Solutions 
Mecart was contacted in 2018 by architects working on a major renovation project for the headquarters of KQED in San Francisco, California. New functional studios were needed to be installed at a temporary location during the main office renovation. Knowing that the studios would then be moved back to the new headquarters, KQED decided to purchase Mecart modular sound booths.
"We are interested in using the modular panels to be built in a temporary space for sound studios and radio operation control rooms. Then dismantling them and rebuilding them permanently in another location."
They reached out to Mecart because they wanted something "mobile" but also permanent. It was pretty easy for KQED's decision-makers to opt for modular studios over a stick-built solution.  The primary reason is that modular studios are easily movable (easy install and uninstall process), and they are also expandable for growth if needed. Traditional stick-built construction studios would make it impossible to reuse studios and control rooms afterward.
The first phase of this project involved building radio broadcasting studios in a temporary space. You can read the case study Broadcasting Studios for Public Radio Station on our blog to learn more about the project.
The second phase of this project meant moving the existing studios back to their newly renovated offices and adding a brand-new video edit suite for their public television branch.
When construction was completed at KQED, Mecart's installers moved the radio broadcasting studios (phase 1) from the temporary space to the new one, along with the addition of a new 3-booth video editing suite (phase 2).
Modular studios bring flexibility, adaptability, and mobility to your projects, whether for an expansion plan or to move your studio to a new address! You can save yourself from unnecessary constraints by constructing smarter with modular studios.
Video Edit Suite: KQED's Studio Renovation – Phase 2 
Here is a summary of the video editing studio:
Industry: Video Editing / Broadcast Media / Multimedia
Project: 3 new studios for their video edit suite
Sound isolation (TL): about, on average, 45 decibels (STC 45)
Dimension:

Video Editing Suite: 14'-2'' X 12'-8''
Voice-Over Studios: 5'-6'' X 10'

Location: San Francisco, California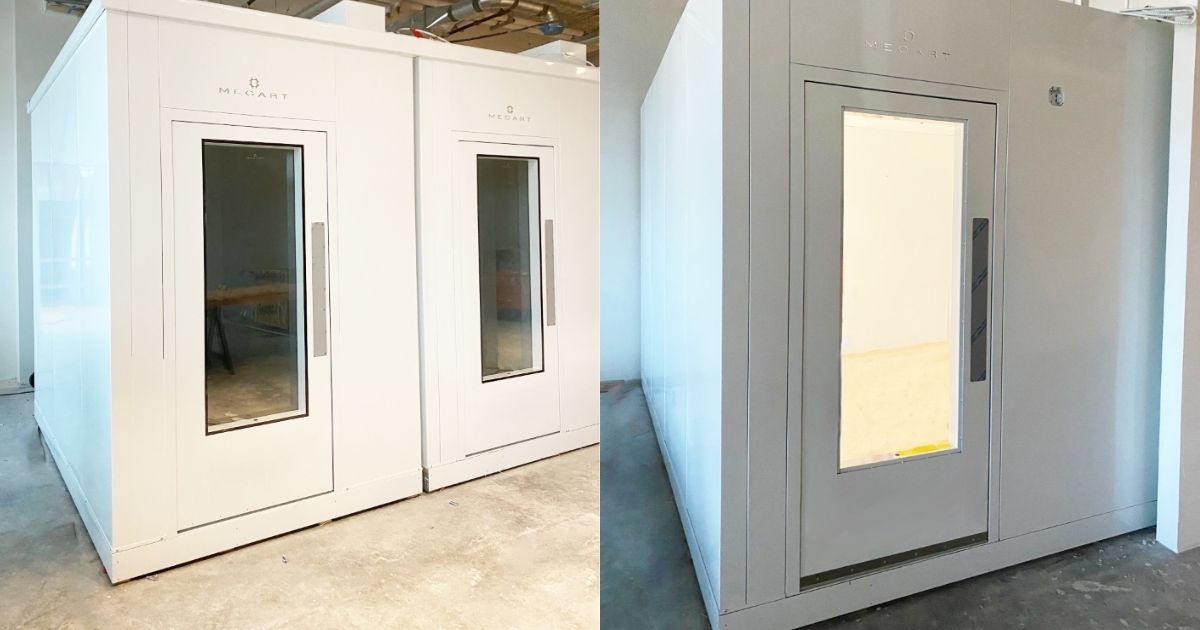 Video Editing Studio and Voice-Over Recording for Post-Production 
This project includes 3 studios for post-production operations: 1 Video Edit Suite and 2 Voice-Over Studios.
Video Editing Room
When designing a professional video edit room, no stone is left unturned—the ergonomics, the material chosen for the room, the equipment, and even lighting. Every choice made during the design phase will impact the acoustic performances, the comfort, and ultimately the creative process.
The 14'-2'' X 12'-8'' video editing suite provided by Mecart offers sound isolation (transmission loss) of, on average, about 45 decibels. The windows and doors also give the same sound isolation. Silencers have also been added to the ventilation system (HVAC) to reduce, at a minimum, the noise sources.
Voice Over (VO) Studios 
Voiceover is a production method in which a person's voice is captured for off-screen use. It is widely used for television or cinema narration, publicity recording, and many other applications.
Voice-over studios generally require smaller sound booths as less equipment is necessary. This project included two 6'x10' voice-over studios.
It's common for studios to have ''lounge'' and ''chill'' vibes to provide comfort and enhance creativity. That's why our client asked for incandescent spotlights on a rail with a dimming option.
Both voiceover studios and the video editing room provide the same acoustic performance, which is, on average, about 45 decibels of sound isolation (TL) (STC 45).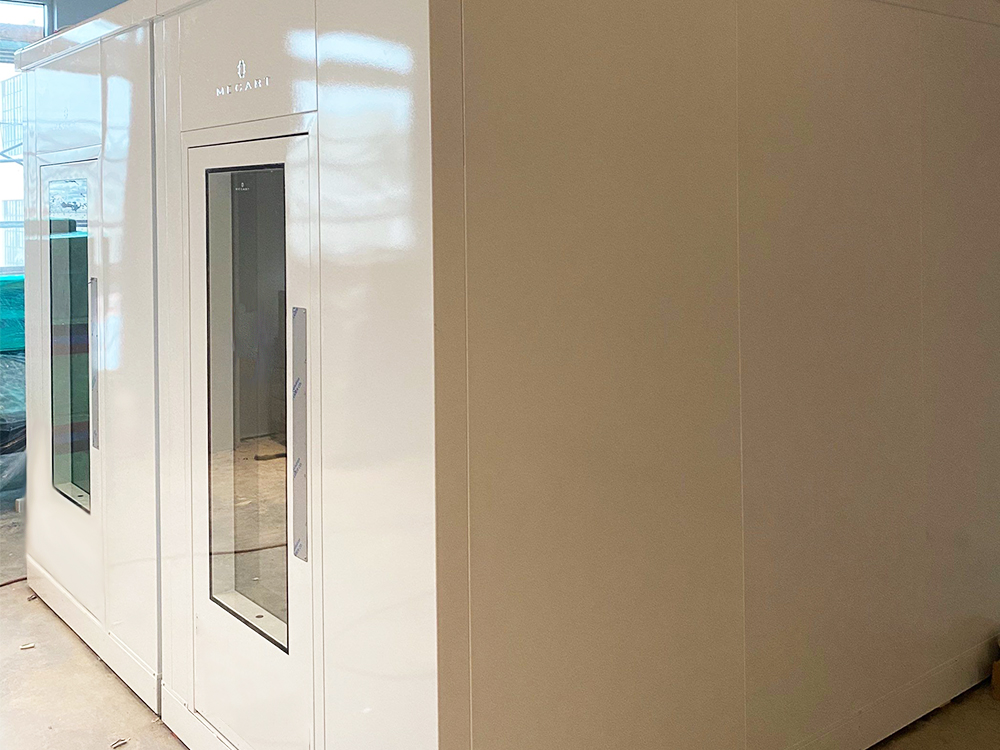 Other Sound Studio and Sound Booth Projects