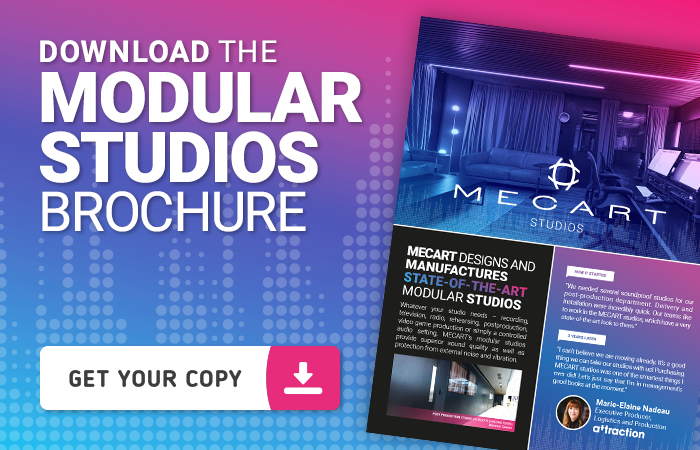 Radio stations need a high-quality acoustic environment to broadcast their programs.
Soundproof broadcast studios make it easier to broadcast your programs because they absorb echoes, extraneous noise, excessive vibration, and other sounds that can affect the quality of any broadcast.
In this case, this broadcast school needed 4 different-sized modular studios with STC 45 sound isolation, which translates into a 45 dB reduction in ambient noise.
You can take a virtual tour of the studios that MECART designed and manufactured below on this page! If you want to know more about our acoustic studios, download our studio brochure on the left!
Multi-Station Radio Studios
Mecart was selected by this Quebec college to design/build a custom suite of acoustic studios for recording and live broadcasting as part of their educational program. A total of 4 multi-station studios were manufactured at our plant, then shipped to the site for assembly.
All Mecart studios arrive fully equipped with electrical outlets and other services requested by the client. Integrated cabling within the studio walls equals no sound leakage into, or out of, the studio.
These state-of-the-art studios aren't only appreciated by the students who use them, but they are a central feature of the college, with plenty of windows that allow others on campus to see the broadcast taking place.
Radio Station Studio Designs Built to Last
Thanks to Mecart's use of the highest quality materials, this college's investment in broadcast studios will last for many decades.
We wouldn't be surprised if multiple generations of students will walk through the doors of these installations.
Additionally, modular studios can be expanded, reconfigured, or moved and still maintain their acoustic performance.
To learn more, read our articles on modular studios: