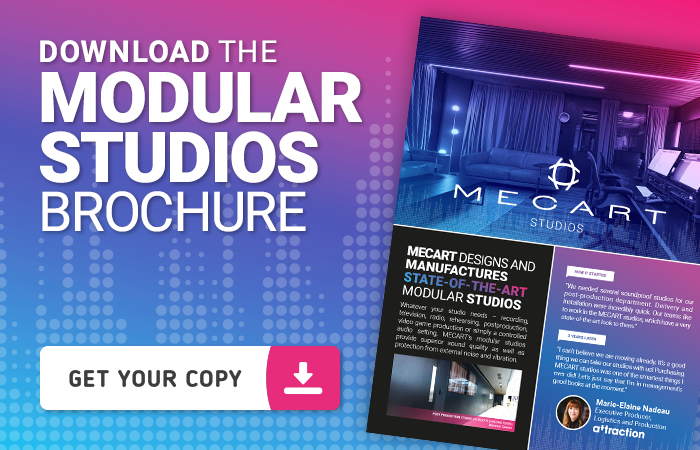 It's a daunting task. You've been commissioned to design an acoustic studio for music recording, audio post-production, radio broadcasting, or video game creation. You don't know where to start.  Start here!
An essential initial step is defining features such as room layout, dimensions, acoustic treatment, sound isolation (TL), and reverberation.
Another key decision is whether you'll use a prefab recording studio, also known as modular recording studio, or a traditionally constructed studio.
For decades, traditional construction was used exclusively. Traditional remains most common, but the prefab/modular choice is rapidly gaining traction — and for good reasons.
Which Type of Professional Recording Studio Construction Should You Choose?
With so many decisions to make, and an array of products regardless of your studio design preference, answers aren't easy.
To simplify this matter for you, we separated the acoustic studio design options into 3 categories:
standard vocal/sound booth
traditional construction studio
MECART prefab/modular construction studio.
Check out the check marks: The chart gives a sneak peak at the all-inclusive advantage of MECART prefab studios.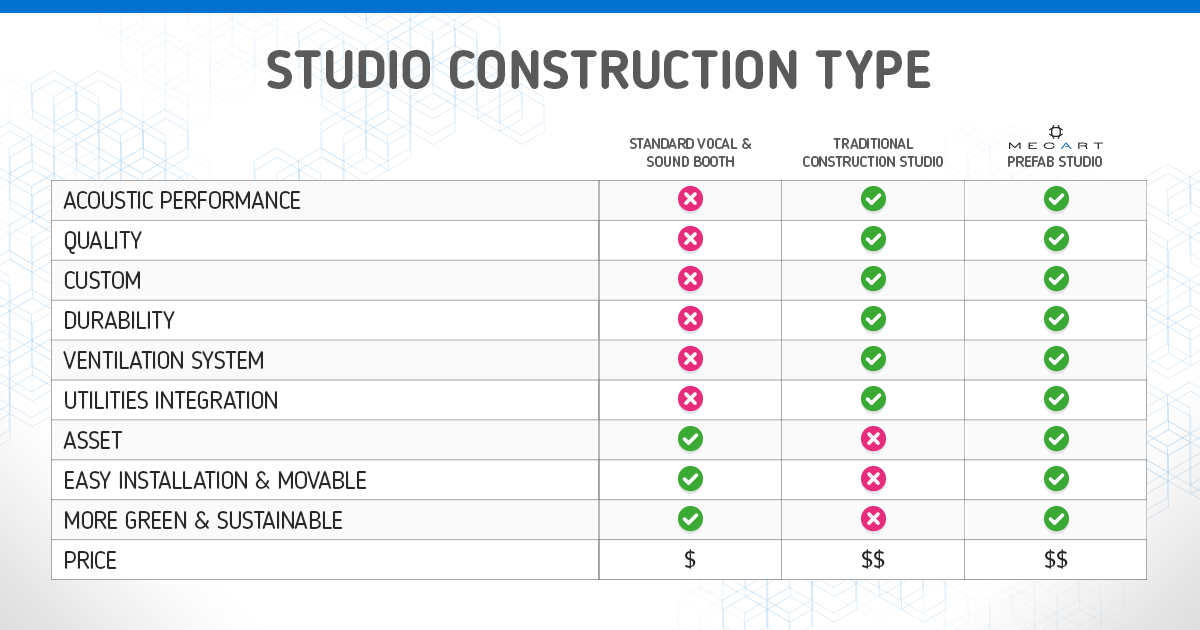 Want to know more about modular / prefab studios? Read our article The 10 advantages of Mecart's prefabricated soundproof studios.
Acoustic Studio Design: Multiple Options for Different Needs
1. Standard Vocal and Sound Booth (DIY; mostly residential)
This category, which could also be called portable studios, accounts for about 90 percent of acoustic studio solutions offered. Standard vocal and acoustic booths are intended primarily for amateur music recording, audiobook voiceovers, podcast enthusiasts, etc.
Studiobricks, WhisperRoom, and VocalBooth.com are companies that offer entry-level studio solutions.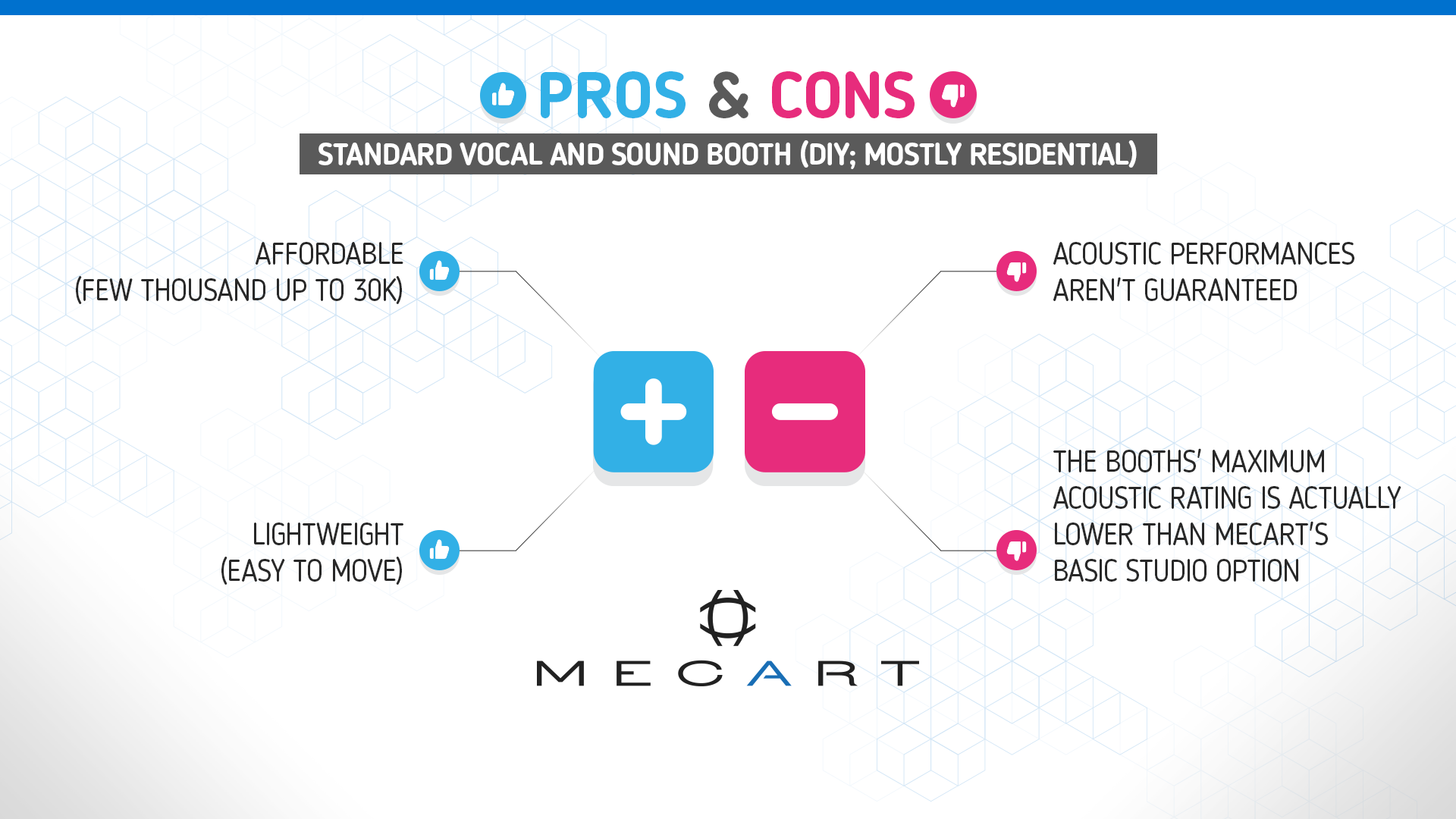 Pros +
The booths are affordable, with price tags ranging from a few thousand dollars for a smaller booth to $30,000 for the biggest studios.
They are lightweight, so you can move them overnight, set them up inside an apartment, etc.
Cons –
Acoustic performances aren't guaranteed, and the booths are not laboratory tested. The acoustic performances, in fact, tend to be unclear and vague. We don't recommend this option if you want to use your studios with professional or commercial intent.
While this may save dollars, you will lose in sound isolation and durability since the booths are made with lower quality components than those of traditional and modular construction studios.
The booths' maximum acoustic rating is actually lower than MECART's basic studio option.
These booths might provide up to 30-35 decibels (STC 30 | STC 35) of sound isolation, while MECART solutions can cut up to 60 decibels from the outside environment.
2. Traditionally Constructed Studio (gypsum/stick-built)
Let's get this straight: Traditional studios are an excellent option for commercial and professional purposes. Typically, for this sort of studio, the customer contacts an acoustic designer to create the acoustic studio's designs.
The acoustic designer or customer will locate a general contractor to construct the studio's shell. Once construction is complete, the acoustic designer completes the studio and sound booths' acoustic treatment.
The following is an overview of the benefits and drawbacks associated with this sort of studio.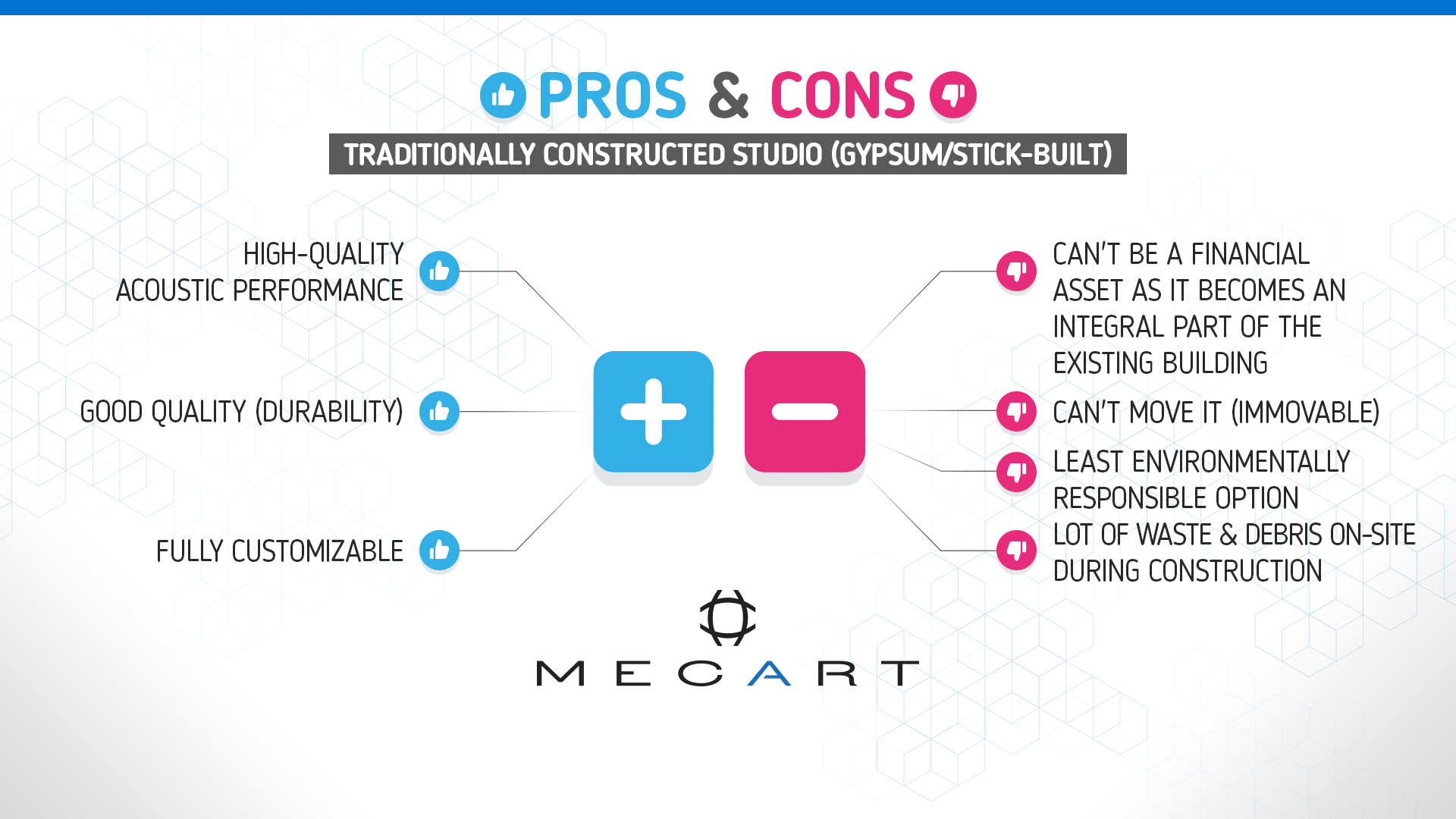 Pros +
There are a lot of traditional construction materials that provide outstanding results when it comes to acoustic performances.
Traditionally constructed studios offer high-level acoustic performances and good quality, translating into a durable studio solution. They are also fully customizable. Utilities can be integrated directly into the studio suite, as can a ventilation system.
Cons –
A traditionally constructed studio becomes part of the existing building. Therefore, the studio can't be considered a piece of equipment or an asset, allowing for cost depreciation.
Immovability is another downside of the studio being part of the main building. You won't be able to move your studio with you if you need to change location, losing all your investment in the process. In other words, if you rent a space or building, the owner will benefit from the studio's investment, not you.
Additionally, a traditionally constructed studio is the least environmentally responsible and sustainable option since it creates a lot of on-site construction debris and waste.
3. Modular Recording Studio and Prefabricated Recording Studios
Modular-construction studios are the best option because they combine the benefits of the other two categories without the drawbacks.  Coming from MECART, this might seem like a biased assessment, but the evidence is resounding.
Listed below are some of the positives and negatives of having a prefab / modular studio.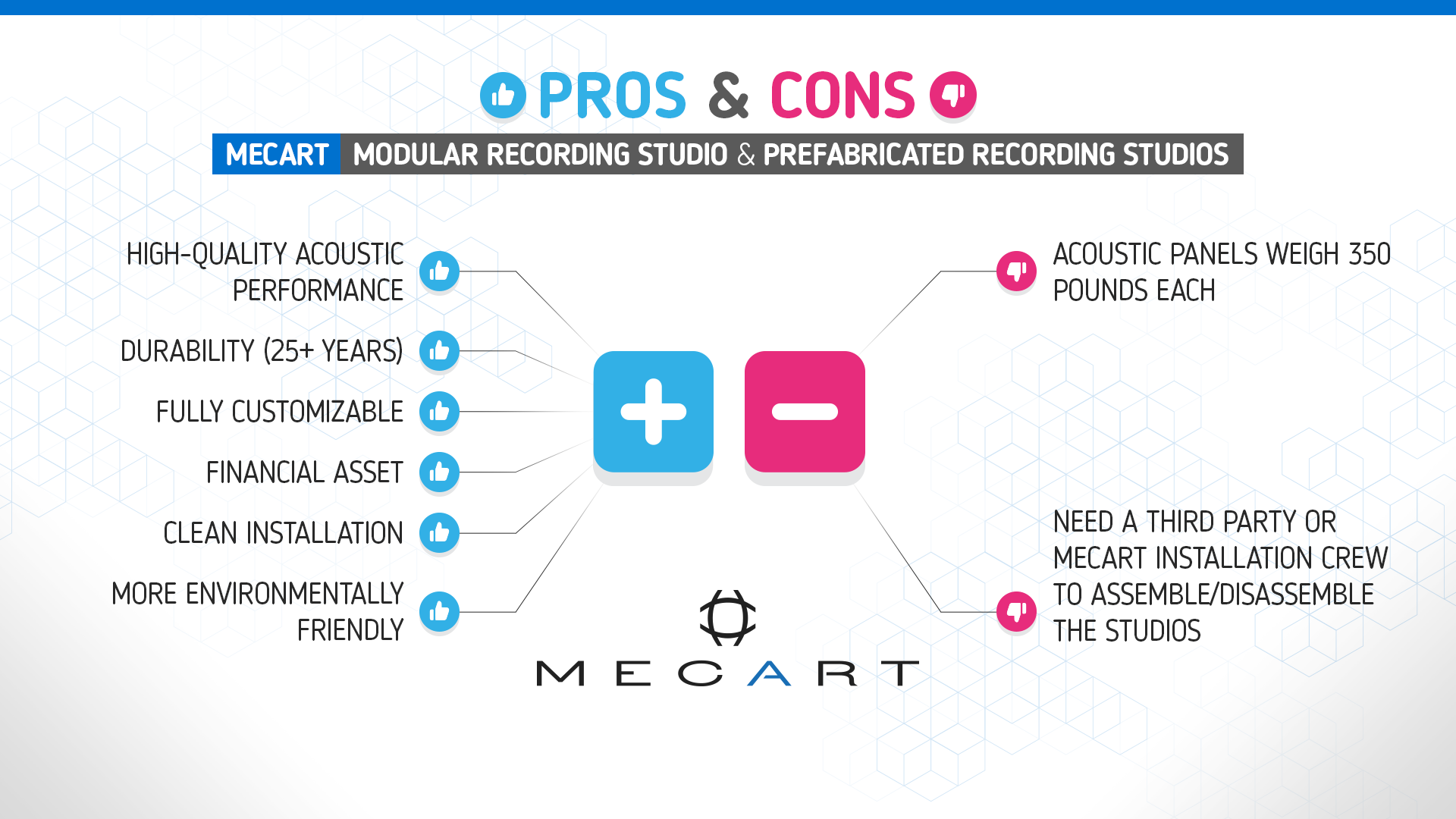 Pros +
Prefabricated studios really do have it all!  Here are some of the attributes:
Customizable and architecturally appealing — Modular and prefabricated studios are 100% customizable. Need furniture in your studio? We got you. Want utilities and services built into the panels of your studio? We got you. Everything you need or want can be integrated into your studios and sound booths. Our design team and engineers work for you to make your studios precisely how you want them. MECART offers prefab recording studio solutions with the modern, sophisticated looks you want, both for your employees who will spend long hours in the studio and for guest artists.
High quality — Our prefabricated studios are manufactured under precise conditions in our facilities to ensure the highest quality.
Durable and long-lasting — Our prefab and modular panels can sustain the harshest industrial environment for more than 25 years. Such environments include those of steel mills, underground mining sites, and power plants.
Guaranteed acoustic performance — You won't have any surprises with the sound isolation (TL) of your modular recording studios because we guarantee the acoustic performance of our panels. Those panels have been thoroughly tested in a laboratory.
Financial asset — Because  they are considered equipment rather than a building, the prefab (or modular) studios are 100 percent yours. You can rent them, sell them, and move them to a new address, making them an excellent asset for your company.
Pricing — A prefab soundproof studio won't cost you an arm and a leg (or any part of you); they are in the same price range as a traditional construction studio.
Clean installation — Once all the parts are produced, our installers arrive at your location and set up your studios in no time, leaving no debris, dust, or waste. All production is done in our factory, allowing you to continue operations as usual.
Environmentally friendly solution — Prefabricated studios don't have the environmental impact of other sound studios. To learn more about this, read our article The 10 Advantages of Mecart's Prefabricated Soundproof Studios
Cons –
It wouldn't be an honest review if we didn't find anything for this section.
MECART prefab studio panels are 4 inches thick and made with heavy-duty 16-gauge steel for durability and proper sound isolation. That durability comes with a small price to pay. Our studio panels are heavy – panels weigh up to 350 pounds each.
Relatedly, a MECART studio cannot be moved overnight. Our installers or a third party will have to disassemble the studio, move it, and reassemble it.
Explore the Latest Studio-Related Articles / Case Studies