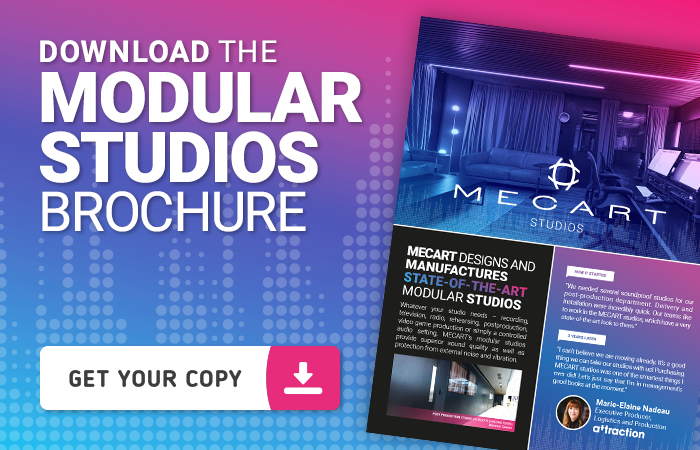 Our client, a creative multimedia company, wanted to add 2 recording & mixing rooms with a voice-over booth (VO booth) in each one.  The sound booths are for their marketing and advertising studio based in downtown Montreal.
These acoustic spaces will serve as post-production recording & mixing rooms for audio and video content, while the sound booths will be for voice-over recording.
To provide an optimal acoustic environment, they required sound-insulated sound booths that would cut, on average, 55 decibels (STC 55) of ambient noise, which is precisely what MECART delivered.
The studio contains 2 recording & mixing rooms each measuring 19′ x 17′ x 8′ and the 2 VO booths (voice over/recording) each measure 10′ x 9′ x 8′.
The custom modular studios and sound booths proudly display a modern and contemporary look with a matte black finish, which blends well with the client's office space and brand image.
The client chose windows with a flush fit to achieve a cleaner finish.
Here is the soundproofed studio project summary:
Industry: Marketing agency/ Multimedia/ Audio post-production
Sound Isolation : 55 decibels (STC-55)
Location: Montreal, Canada
Studio dimensions: 19′ x 17′ x 8′ each
Sound booth dimensions: 10′ x 9′ x 8′ each
Modular studios with custom paint (matte black)
Flush finish windows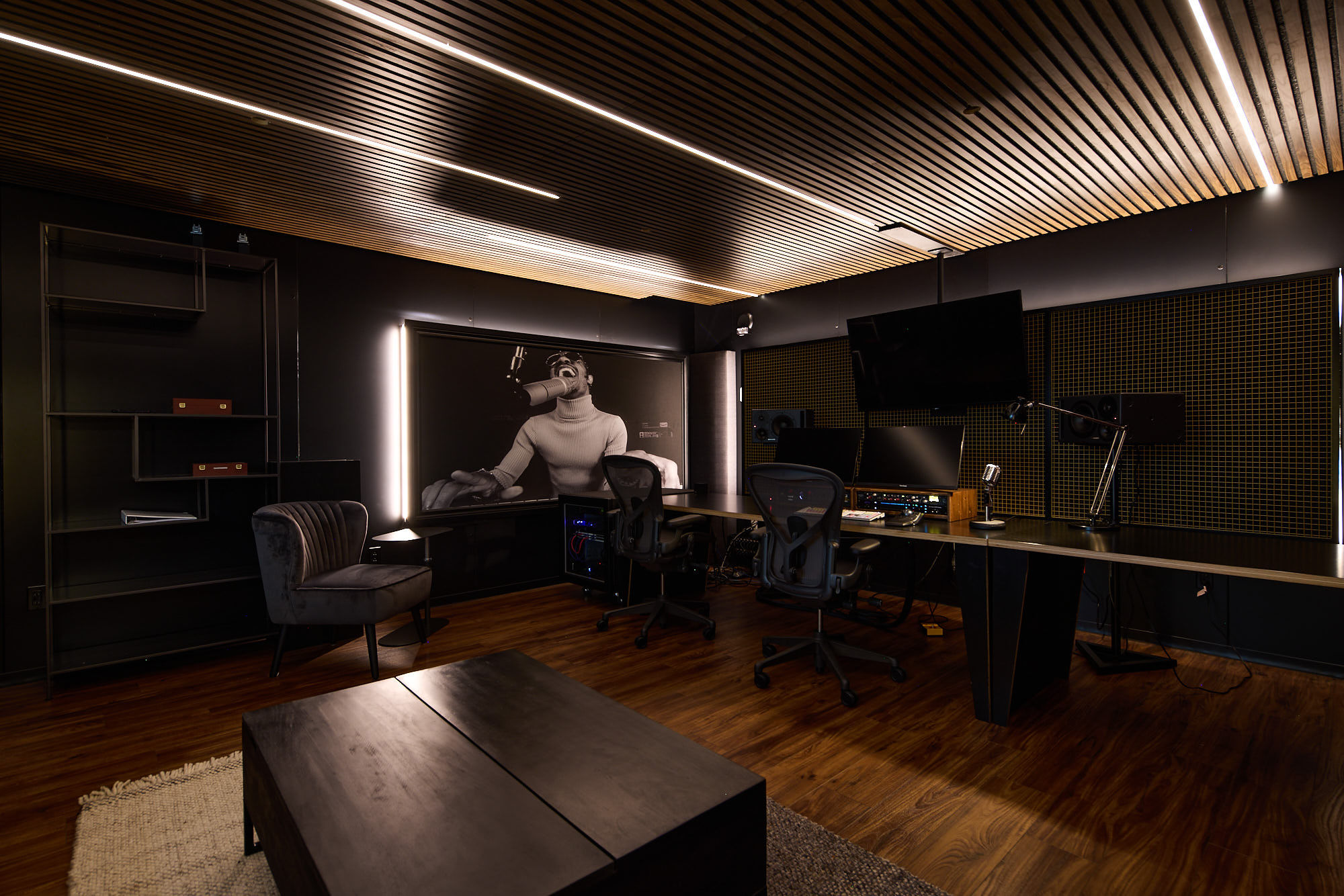 Architectural Designs Are Possible with Modular Sound Booths
Is it possible to obtain an architectural look and design with modular sound booths? MECART sound booths are a perfect fit for providing the right soundproofing AND a dazzling look!
The marketing and advertising agency offers a wide range of services, one of its business divisions being an architectural firm.
They mentioned early on that they wanted to have that "wow" factor when clients visit their offices and studio spaces.
They also wanted to provide an environment that boosts creativity while simultaneously offering a relaxed atmosphere since employees must spend long hours in the studios and sound booths.
A collaboration with their architectural firm to design the studio (both recording, mixing rooms & VO booths) came naturally. Our collaborative work ensured that the integration was harmonious and preserved the brand image.
The new studios do not clash with the building; on the contrary, they seem to have always been part of the original setting.
Opting for custom studios and sound booths allows you to get the style and the state-of-the-art look you truly desire, without compromising on acoustic performance!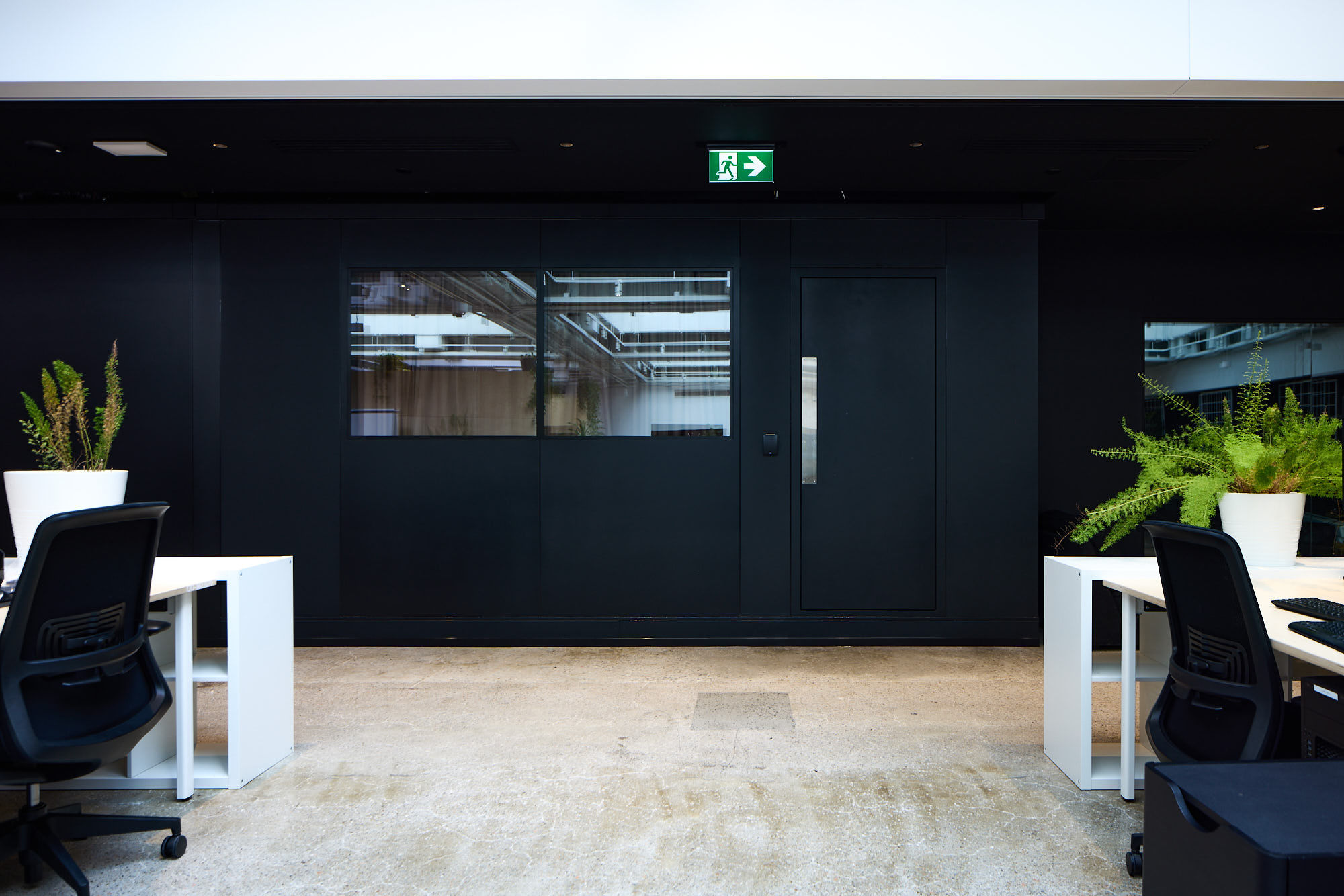 Post-Production Studio Design
Apart from the acoustic parameters needed, it's essential to include a comfortable and relaxed atmosphere conducive to creativity in your post-production studio design. But how do you go about it?
We came up with a solution that provides all the characteristics above for both the recording rooms & VO booths.
1. The interior walls of the recording, mixing rooms and VO booths are coated with the same color as the exterior structure, a beautiful matte black.
2. Lights with a dimmer switch have been installed to allow audio engineers to dim the atmosphere and work in the mood of their choice, whether that be more laid-back or more back to life!
3. The presence of wood in the studio. The choice to integrate a lot of wood into the design was natural for this advertising and marketing agency's studio.
The floor and ceiling (absorbing acoustic panels) are all wood, giving a professional and elegant look.
According to a study conducted by the University of Canberra in Australia, the presence of wood in work environments is known to improve the productivity and well-being of employees.
"People working in spaces with high proportions of wooden surfaces have a heightened sense of wellbeing and productivity. They're also more likely to find their workplaces relaxing, inviting, and energizing,'' explains Jacki Schirmer, an associate professor of the study.
We can assume it will also affect clients positively when visiting and working in the recording rooms and VO booths, not solely the employees!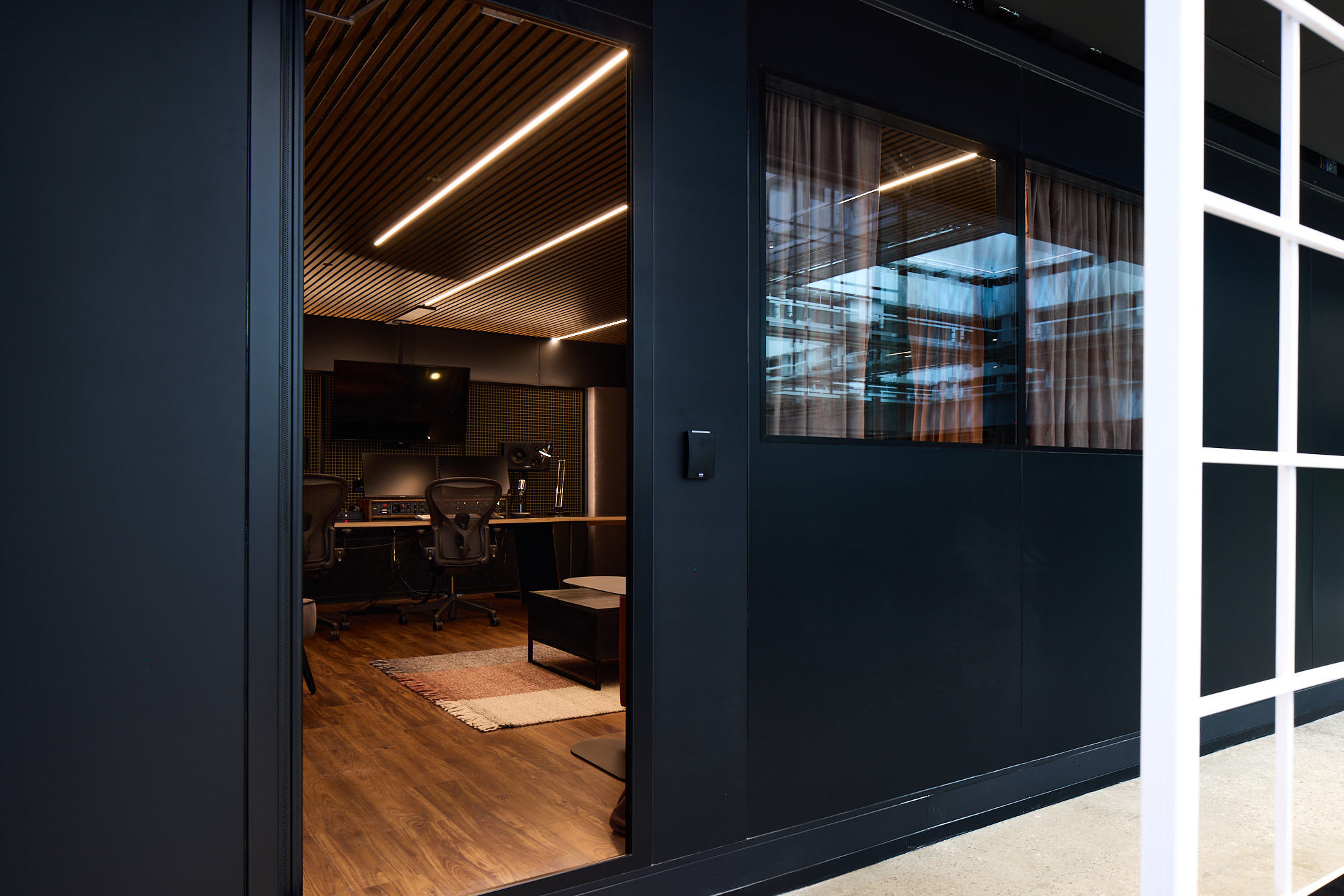 4. The sound-absorbing panels were explicitly chosen to enhance the decor further and contribute to the overall ambiance of the studio while optimizing the acoustic treatment.
In the 1st studio, an iconic photo of Stevie Wonder playing the piano was used to personalize an acoustic absorber panel.
The same thing was done for the 2nd studio, this time with a photo of Ray Charles.
5. Shared windows. Flush windows have been installed between the recording room studios and their respective voice-over booths to facilitate communication and supervision of studio activities.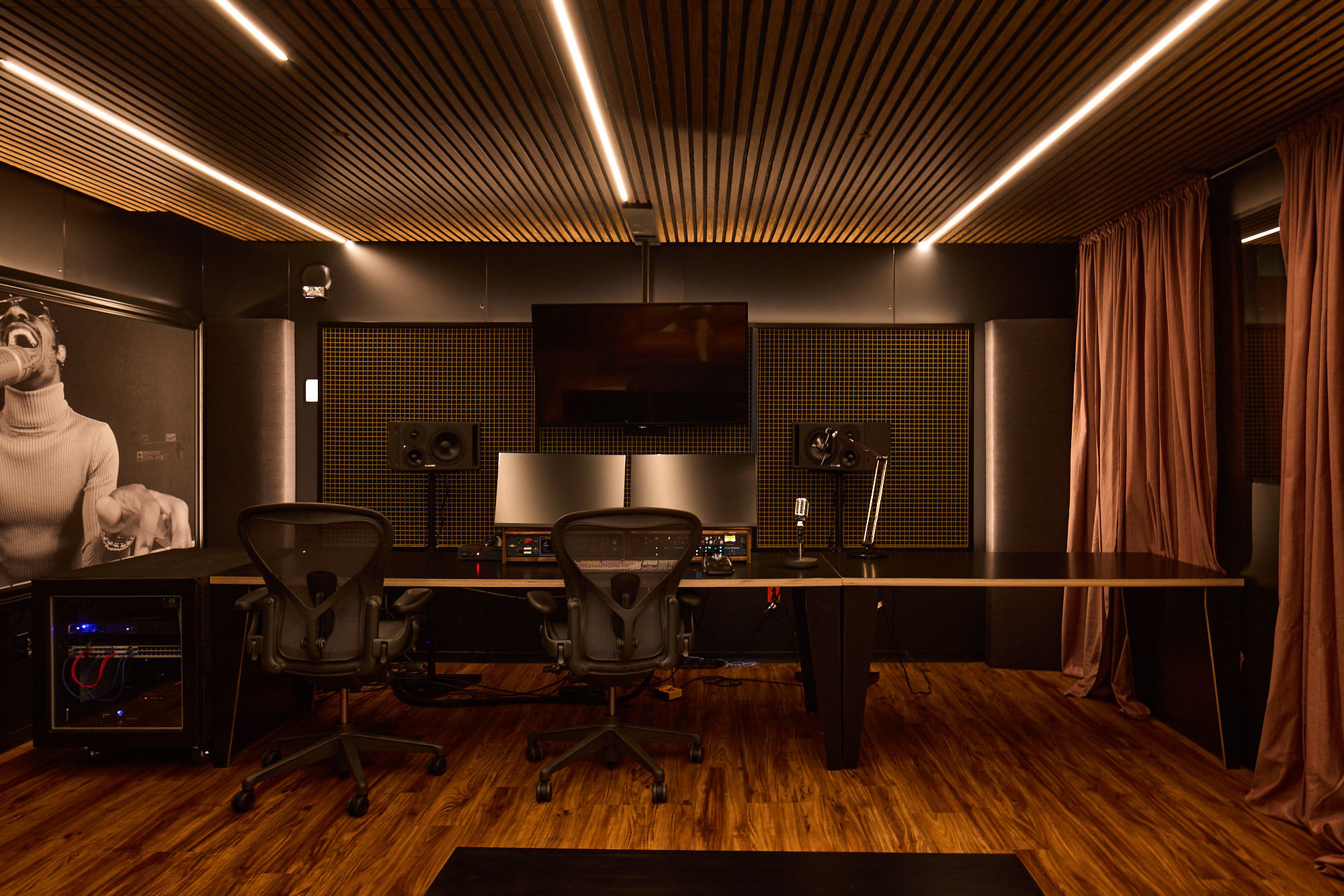 6. Long curtains were also installed in the studios and sound booths to provide privacy while maintaining a classy look.
Theater curtains also play a role in the acoustic treatment of the studio and sound booths. The curtains can be used to control reverberation and unwanted echo.
7. Furniture. According to the principle of creating an ambiance that facilitates the creative process, the choice of furniture will positively or negatively influence the general atmosphere.
The recording rooms are furnished with a few leather couches, ergonomic desk chairs, and fancy rugs.
8. Integrated utilities. This contributes less to the atmosphere of the recording rooms and VO booths, but it makes the work of the audio engineers a lot easier. The telecom wires are integrated, the electrical outlets, ID card validation, etc.
With MECART sound booths, you can personalize and customize every part of your studio design. We provide 100% custom solutions for your specific needs!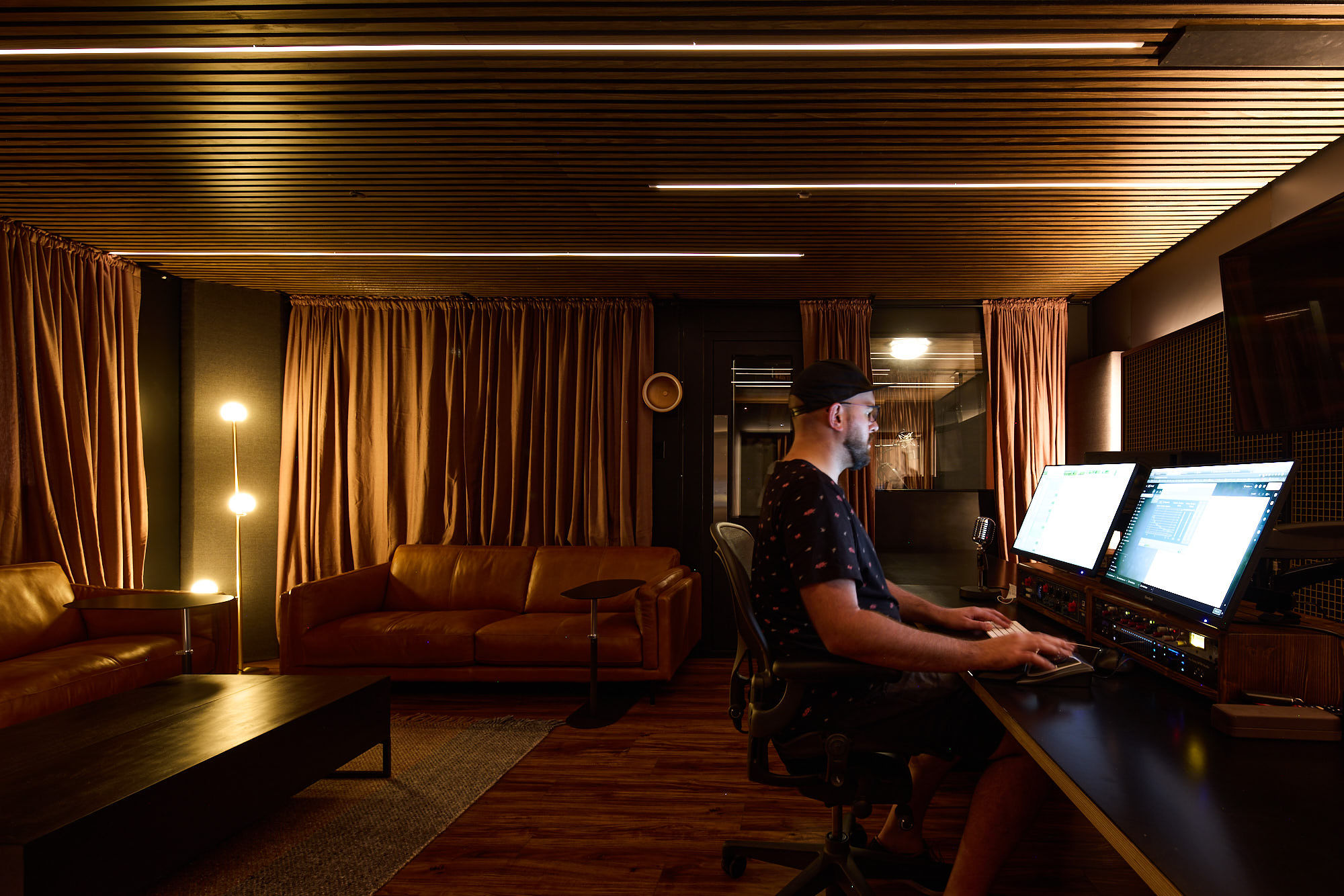 If you're eager to see other studio projects completed by MECART:
Looking to buy soundproof studios? Contact our experts