18 Sound Booths & Studio Booths
If you're leasing space and need to upgrade your acoustic performance, surely the idea of a stick-built solution can bring the whole project to a halt. No one wants to spend money making improvements to their landlord's property value.
Mecart has the ideal sound booth solution for your production studio that allows your purchase to remain your asset – even if you move! Thanks to our modular panels, studios can be dismantled, moved reassembled, reconfigured, and even expanded.
That's precisely what this entertainment and media production company needed! 18 sound booths and studio booths for television, film, and digital media production have been delivered to their office space.
This television, film, and digital media production company needed 2 levels of sound isolation (Transmission Loss) for its sound booths. Some of the booths offered sound isolation (TL) of 35 decibels (STC 35) on average, while the others provided about 45 decibels (STC 45).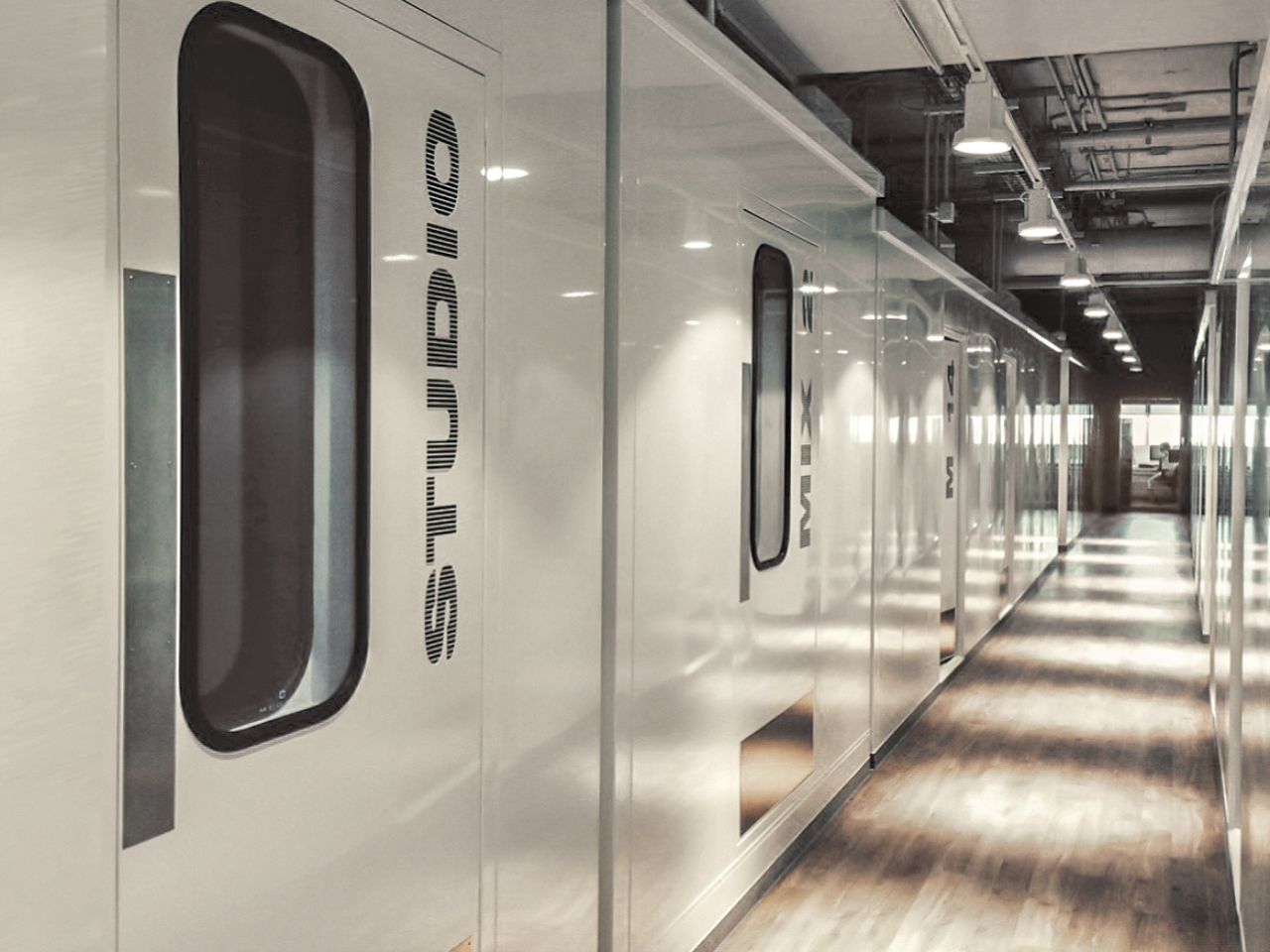 Recording Studio Booths for Entertainment and Media 
Our client is a multi-skilled media and entertainment production company that delivers a variety of products.
They have been producing advertising campaigns for large brands, offering production services for multiple television and film projects, and managing numerous digital projects across several media channels for more than 20 years.
Anyone who specializes in visual media would tell you that it takes more than beautiful images to create successful content. Have you ever tried to watch a horror movie without a soundtrack? The immersive experience can become lost. So, specializing in visual media also means creating and distributing high-quality audio content.
That's why picking first-class sound booths are essential for any media company that wants to succeed – and that's what this client did!
The choice of MECART studios and sound booths was a natural one as they offer the mobility, flexibility, and acoustic requirements the client needed, while also offering a state-of-the-art appearance.
I can't believe we are moving already. It's a good thing we can take our studios with us! Purchasing MECART studios was one of the smartest things I ever did! Let's just say that I'm in management's good books at the moment.
Easily Movable Studio Booths
When considering the purchase of new studios or sound booths, 2 solutions are possible: modular studio solutions or traditional construction (drywall/gypsum).
Both options can provide good acoustic performance and sound insulation (TL). So, what makes them differ from one another?
In this case, our client needed new studio booths for their post-production operations but didn't know they would move to a new address in 3 years.
They considered both options as a possibility for their studio booth needs.
Simply put, stick-built studios are attached to the existing building, becoming an integral part of it, while modular studios are easily movable with an easy disassembly and assembly system; they are independent of the main structure.
Unsure of which direction to take, they finally opted for MECART modular studio booths. Their decision proved to be the right one when they decided to move to a new location 3 years later, saving a substantial amount of money by moving their booths rather than starting over from scratch.
If they had picked a stick-built studio instead, they would have been forced to abandon their brand-new studios at their old location, which would have been a hard financial blow to re-equip themselves with another set of brand-new studio booths.
Marie-Elaine Nadeau, Executive Producer, Logistics and Production at Attraction Images, said that after 3 years, when they moved to their new location, choosing the MECART studio booths was the right decision for them.
''I can't believe we are moving already. It's a good thing we can take our studios with us! Purchasing MECART studios was one of the smartest things I ever did! Let's just say that I'm in management's good books at the moment.''
DOWNLOAD OUR STUDIO AND SOUND BOOTH BROCHURE
A State-of-the-art Look for Your Studio Booths
MECART studio and sound booths have a contemporary and modern look with guaranteed acoustic performances, which is another reason why they decided to go with our modular studios and sound booths.
The look and design of the studios are perfect for making a good impression on potential clients. Also, the aesthetics provide a relaxed and comfortable workplace for people who often spend long hours inside the booth working on their craft.
Marie Elaine Nadeau added, « teams like to work in the MECART studios, which have a very state-of-the-art look to them." Happy employees often result in higher quality and productivity – a win-win for all!
In conclusion, multiple soundproof studios were needed, with movability, high-quality aesthetics, and features, along with guaranteed acoustic performance. MECART delivered on all accounts.
Take a look at other MECART studio & sound booth projects