Recording Booth for a Sound Studio – Center for Digital Arts
Some of the greatest musicians and artists have attended university arts and music programs. They hone their craft with academic support and access to coaching, courses, and quality equipment, such as sound studios with recording booths.
Our client, one of the most prestigious universities in Canada, needed a new sound isolation booth to complete their sound studio suite.
Delivering average sound insulation of 55 decibels (STC 55 rating), their new soundproof booth also incorporates a high-performance door and silencers, which minimizes the amount of noise leaking from the HVAC system and ambient noise from outside the studio booth.
The 10' x 8' x 8' new booth is equipped with LED lights and a dimmer to provide the desired atmosphere, according to the tastes and needs of all inside the sound studio.
The new sound booth will be dedicated to voice-over (VO), music instruments, and sound effects recording (SFX).
Here is the studio project summary:
Location: Montreal, Canada
Industry: Digital Arts / Recording / Sound Effects
Application: Recording Booth for Sound Studio (Voice-Over, SFX)
Size: 10' x 8' x 8'
Sound Isolation: STC 55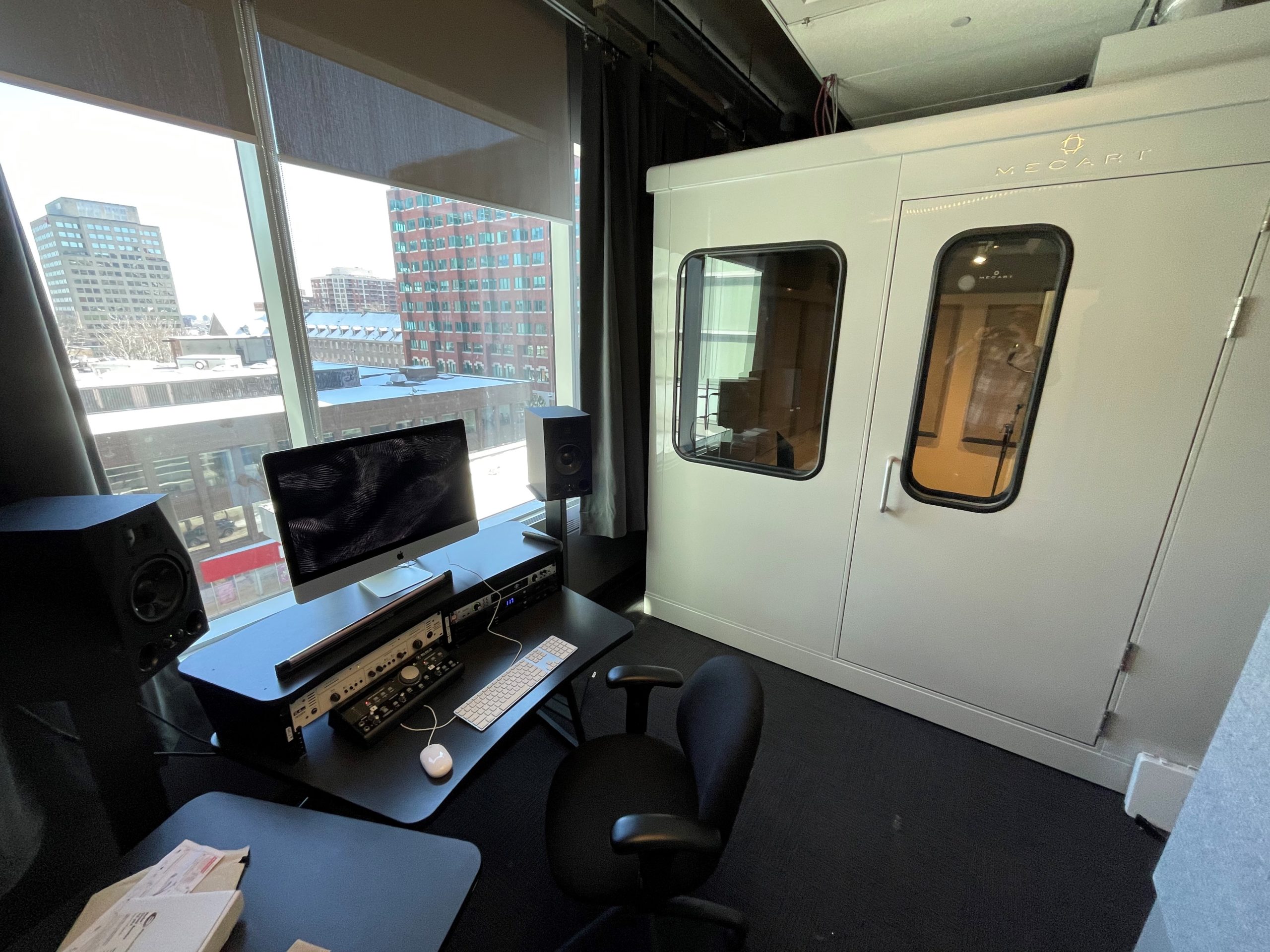 See the full range of MECART studios
Improving the Audio Video Suite with MECART Sound Studios
The Center for Digital Arts is dedicated to providing high-quality audio-visual services to fine arts students.  Their audio-video suite is composed of 3 studios with different purposes:
A stereo and 5.1 surround mixing room
A recording studio
A sound editing suite
MECART uniquely designed and built the booth for their recording studio.  The recording booth is made with our 4-inch-thick steel acoustic panels. All our sound-isolating panels have guaranteed acoustic performances, and are laboratory tested.
The recording studio in their audio-video suite can be used for various applications.
First, the recording booth will be used for voice-over, a production method in which a person's voice is recorded from an outside perspective (narration), usually to tell a story or clarify information.
The 2nd use of the recording studio will be for music recording. The studio has been custom designed to allow 2 people with instruments to access the studio and record themselves.
Finally, the 3rd application is sound effects recording (SFX), an artificially made or enhanced sound technique used to strengthen artistic or other elements in movies, television shows, live performances, animation, video games, music, or other media. It can also be used for foley.
The multidisciplinary recording studio will enable students to have real-life experience in studio work. Here they will continue to enhance their passion and prepare themselves for future job opportunities.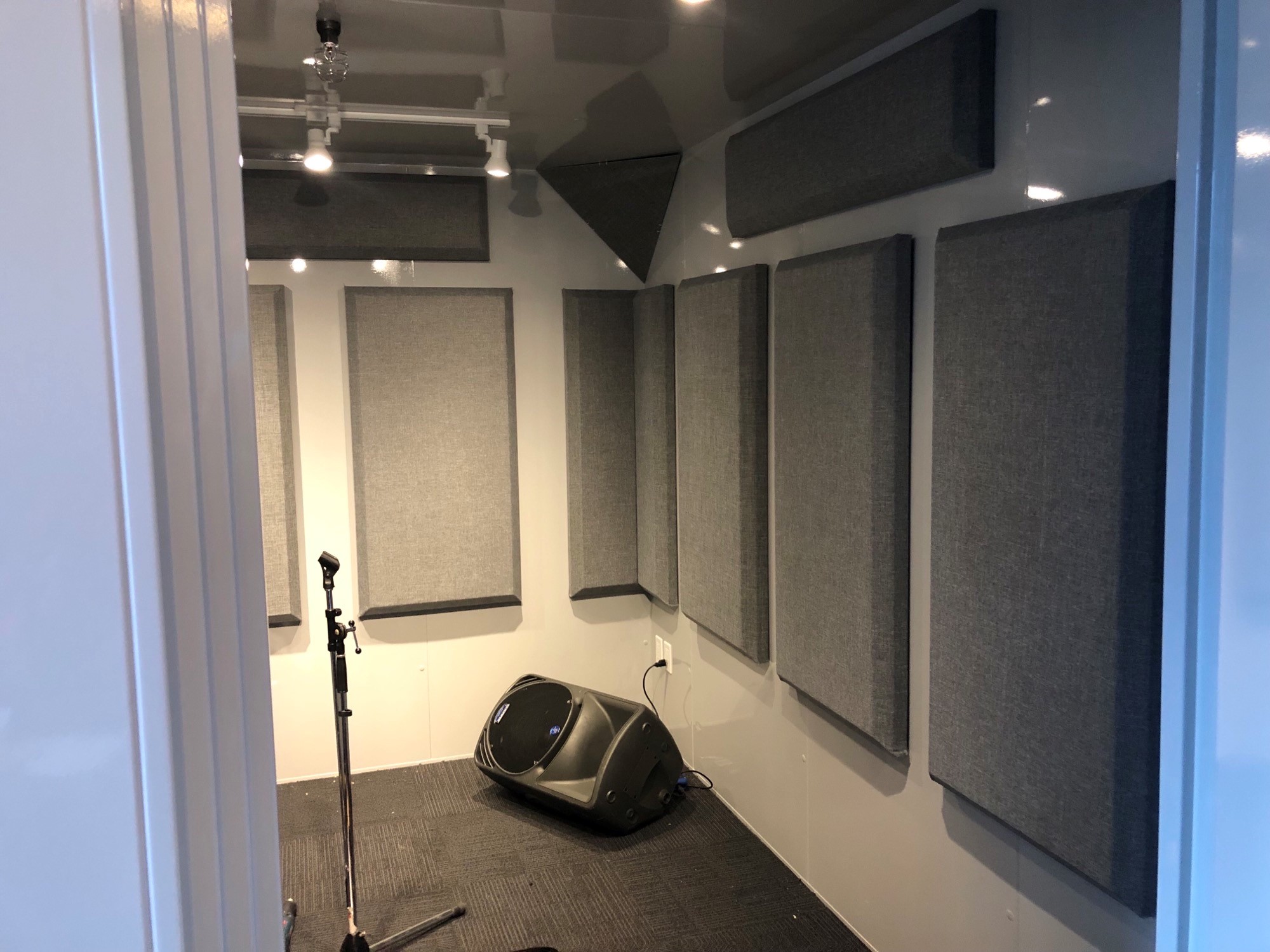 Modular Sound Studio: A Quick Install On-Site
Why should you pick a modular sound booth? There's more than one reason!
It's a clean installation, leaves no debris, and is as easy as 1-2-3 to install, thanks to our cam lock system.
Are you curious to see how it works? Here is a timelapse video of one of our modular studios being assembled!
Other Acoustic and Modular Studio Projects
Ready to Discuss your Sound Studio Project? Contact Us!