2020 RECAP |
5 Studio, Acoustic and Noise Reduction Projects from 2020
1) Post Production Studio for Video Games Sound Design
(sound reduction of 45 to 52 decibels)
Industry

: 

Video

 Game 

Development

 

Location:

 California, USA

 

Sound 

Attenuation

:

 45

 and 52

 

decibels

Assembly

:

 

Modular

 Field 

Assembly

Scope-Of-Project

: 6 studios (9'x11', 7'x11' and 11'x15')
This Californian video game producer needed a post-production studio with 6 individual studios (acoustic booth / recording booth) and a control room for recording, mixing and  sound engineering/editing.
To read more about this post production modular studio, click here.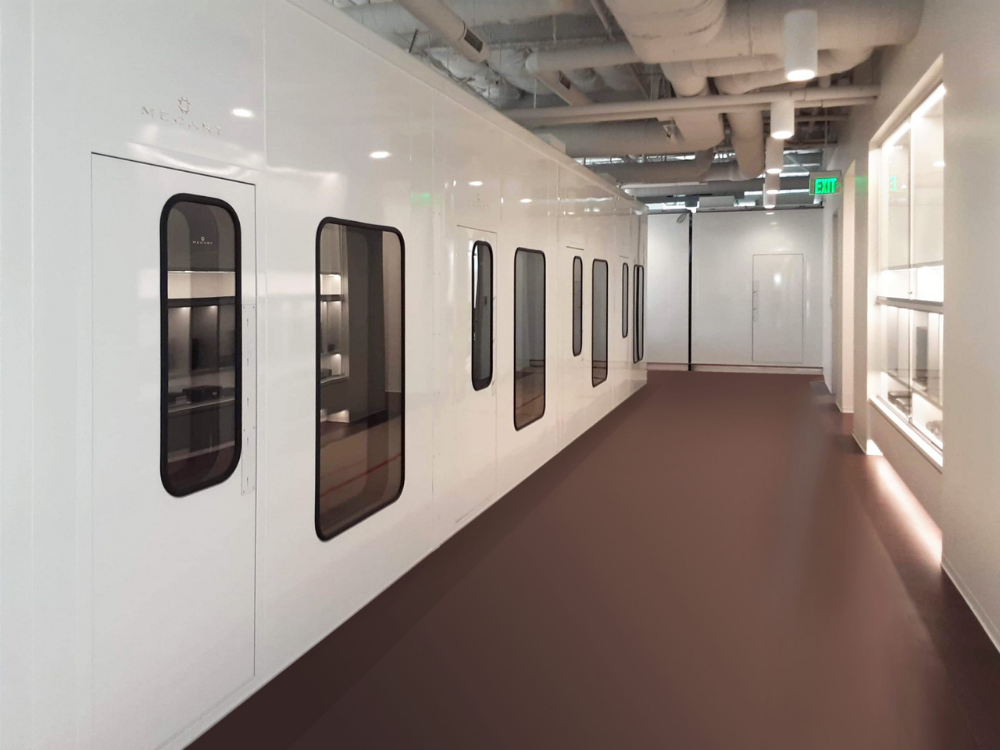 2) Acoustic Enclosure for Cold Spray Additive Manufacturing (CSAM)
(sound reduction of 45 decibels)
Industry: Cold Spray Additive Manufacturing
Location: Quebec
Sound Attenuation: 45 decibels
Assembly: Onsite Assembly
Noise Source: Cold spray process (metal coating)
Mecart was selected to engineer and construct a 30' x 19' booth capable of both accommodating the highly combustible aspects of working with high-pressure gases, and containing the whistle-like sound at 120-125 decibels that the process creates. The finished product needed to be compliant with CEC/NEC Class II-Group E (Explosive dusts-Hazardous substances), therefore all lighting and electrical components were completely sealed within the chamber. The custom-manufactured walls were designed to meet STC-45 requirements.
To read the full project description and see more photos of this acoustic enclosure, click here.
3) Control Room for Steel Manufacturing Plant
(sound reduction of 35 decibels)
Industry: Steel Manufacturing
Location: Garcia, Mexico
Sound Attenuation:  35 decibels
Assembly: On-site assembly
Size: 600 ft.² of multi-height space
Mecart custom-designed, delivered and installed a third control room for a coated steel manufacturer in Mexico. The over-600-square-foot control room (27' x 30') provides a vantage point for supervision over the steel maker's coil coatings production line. The custom-designed multi-height layout included custom moldings and custom colors.
To learn more about this steel manufacturing control room, click here.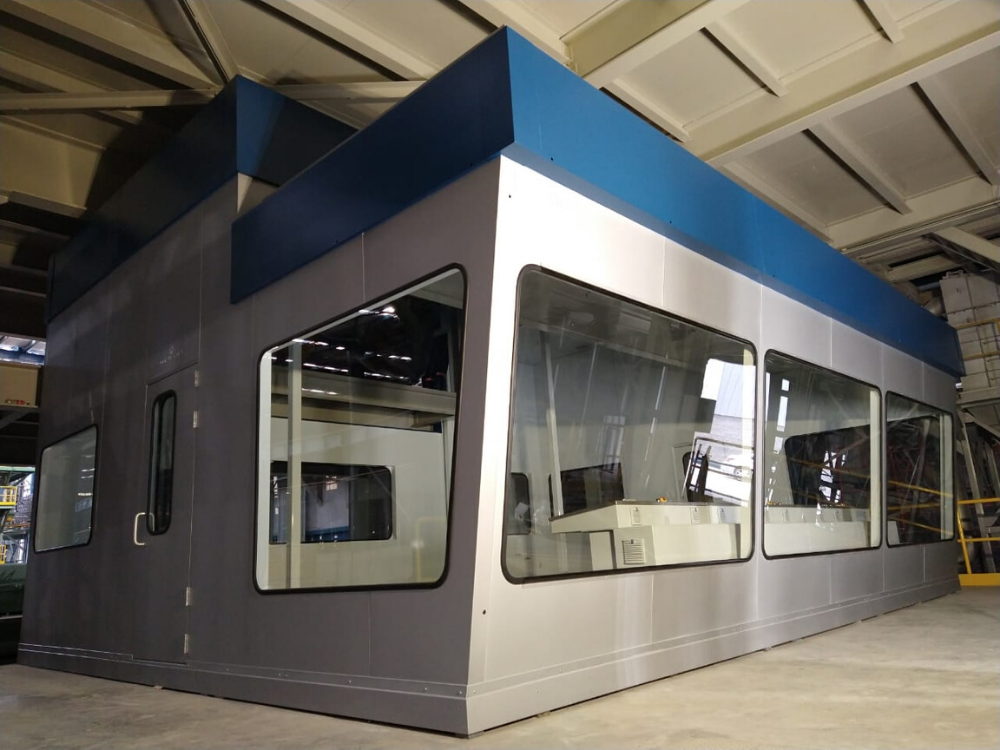 4) Broadcasting Studios for Public Radio Station
(sound reduction of 45 decibels)
KQED, the most-listened-to public radio station in the United States, wanted to be able to stay on-air while their offices are being completely redesigned. After finding a temporary space to operate during the home office's two-year overhaul, their task was to find high-quality studios that could be moved back to headquarters after the renovation – all while continuing to produce live programming.
Mecart's modular studios were able to check all the boxes on the client's wish list and more. SiJing Sanchez and Scott Lewis, the architect and project manager who selected Mecart for 6 new studios, flew to Quebec City, Canada to see the panels and products here in our shop. "The acoustics and the doors and windows are very important and we saw their high quality," said Lewis.
To learn everything about this radio station studio, click here.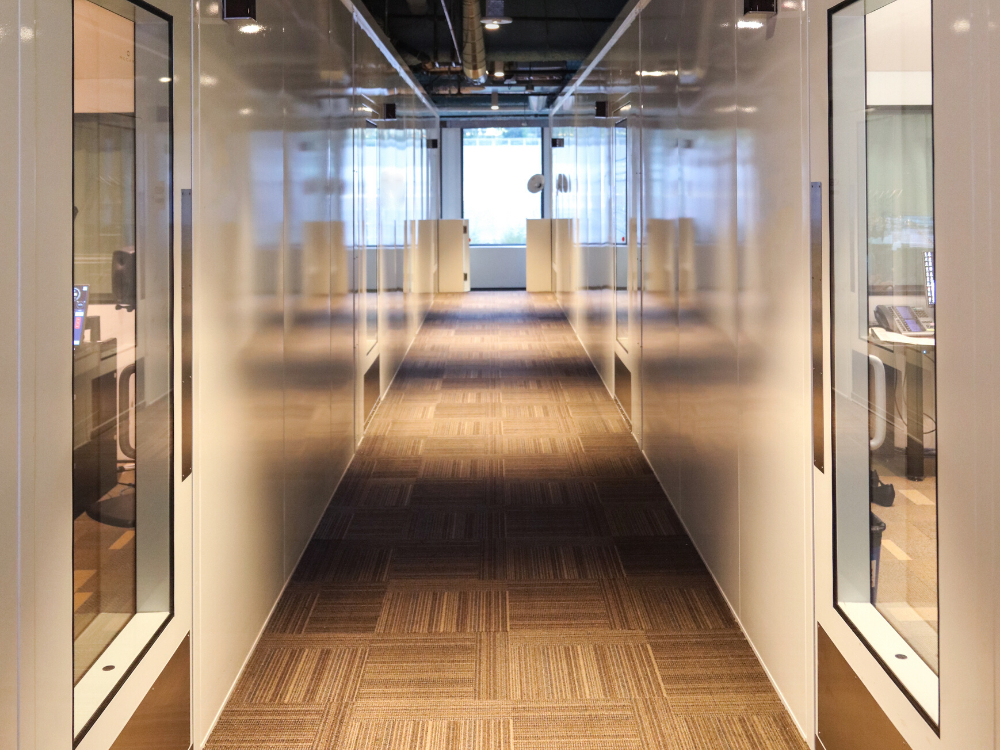 5) Control Pulpits for Steel Manufacturing Plant
(sound reduction of 45 decibels)
Industry: Steel Manufacturing
Location: Texas, USA
Sound Attenuation: 45 decibels
Assembly: Prefab Factory Assembly
Noise Source: Double Side Trimmer and Dividing Shear
Size: 2 Control Pulpits – 17′ x 13′ and 13′ x 13′
We have a vast experience in delivering  control pulpits and control rooms to sawmills and steel mills. Here is what this steel manufcaturer had to say about our acoustic enclosures. "Mecart did a great job understanding what we needed, and were able to deliver to us earlier than expected even though we had a very tight schedule," the client explained, adding "the quality of the windows and flooring is much better than the other company's pulpits we have on our site."
To see more pictures and read the whole case study about this steel mill control pulpits, click here.