2021 RECAP |
10 Studio and Noise Control Projects from 2021
Noise Control and Industrial Projects
1) Soundproof Modular Laboratory for On-Site Testing
Industry: Power / Hydroelectricity
Location: Quebec, Canada
Sound Isolation (TL): on average, about 40 decibels (STC 40)
Assembly: Prefab & Factory Assembly
Noise Source: Power Turbines and Underground Operations
This modular cabin will be used as a laboratory and will carry out various on-site tests during different work phases inside the power plant. This power company wanted a prefab cabin that could provide sound isolation of STC 40. The dimensions of this modular laboratory are 12′ x 20′ x 8′. The cabin also proudly wears the client's navy-blue color, thanks to a custom paint process provided by Mecart.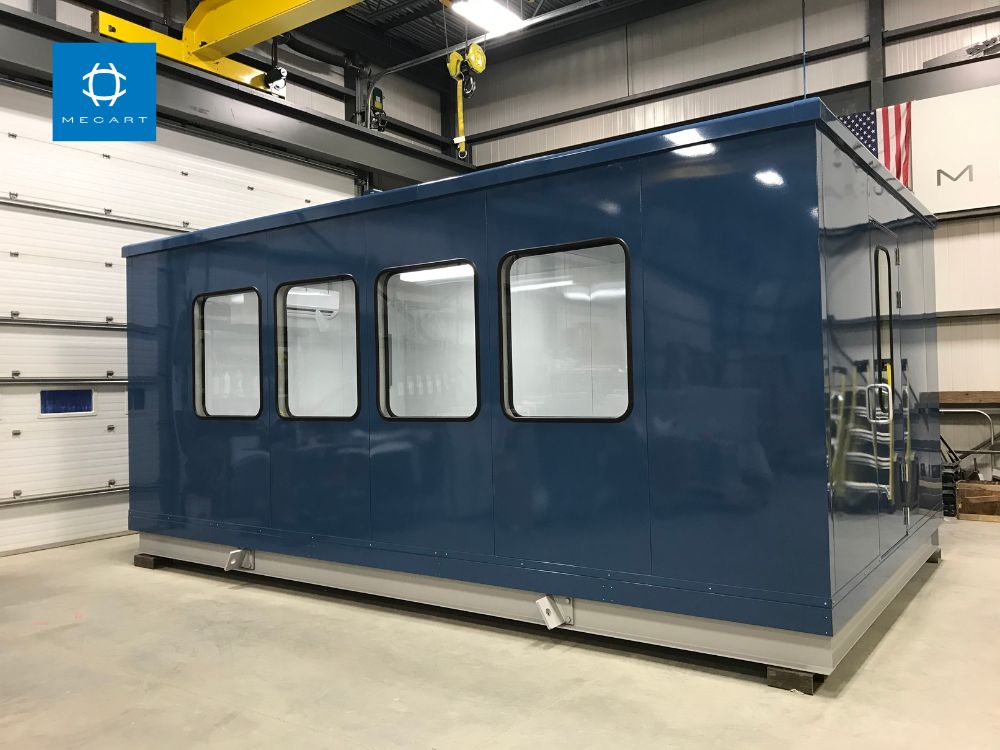 2) Control Pulpits for Long Steel Products Manufacturing
A total of 4 control pulpits were needed for this steel mill specializing in long products such as Special Bar Quality (SBQ) Steel and Wire Rods. This company required multiple pulpits inside the steel mill to overview several different manufacturing processes. The main pulpit, finishing pulpit, reform pulpit, and compactor pulpit delivered by Mecart offer on average about 45 decibels of sound isolation (TL). Their dimensions are respectively:
Main pulpit: 33' X 18'
Reform Pulpit: 10' X 8'
Finishing Pulpit: 24' X 16'
Compactor Pulpit: 13' X 11'
All the control pulpits' modular panels were fabricated at Mecart's plant but assembled onsite at the long steel product manufacturing plant.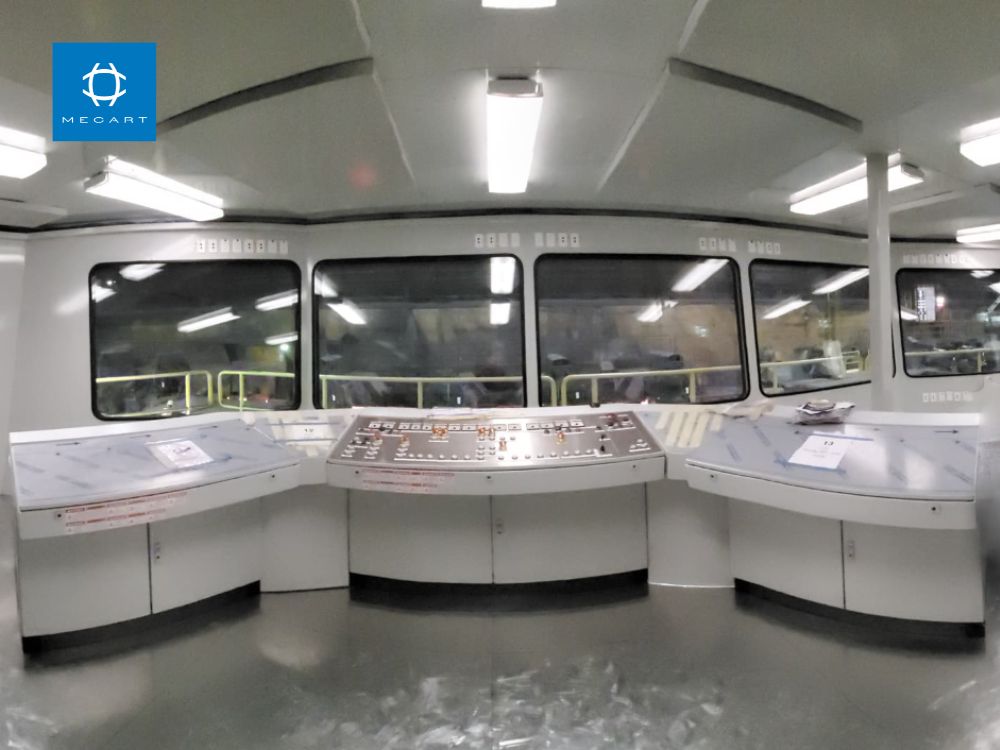 3) Custom Operator Cab for Copper Smelting and Refinery Industry
Industry: Copper Smelting/Foundry/Copper Refinery
Location: Quebec, Canada
Sound Isolation (TL): on average, about 45 decibels
Assembly: Prefab & Factory Assembly
Size: 13′ X 7′
This operator cab was pre-assembled at Mecart's plant before being installed at the client's copper foundry in Rouyn-Noranda, Quebec. The custom-colored cabin measures 13′ X 7′ and provides an average of 45 decibels of sound isolation (TL).
To read the entire project description, click here.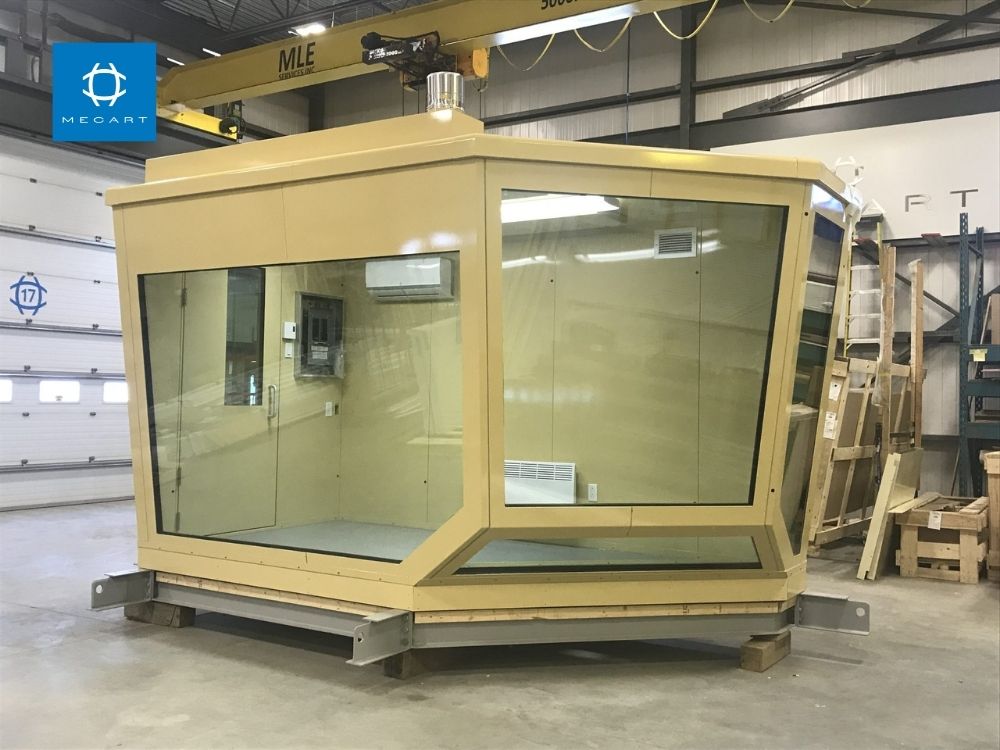 4) Automotive NVH Test Enclosure
Industry: Automotive
Location: Ontario, Canada
Sound Isolation (TL):  on average, about 48 decibels (STC 48)
Assembly: pre-assembled / prefab
Size: 10′ x  7′
The 10' x 7' NVH test chamber was assembled at Mecart's facility before being delivered to the automotive factory. One of the design's challenges was that the NVH acoustic enclosure needs to open 60 times an hour for 480 times over an 8-hour work shift.
To ensure that it would resist that amount of usage, Mecart equipped the NVH test enclosure with STC 48 galvanized steel sliding doors. It opens smoothly thanks to an automatic pneumatic system attached without compromising the car seat testing's required sound attenuation.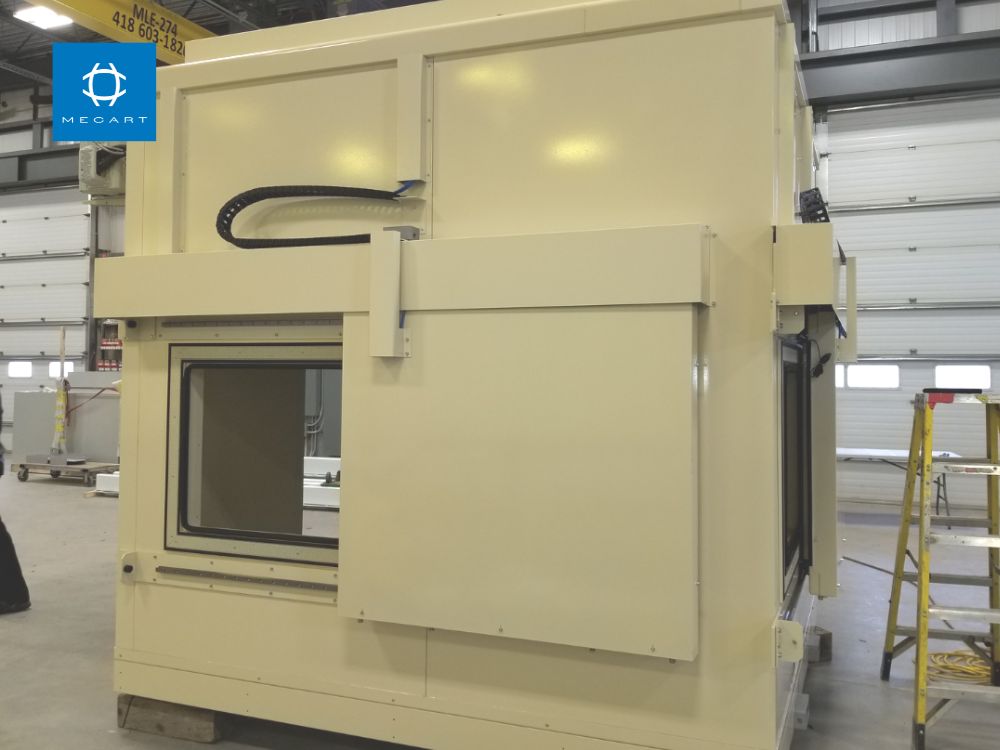 5) Outdoor Prefab Control Room for a Biomass Plant
As the control room is placed outside, the modular control room has been manufactured to withstand the ravages that nature and time can do. It's insulated with triple thermos windows to neutralize the sun rays coming into the cabin. The control room is also waterproof and resistant to strong gusts of wind.
The biomass plant's control room has a reinforced structure to resist significant snow accumulation, adding substantial weight to the cabin.
For more details on this project, read the Outdoor Prefab Control Room for an Electric and Natural Gas Utility Company.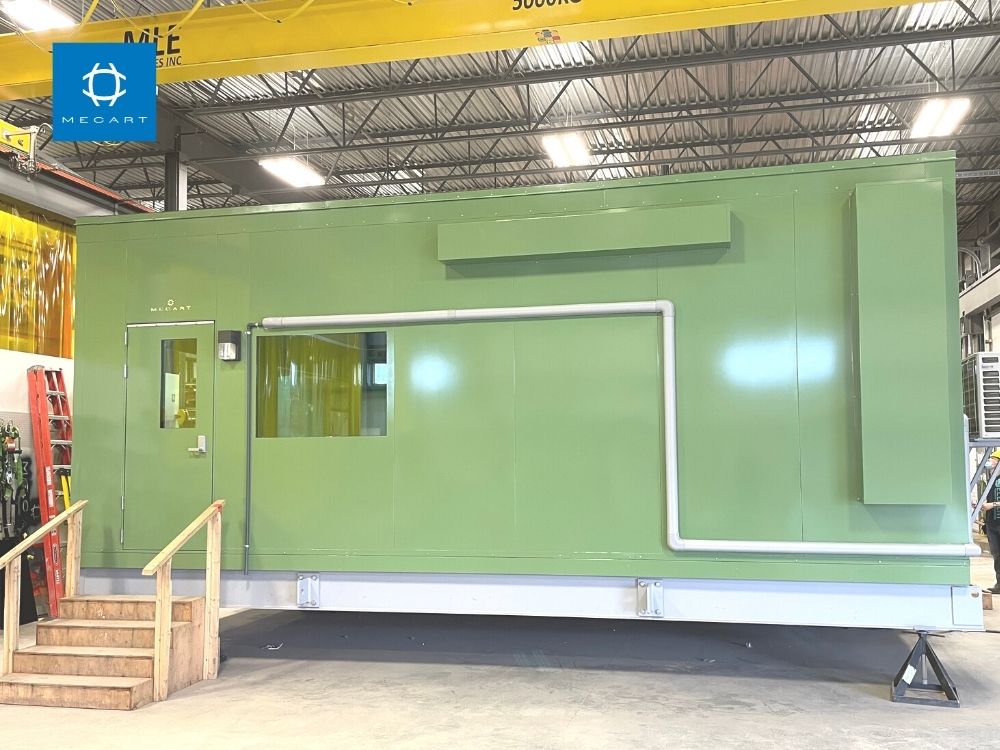 6) Foundry Control Room for Aluminum Casting
One of the primary features this foundry required was for the control room to provide a complete overview of the aluminum casting operations. The foundry control room has two angled panels to provide an optimal view of the cast house operators.The control room features 7 bay windows, and they're all double-pane tempered glass. They provide on average 45 decibels (STC 45) of sound transmission loss, similar to the doors and modular panels for the control room.
At Mecart, all our projects are custom built and designed to meet the specific criteria of your industry or work environment. In this case, the control room windows needed to be protected against chemicals. To extract and produce aluminum, the process requires the use of aluminum fluoride, a chemical compound that could cause damage to the windows. That's why a special resistance film has been applied on all the control room windows.
To know all the details about this project, read the Foundry Control Room for Aluminum Casting complete case study.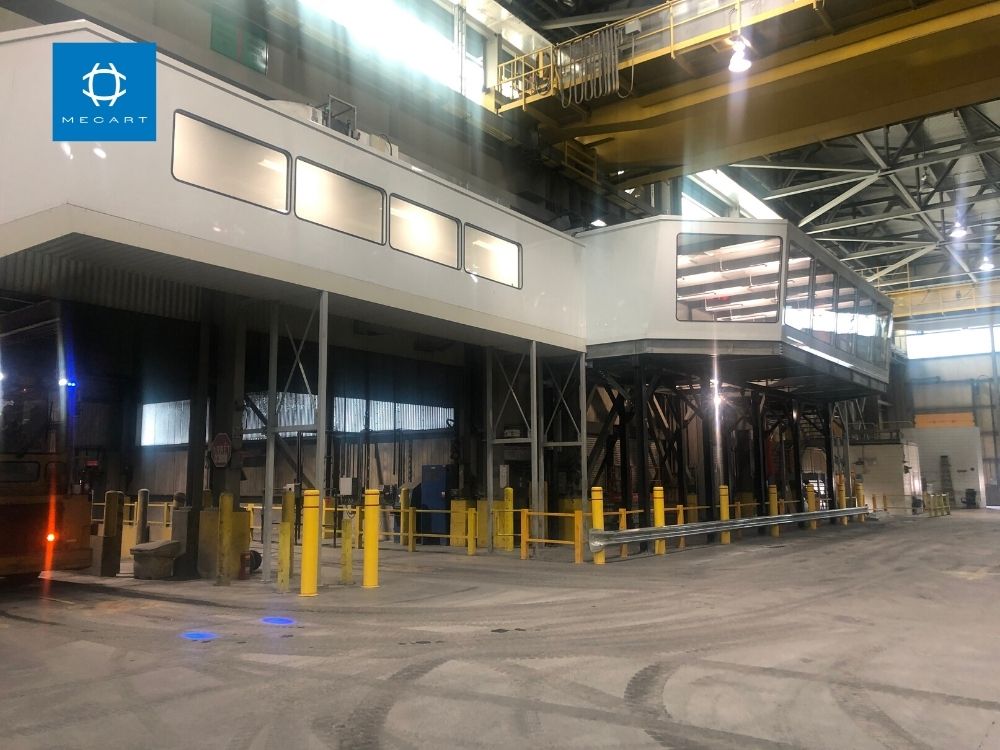 7) Process Plant Control Room for Gold Mining Company
This mining and metal company contacted Mecart to purchase 3 brand-new control rooms for their mineral processing plant. The control rooms precisely needed to meet two criteria: sound isolation (TL) features (Mecart provided an STC 45 control room) and being ready to use when arriving at the plant, a plug-and-play control room.
The control rooms were made with STC 45 panels, windows, doors, and ceilings, plus they were preassembled at Mecart's plant to provide a plug-and-play solution and meet both criteria.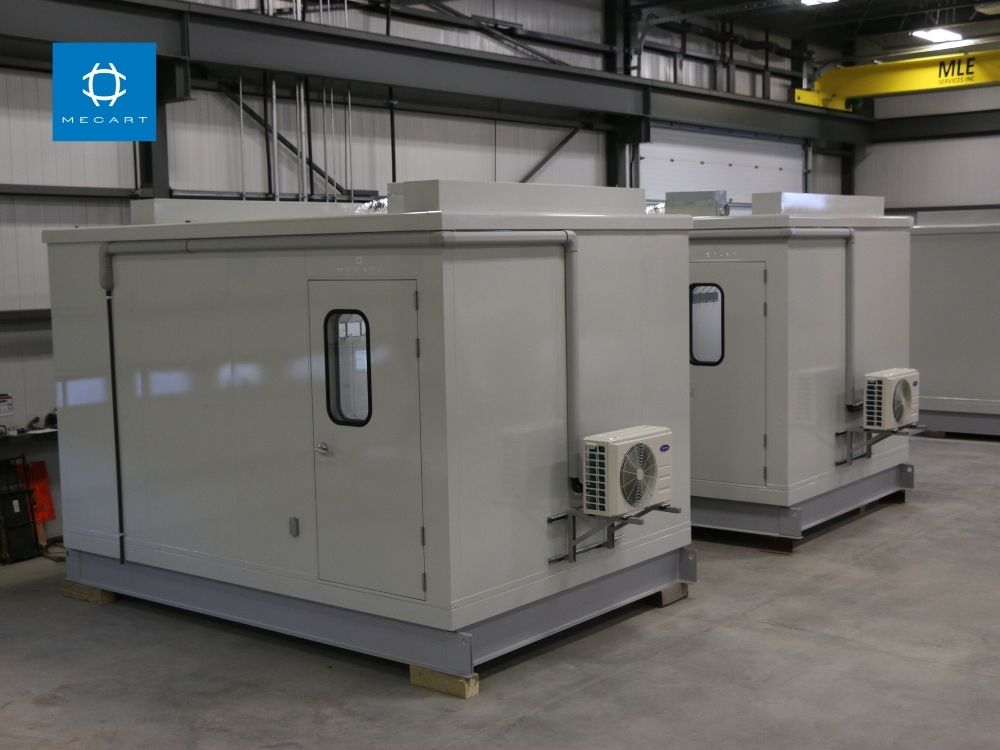 Sound Booth and Studio Projects
8) Video Game Audio & Sound Design Studio
Industry: Video Game / Post-production Audio / Sound Design
Project: 2 acoustic studios for video game audio and sound design
Size:

Studio 1: 9' x 14'
Studio 2: 18' x 14'

Sound Isolation (TL): on average about 45 decibels (STC 45)
Location: Montreal, Canada
Mecart built and designed 2 modular acoustic studios with sound booths, with sound transmission loss (TL) on average of about 45 decibels (STC 45). The wall panels, ceiling panels, doors, and windows also provide sound isolation (TL) of about 45 decibels (STC 45).
The modular acoustic panels for the audio and dialogue studios were sent to the client offices, where the on-site installation took place.  The studios were delivered in the Greater Montréal area, one of the world's top five video game production cities.
To read the entire project description, click here.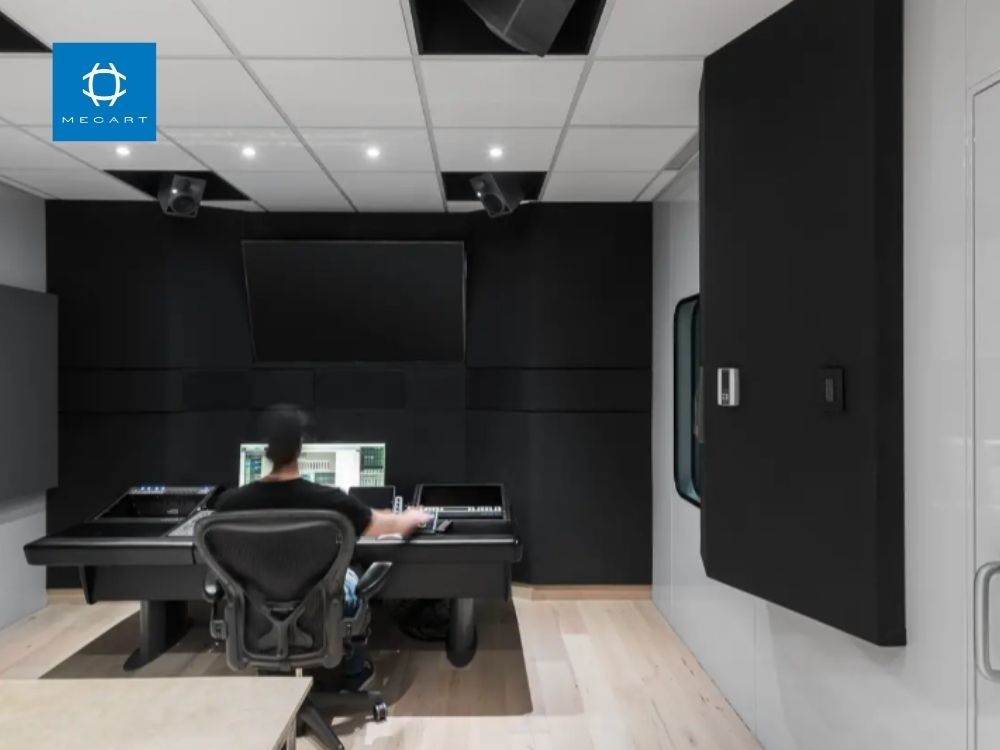 9) Acoustic Studios for Video Editing Suite
The radio broadcasting studios were built in a temporary location, waiting for the building to be renovated. They had to be moved 2 years later to the main building. The second phase of this project is an editing suite for public television. Mecart designed and produced three more studios for this broadcast media organization.
Two of the new studios will be used as voice-over booths. Both studio booths have dimensions of 6' X 10' while the third one, the video edit studio, has a 14' X 13' size. They all provide sound isolation (Transmission Loss), on average, about 45 decibels (STC 45).
To see the 1st phase of this project, click here.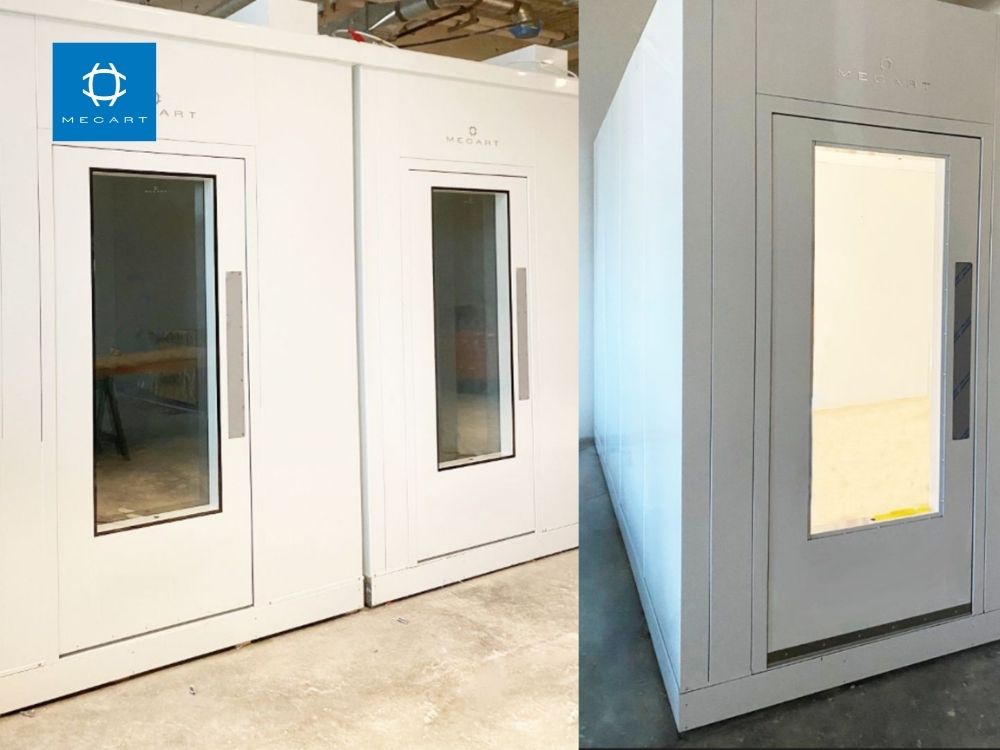 10) Acoustic & Modular Studios for Music Education Program
This unconventional music school for artists, songwriters, and producers needed multiple studios for their music education program based in Santa Monica, California.
There is a total of 16 modular studios inside this music-dedicated facility. 2 studio formats were designed for this unique project: ten 8′ X 13′ studios, followed by six smaller studios covering an 8′ X 10′ area.
Each studio is configured to offer a soundproofed environment with sound isolation (TL) of STC 50 for studio/corridor partitions and an STC 56 between each studio.