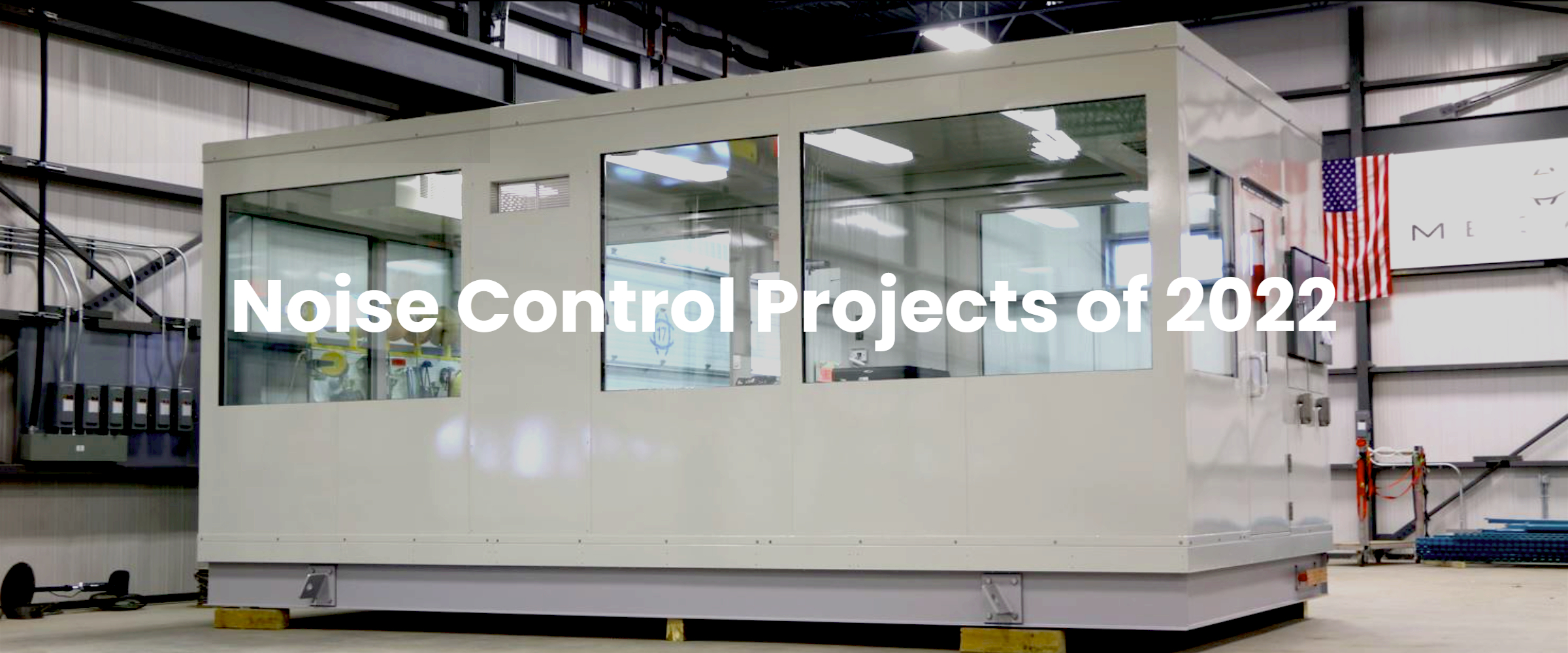 Top 5 MECART Noise Control Projects of 2022
We're looking forward to 2023 with great anticipation, but before we dive into the new year and new endeavors, here's a recap of the MECART Noise Control Division's top five projects of 2022.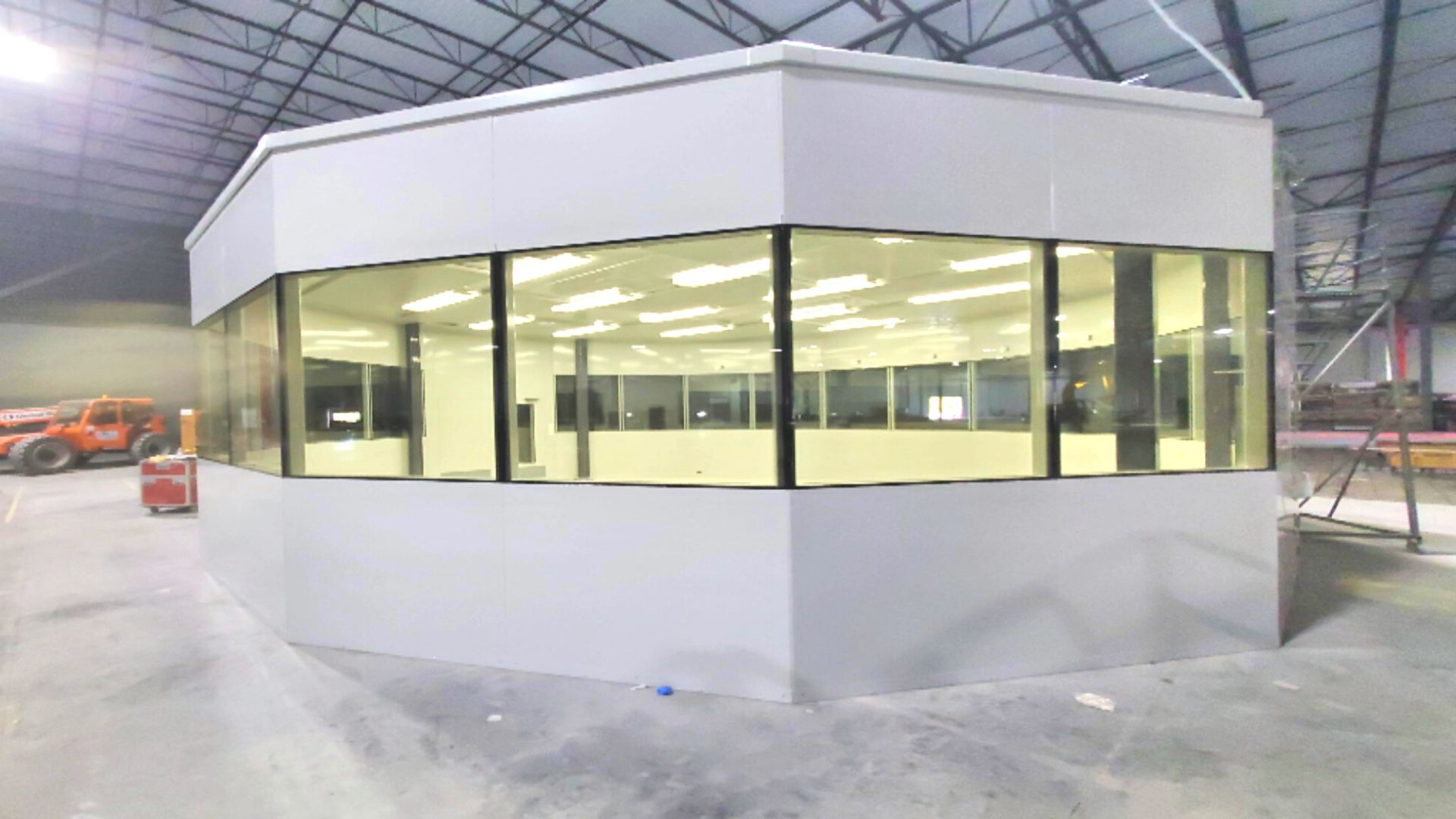 1. DECAGON CONTROL ROOM FOR A CORRUGATED SHEET PLANT (PACKAGING INDUSTRY)
LOCATION: Indianapolis, Indiana
INDUSTRY: Packaging Industry / Corrugated Sheet / Corrugated Boxes
APPLICATION: Decagon Control Room for Corrugated Sheet Manufacturing
SIZE: Diameter: 30 feet (dodecagon 12 faces)
SOUND ISOLATION: STC 45
''All of our sheet products are manufactured using cutting-edge technology and the most recent technological advancements in the packaging sector.''
These are the words of our customer, who applies those high standards in day-to-day operations, establishing itself as an industry leader. The customer has the same mindset about acquiring a new control room for its facility; only the finest in the market will satisfy expectations.
MECART provided the solution — a dodecagon control room, fully windowed for a global view of the plant's procedures and operations. The control room offers a 45 dB sound isolation (STC 45) to protect the operators from noise and harm.
Due to the unusual shape of the control room, a bolted steel structure with an epoxy primer was implemented before the modular panels were installed to guarantee that the construction is solid for years to come.
Ten absorbing panels to reduce reverberation inside the control room were also installed.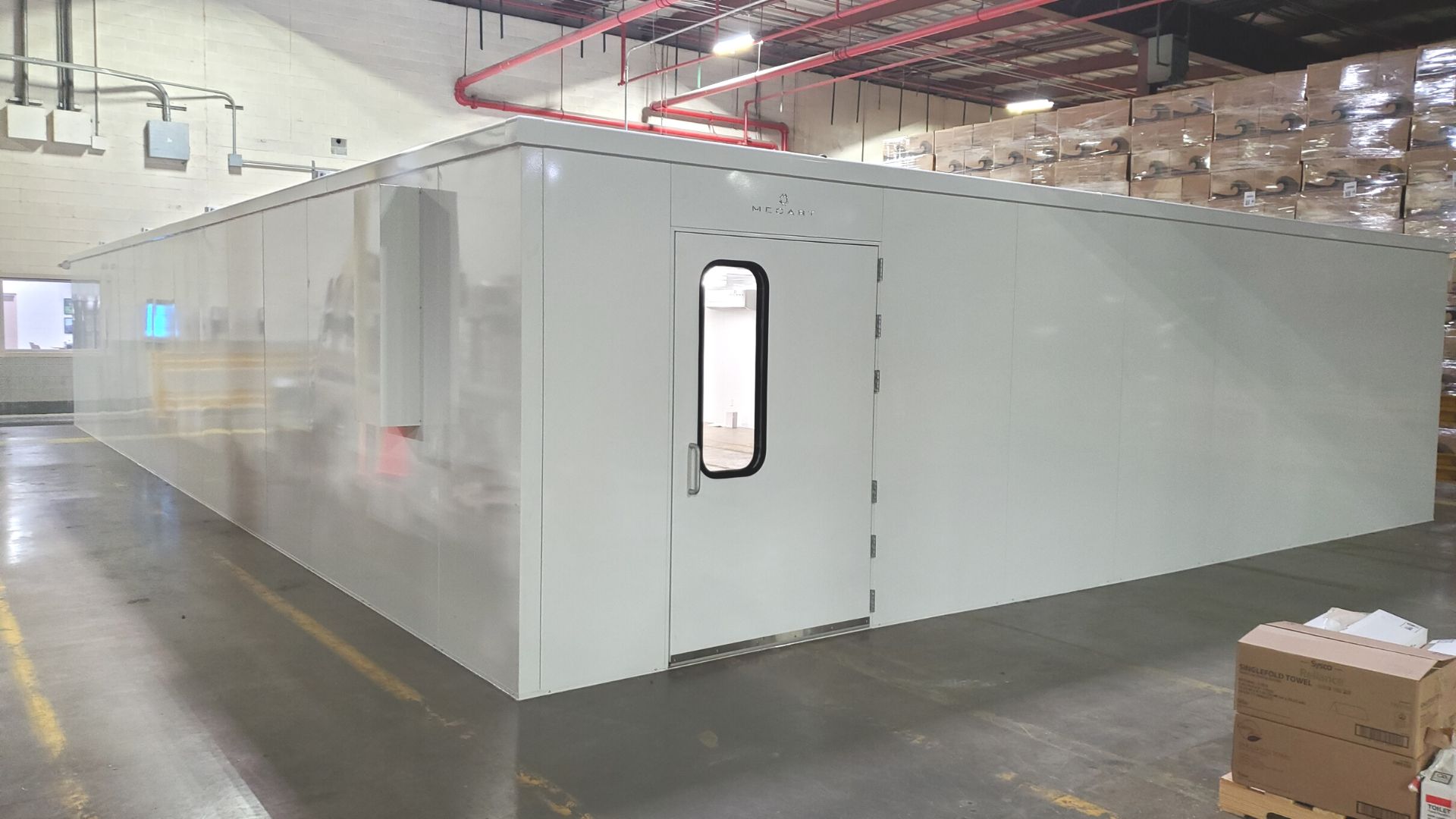 2. MODULAR PLANT OFFICE FOR PAPER MILL COMPANY (ACOUSTIC ENCLOSURE)
LOCATION: Wagram, North Carolina
INDUSTRY: Pulp and Paper
APPLICATION: Modular Plant Office and Storage Room for Paper Mill Company
SIZE: 50 feet by 30 feet
SOUND ISOLATION: STC 35
This vast acoustic enclosure of 50 feet by 30 feet will be installed in a pulp and paper factory, where its primary function will be to serve as a modular plant office.
Additionally, a storage room for various paper goods and other items will be housed in this area.
The modular plant office, built and designed by MECART, is equipped with double doors, windows, and modular acoustic panels providing sound isolation of 35 decibels (STC 35).
Since our constructions are self-supporting and do not have to be joined to the client's current building, the structure must be strengthened when MECART builds a vast space without separating walls.
In this instance, the modular plant office was strengthened with steel columns every 10 feet along the length and every 15 feet along the width.
To learn more about acoustic enclosures and other projects, read our article Acoustic Enclosure and Sound Enclosure.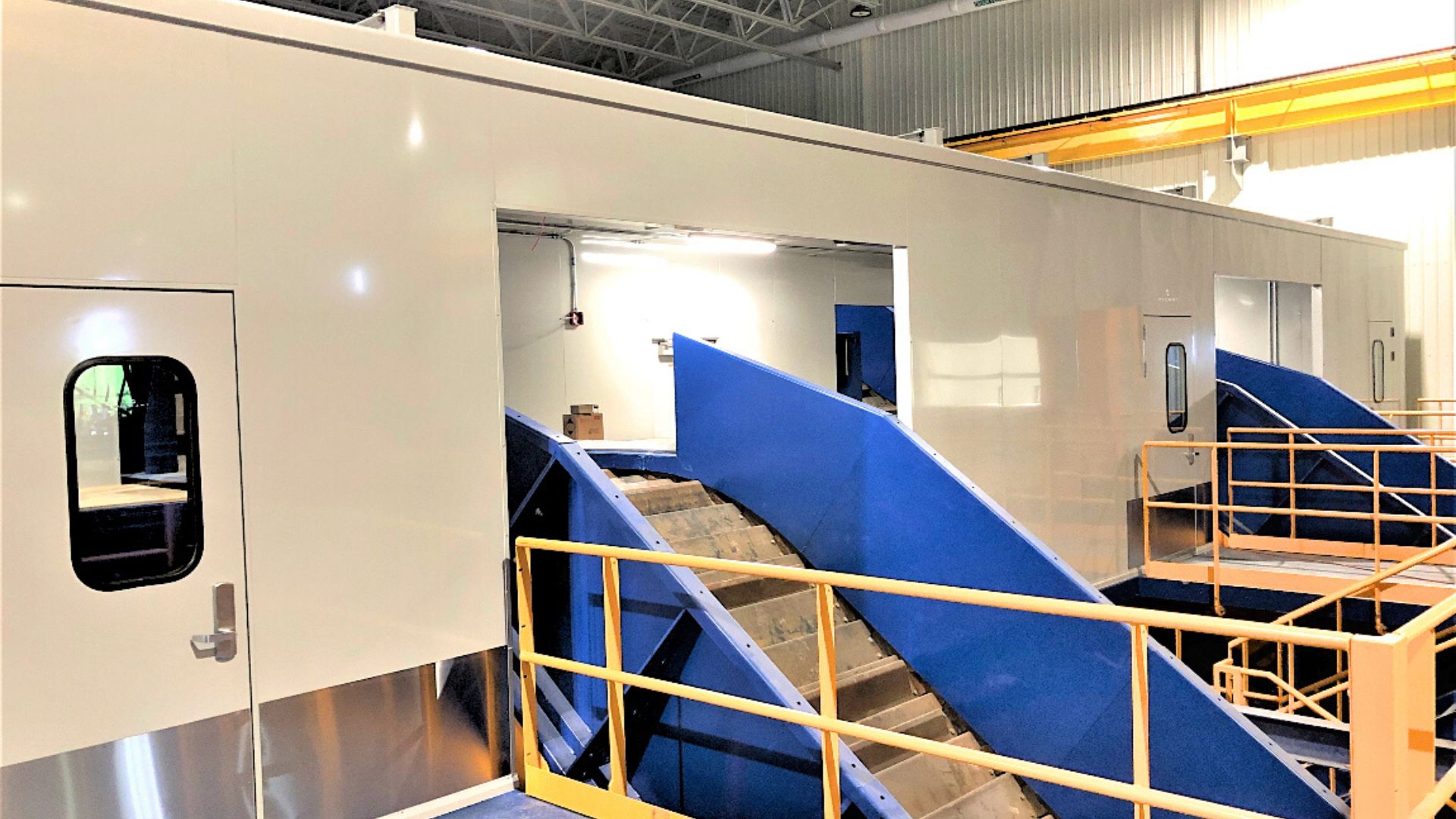 3. Sorting Cabin for Recycling Center
LOCATION: Quebec, Canada
INDUSTRY: Recycling Plant / Recycling Center
APPLICATION: Modular sorting cabin for a recycling center
SIZE: 14 feet by 58 feet
SOUND ISOLATION: STC 55
MECART designed and delivered a sorting cabin of 14 feet by 58 feet to a municipal recycling center in Quebec. The sorting cabin provides a safe working environment for employees who sort recyclable materials.
The sorting cabin includes two large 8-foot by 10-foot openings where the waste conveyors pass entirely through the cabin. The modular sorting cabin is custom-made for the specific needs of the client's recycling center.
The client chose MECART for the strength and durability of the modular panels to protect against corrosion, fire, chemicals, and other potential threats. MECART modular enclosures provide safer working environments for employees while protecting valuable equipment.
MECART has built many sorting cabins over the years, and its track record proved valuable when it was time to purchase a brand-new modular picking station for the recycling station.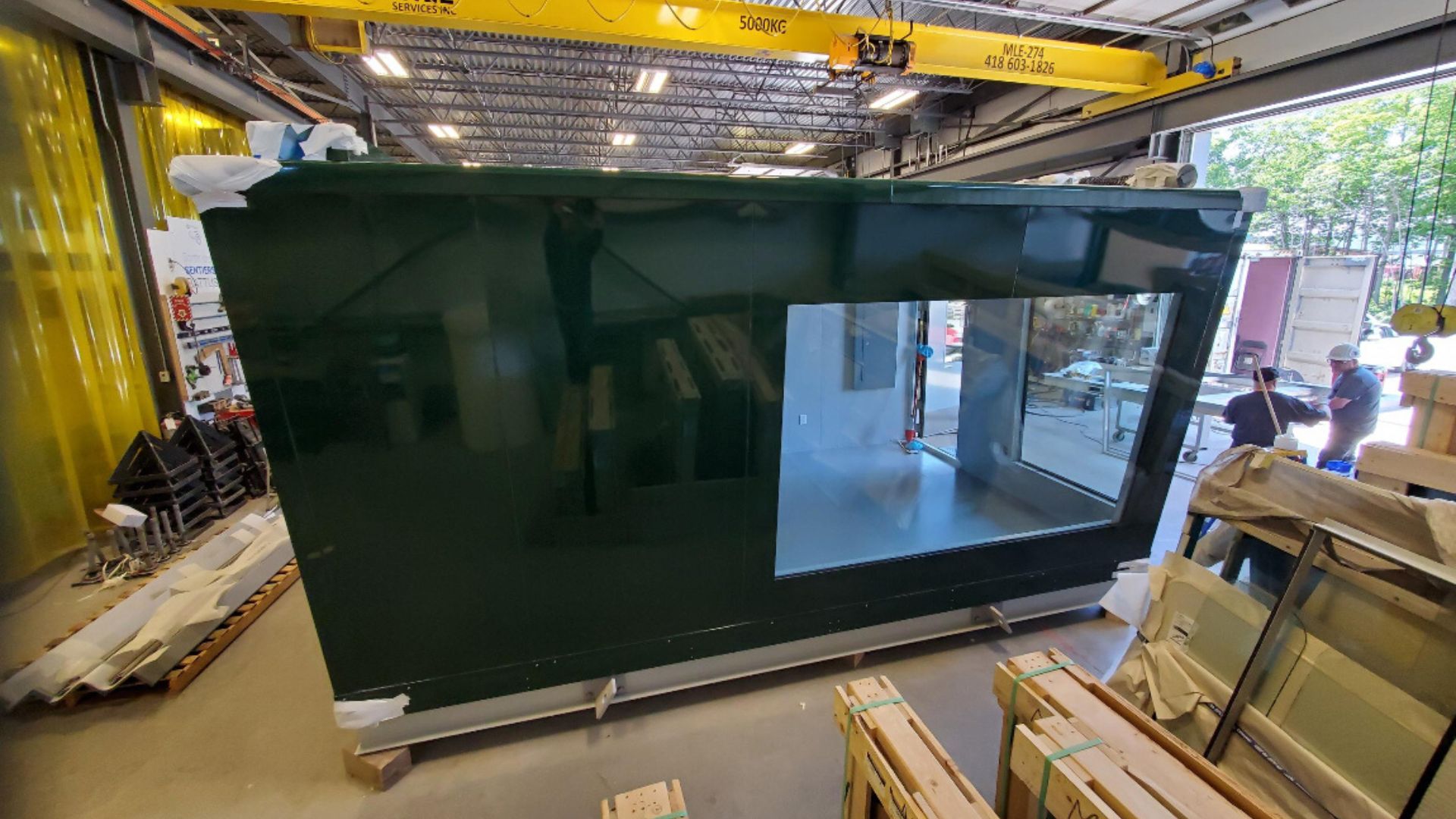 4. PREFAB OPERATOR CAB WITH ANGLED WINDOWS FOR SAWMILL OPERATIONS
LOCATION: Wagram, North Carolina
INDUSTRY: Sawmill Operations / Pulp and Paper
APPLICATION: Custom Operator Cab with Angled Windows for Sawmill Operations
SIZE: 16 feet by 10 feet
SOUND ISOLATION: STC 35
Company officials want a control room and a custom color painted on the outdoor walls. What shade of green could be more fitting for a business that makes timber out of trees than the hue of forest green?
The 16-foot by 10-foot operator cab is made entirely with MECART modular acoustic panels to provide a suitable workplace for the operators. The STC 35 operator cab reduced 35 dB of noise from the sawmill operations and its machinery.
The customer also requested an angled window to provide a better view for supervising sawmill operations.
You can either have a modular structure, with all the manufactured panels installed on-site at the client facility, or a prefab structure, with the entire operator cab being assembled at the MECART factory before being put on a truck and delivered as a plug-and-play solution.
In this case, the client opted for a prefab operator cab, delivered as seen in the picture, as one with all the integrated utilities. The client has to connect wires, and the cab is good to go!
Take a look at some of our previously completed control room and operator cabs: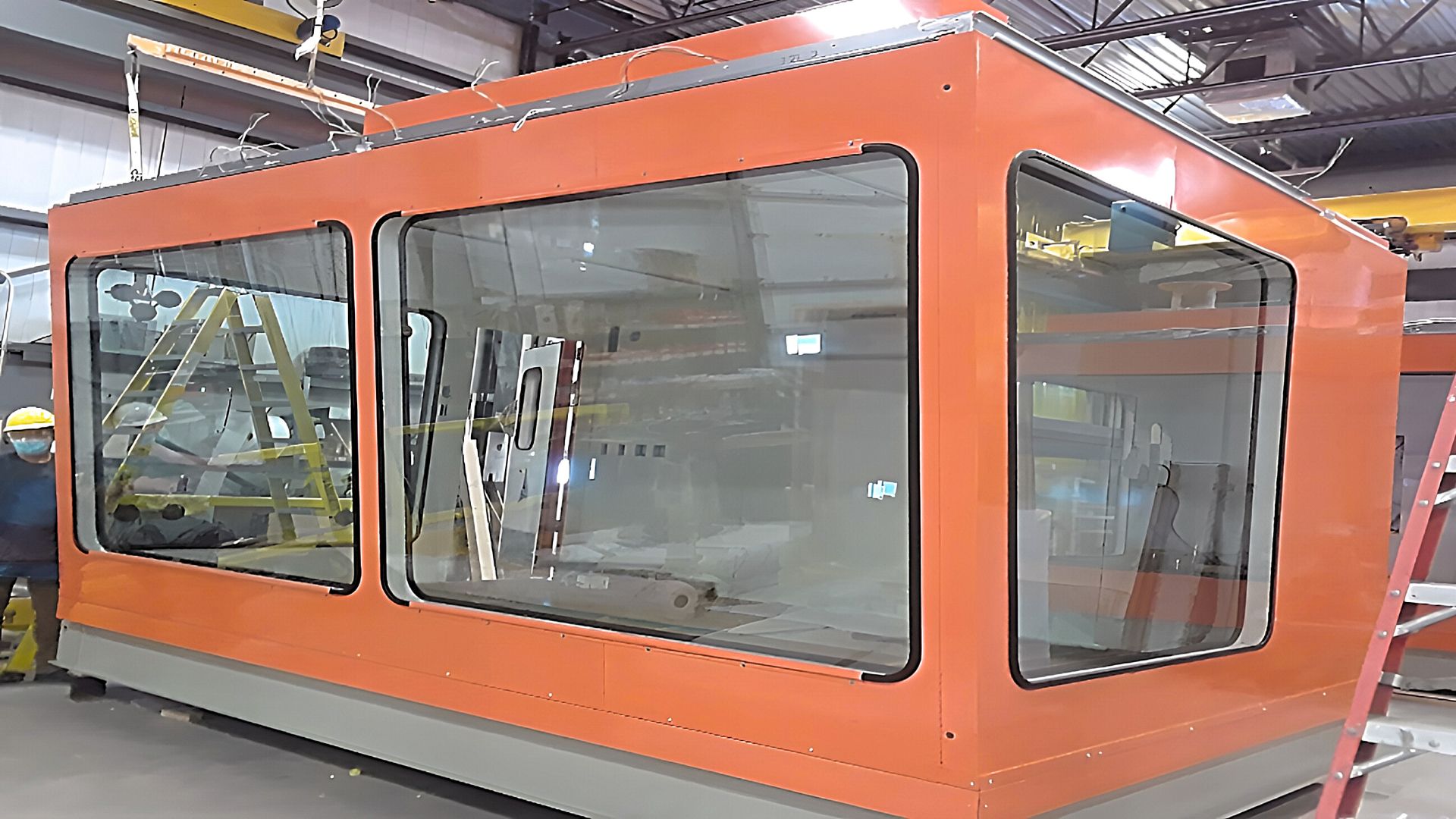 5. CONTROL PULPITS FOR COLD SHEAR AND STEEL BAR COUNTING
­­­­
LOCATION: Beaumont, Texas
INDUSTRY: Steel Mill / Steel Manufacturing
APPLICATION: Control Pulpits for Cold Shear and Bar Counting
SIZE: Pulpit for Cold Shear, 15 feet 8 inches by 11 feet / Pulpit for Bar Counting, 31 feet by 11 feet
SOUND ISOLATION: STC 50
This steel mill manufactures high-quality wire rods, coiled rebar, and billets for clients in automotive, energy, and construction industries.
It is no secret that working in steel mills involves many hazards that can cause severe and even fatal injuries.
To minimize hazards, our client seeks appropriate safety measures to safeguard its employees, one of which is engineering controls.
Employee contact with noise, heat, fire, and other hazards is reduced or prevented by the use of engineering controls such as control rooms, operator cabs, and control pulpits.
to attenuate the risk of fire for the control room, the control pulpits were designed and built with non-combustible materials only. Many fire detection systems have also been incorporated into the pulpits.
Day-to-day steel manufacturing processes generate much dust, which could cause problems for the operators. Therefore, the enclosures have been entirely sealed-in to make them dustproof.
Both pulpits are maintained with positive pressure to prevent dust from coming inside the pulpits. It should be noted that MECART pulpits and control rooms are certified by the Texas Department of Licensing and Regulation (TDLR).
Take a look at some of our previously completed control pulpits:
* Please take note that the projects chosen for this article were selected based on photo availability and confidentiality rather than size or value due to the confidential nature of some cleanroom projects.