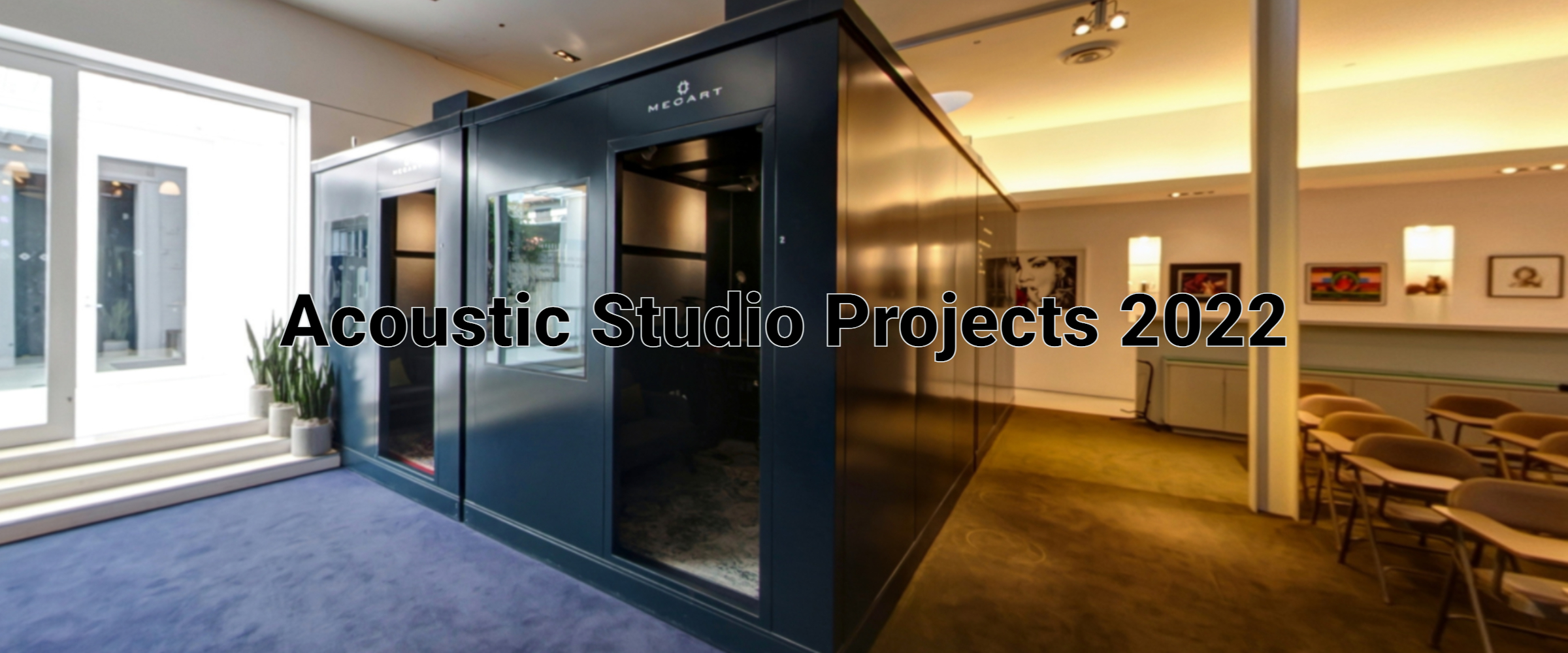 Top 5 MECART Studio Projects of 2022
As 2023 and exciting new initiatives approach, we wanted to take a moment to reflect on five MECART studio projects completed in 2022.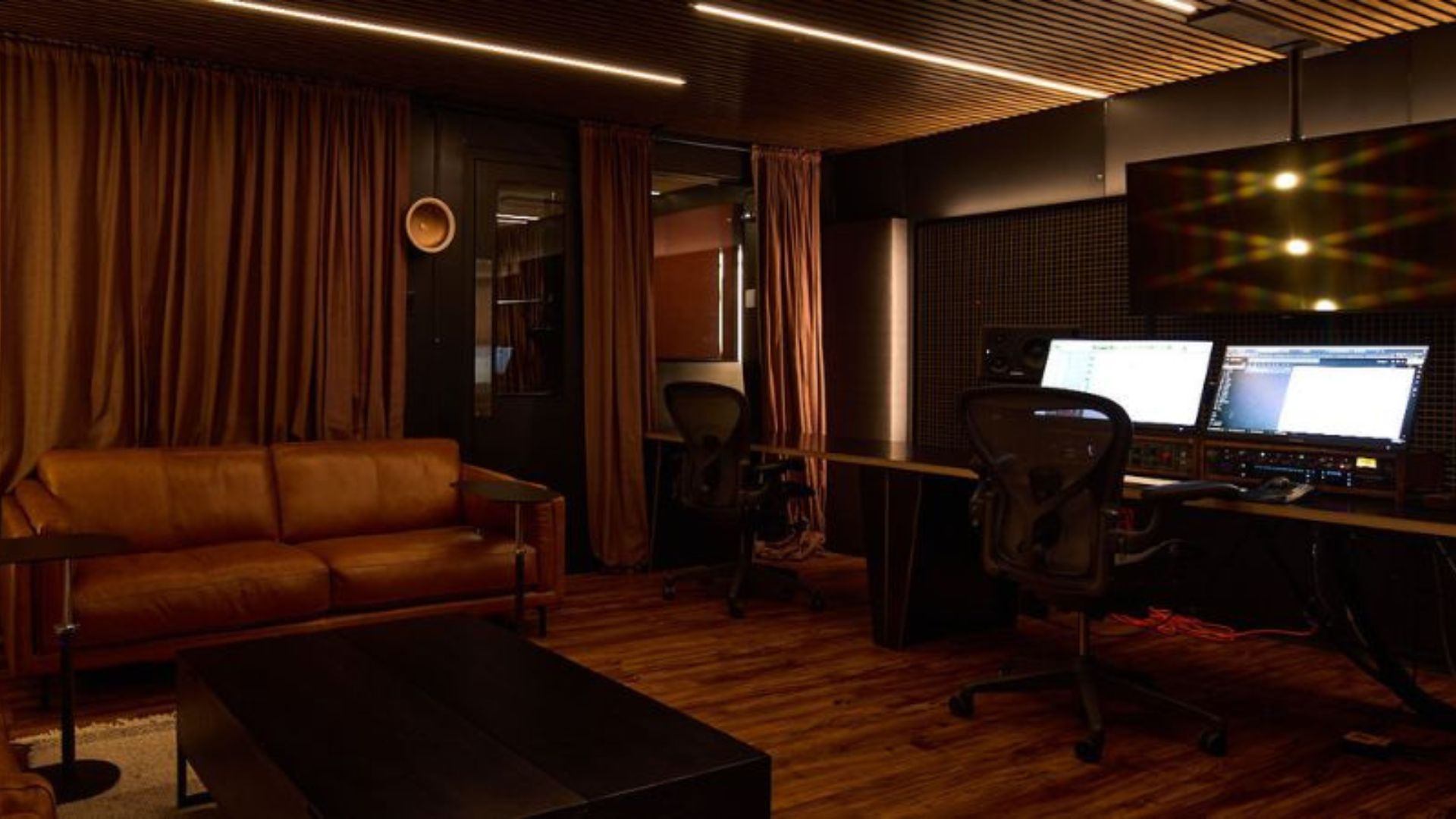 1. MIXING ROOMS AND VO BOOTHS FOR MARKETING AND ADVERTISING STUDIO
LOCATION: Montreal, Canada
INDUSTRY: Marketing Agency/ Multimedia / Post-Production Audio
APPLICATION: Recording Studio and Post-Production
SIZE: 19 feet by 17 feet by 8 feet each
SOUND ISOLATION: STC 55
Our client, a creative multimedia company, wanted to add two mixing rooms, with a voice-over booth (VO booth) in each one. The sound booths are for the client's marketing and advertising studio based in downtown Montreal.
These acoustic spaces will serve as post-production mixing rooms for audio and video content, while the sound booths will be for voice-over recording.
To provide an optimal acoustic environment, the client sought sound-insulated sound booths that would cut, on average, 55 decibels (STC 55) of ambient noise, which is precisely what MECART delivered.
The studio's mixing rooms measure 19 feet by 17 feet by 8 feet, while the 2 VO booths (voice-over/recording) each measure 10 feet by 9 feet by 8 feet.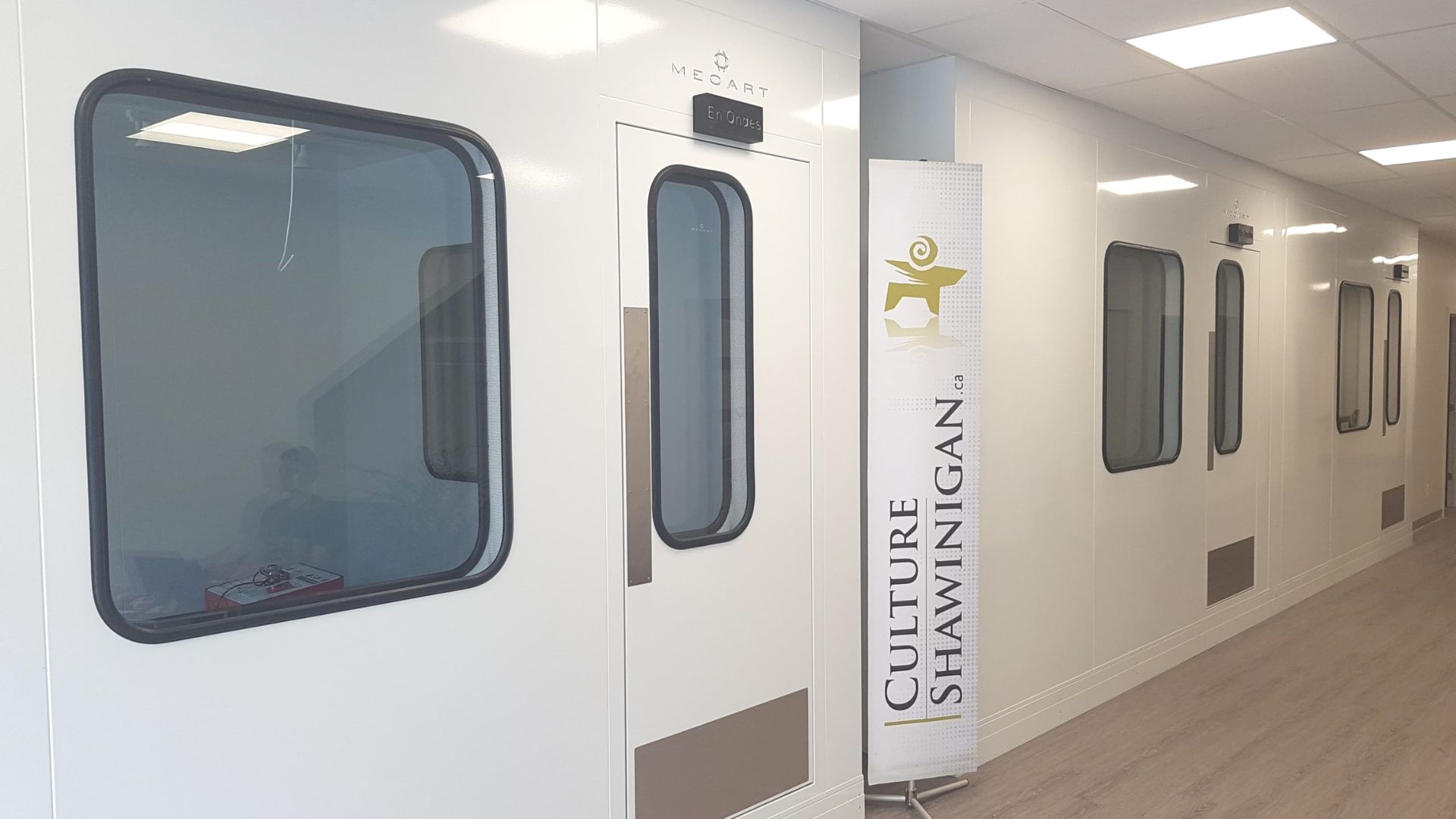 2. SOUND ISOLATION BOOTHS FOR BROADCAST AND RADIO STATION STUDIO
LOCATION: Quebec, Canada
INDUSTRY: Broadcasting / Radio Station / Music
APPLICATION: Radio Broadcasting / Podcast Production
SIZE: Three Sound Booths – 12 feet by 11 feet each
SOUND ISOLATION: STC 45
This radio station, located in Quebec, contacted MECART to purchase three new sound-isolation booths for the broadcast station's studio.
The three custom sound booths are located at Country Pop 92.9's new location in the downtown district.
The first and second sound isolation booths are dedicated to broadcasting different radio shows and country-pop music. The third sound booth is devoted to other content activities, such as podcast production.
As in all MECART projects, the booths were custom-made to meet the customer's specific needs.
The customer requested identical sound isolation booths, which will be placed side by side, a few inches apart.
The client required that each studio be 12 feet by 11 feet, and additionally required sound isolation (transmission loss) of 45 decibels (STC 45) on average.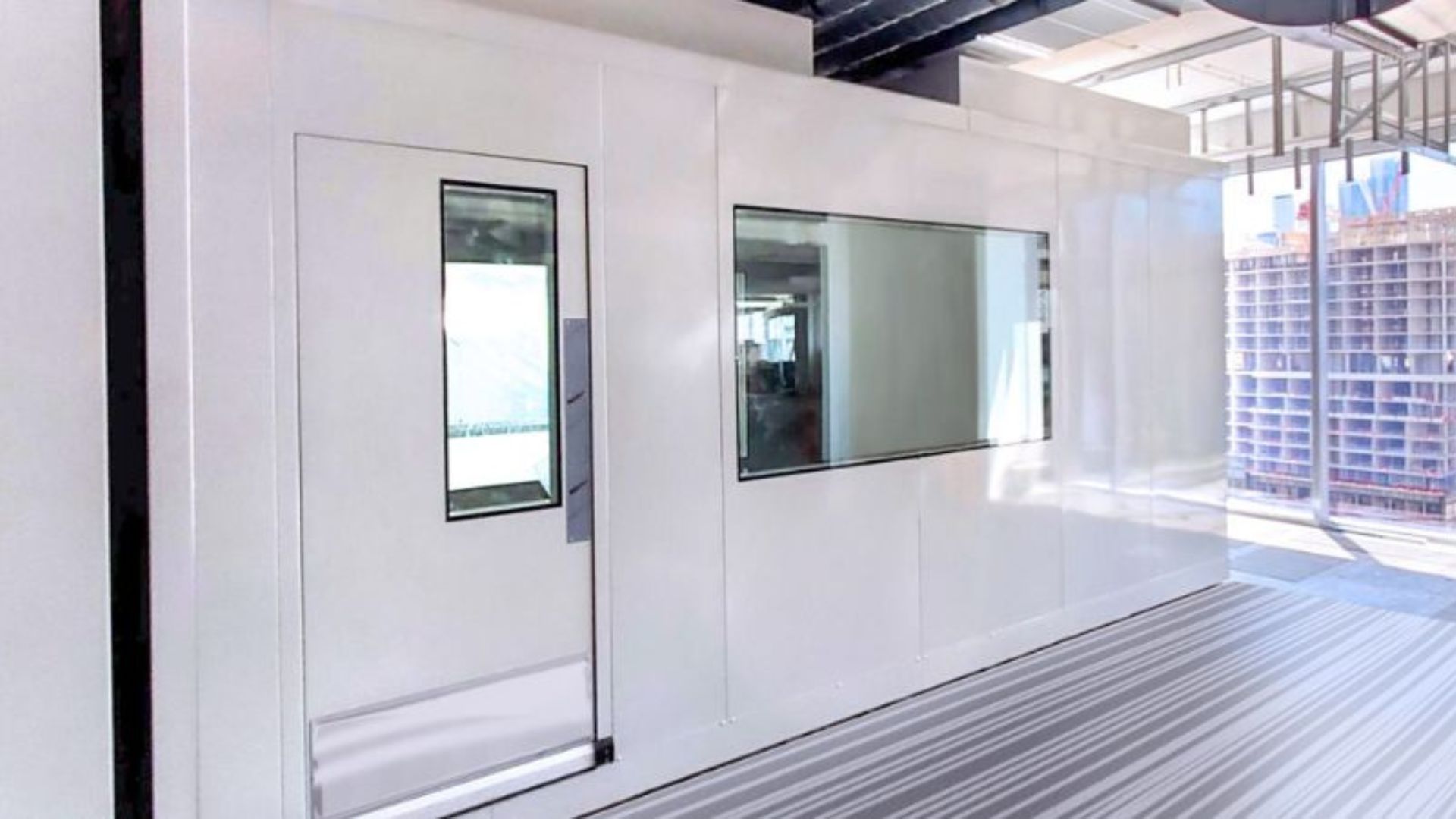 3. RADIO STUDIOS FOR A BROADCAST AND MEDIA PRODUCTION COMPANY
LOCATION: Toronto, Canada
INDUSTRY: Live Broadcasting / Satellite Radio / Music and Podcast
APPLICATION: Radio Broadcasting / Podcast Production
SIZE: Nine Studios of Various Sizes
SOUND ISOLATION: STC 45 and STC 55
This broadcasting and media production firm provides satellite radio services throughout Canada and the United States. To ensure that its listeners receive audio entertainment of the highest possible caliber, the company has called on MECART to provide several sound studios.
Nine studios have been delivered to the firm's Canadian head office. The studio design layout consists of:
Three control rooms: The biggest one is 15 feet by 7 feet 7 inches, and the smaller ones are both 9 feet 8 inches by 10 feet.
Two voice studios: Also known as voice-over studios or VO studios, the two studios are identical in design and are 9 feet 4 inches by 8 feet 6 inches.
A live studio: This studio — 19 feet 9 inches by 15 feet — is dedicated to in-studio performances and live performances. The biggest control room is adjacent to this studio.
A podcast and music studio: This studio space — 15 feet by 14 feet 4 inches — is used for recording and broadcasting of podcasts and music.
Two live streaming studios: The two studios each measure 9 feet 8 inches by 15 feet. One studio offers live sports streaming, while the other broadcasts radio talk shows.
Except for the live studio, which has STC 55 sound isolation, all radio studios supplied to our customer have STC 45 sound isolation.
You should read our article about RECORDING STUDIOS: PREFAB – MODULAR VS. TRADITIONAL CONSTRUCTION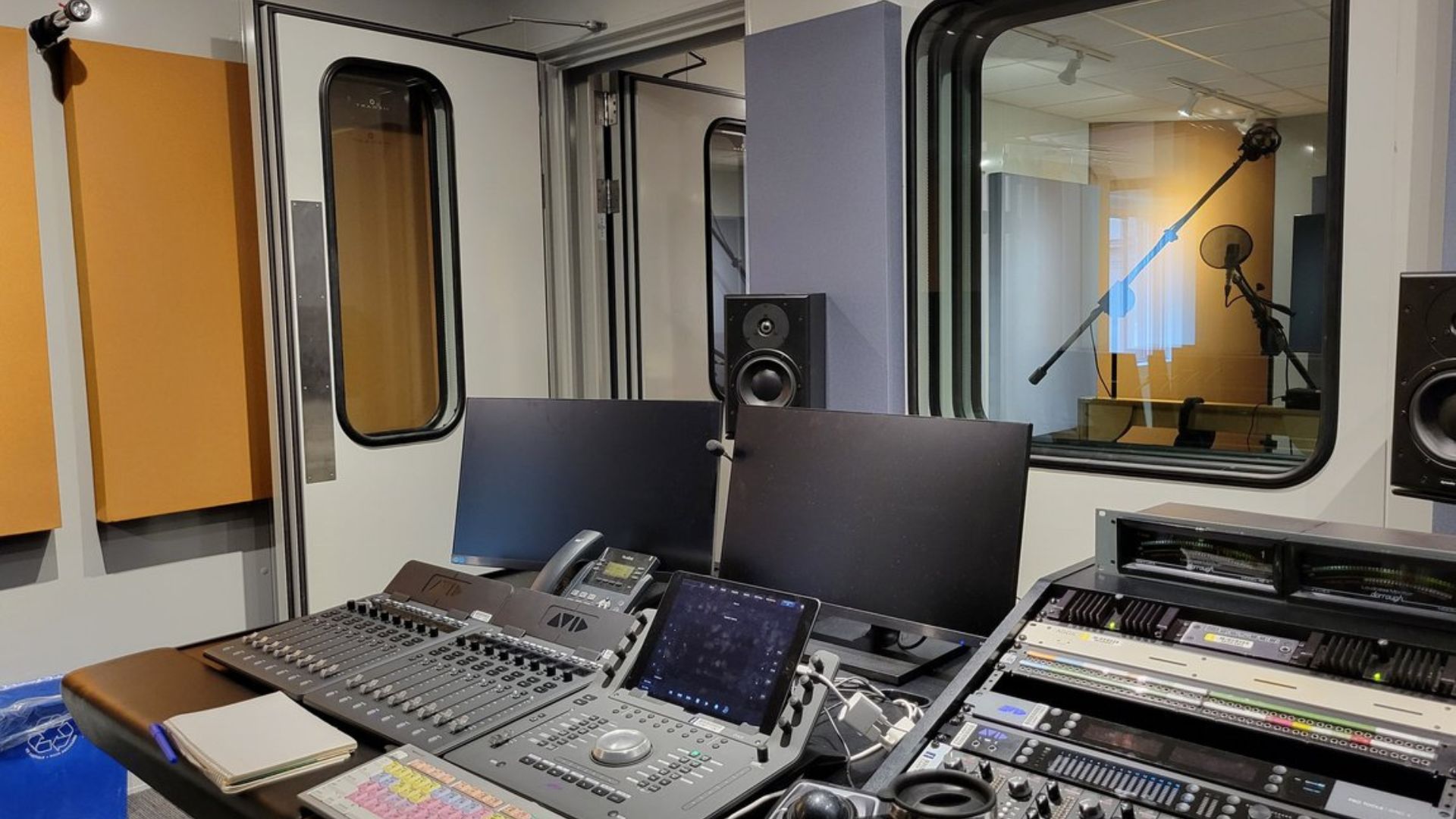 4. MODULAR STUDIOS FOR SOUND DESIGN AND AUDIO POST-PRODUCTION STUDIO
LOCATION: Montreal, Canada
INDUSTRY: Post-Production Services / Audio Post-Production
APPLICATION: Modular Studios for Sound Design and Audio Post-Production
SIZE: Two Studios of 17 feet by 12 feet each and two Control Rooms of 9 feet 6 inches by 12 feet each
SOUND ISOLATION: STC 55
With the arrival of several streaming services platforms such as Netflix, Prime Video, Hulu, Disney +, and many others, the need for post-production services has increased significantly with a compound annual growth rate (CAGR) of 12.5% in the industry.
Affected by this increase in demand, our client wanted to equip itself with new studio spaces.
The studio complex features a pair of control rooms as well as a pair of post-production studios. As in all of our projects, MECART met the specific requirements of the client throughout the design and building of the studios.
In this case, the client sought a high grade of sound isolation and decided to go with MECART STC 55 acoustic studios. The two audio post-production studios — made with our acoustic modular panels and STC 55 insulated doors — have identical dimensions of 17 feet by 12 feet.
The control rooms offer the same sound isolation but with smaller studio sizes; they each have a floor surface of 9 feet 6 inches by 12 feet.
All MECART studios are manufactured under strict conditions at our plant before being delivered and installed at a client's facility. To learn more, download our modular studio brochure.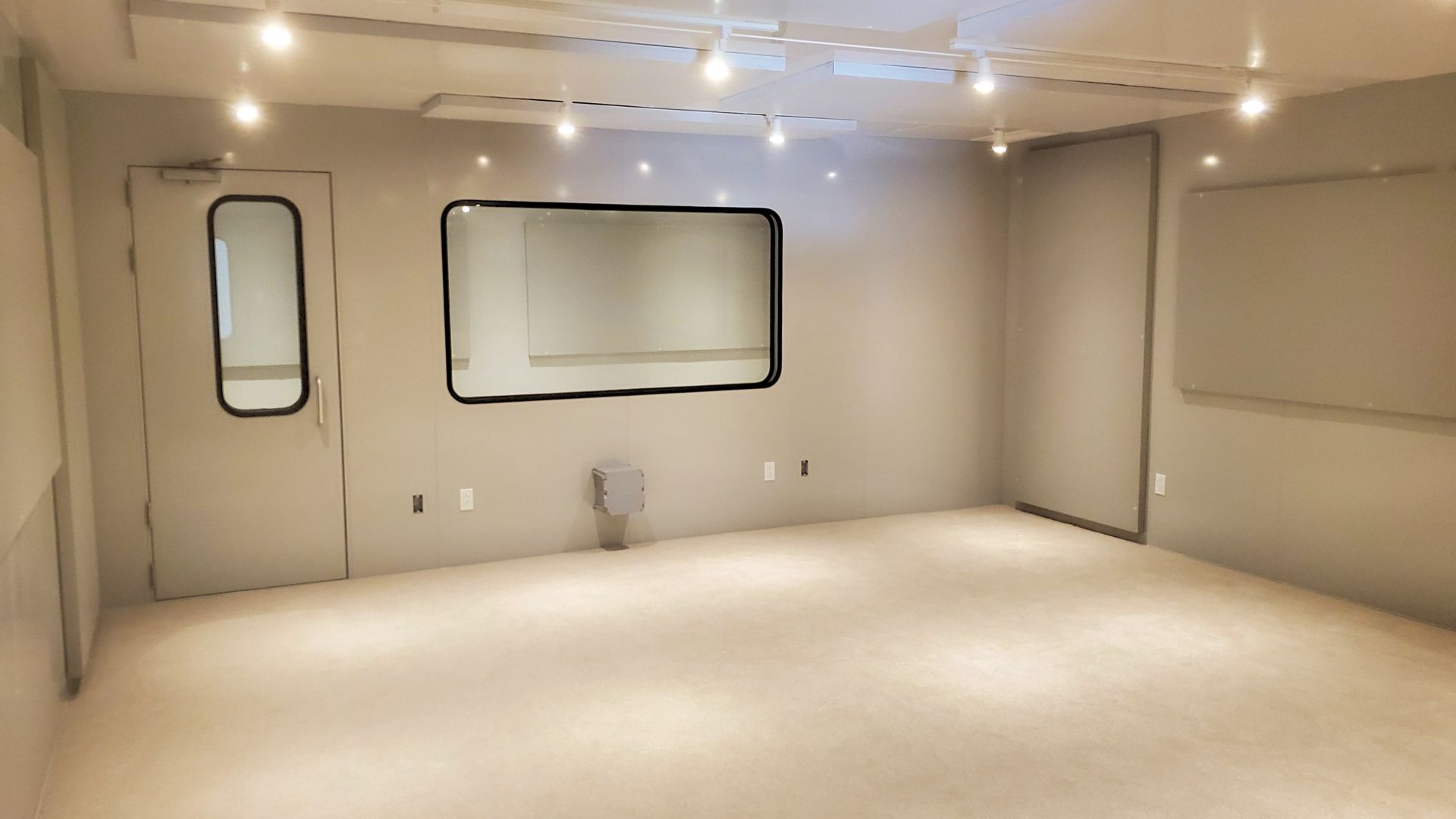 5. MUSIC RECORDING STUDIO + CONTROL ROOM FOR FAMOUS MEXICAN SINGER
LOCATION: Magnolia, Texas
INDUSTRY: Music Recording / Music Production
APPLICATION: Music Recording Studio with Control Room
SIZE: Recording Studio measuring 20 feet by 20 feet and Control Room measuring 6 feet by 6 feet
SOUND ISOLATION: STC 45
A Mexican-American singer and songwriter with more than 15 million albums sold wanted a new recording studio in his Texas home. He turned to MECART to be his soundproof studio supplier.
The studio is divided into two parts, the music recording studio and an adjacent control room for sound editing. A double-pane window divides the studios to provide a great view.
Both studios provide sound isolation of 45 dB (STC 45) thanks to MECART lab-tested acoustic panels.
The acoustic treatment has also been accomplished with the help of our in-house acoustician, who included 12 absorbers (perforated acoustic panels) on ceilings and walls to reduce reverberation.
MECART custom-prepared the studio's modular panels to suit the client's needs. The integration of telecommunication wires and thermostat wire routing, and the addition of a cable pass-through, were included in the design to make on-site installation easy.
If you're interested in seeing other examples of MECART studio projects, here are more case studies: